Creating Personal Blog Site From Scratch With PostX Gutenberg Post Blocks – No matter what industry you belong to, whether you are an employee in a company, a freelancer, or an entrepreneur, you must have a personal blog in this day and age.
A personal blog helps people to know more about you and also gives you the freedom to write on blogs that represent your work.
You can think of personal blog sites as an online extension of your resume and helps people to connect with you. But, it is not easy for people who are not familiar with technology and website building to design their blogs. When it comes to designing a blog WordPress is the obvious choice because of several factors.
There are many free themes available in WordPress that you can choose from. PostX Gutenberg Post Blocks Free is a plugin that you can use to give your personal blog stand out from everyone without investing a single penny.
Getting Premade Block Designs For Your Personal Blog

PostX Gutenberg Post Blocks Free comes with three premade blocks that you can choose from if you don't want to build your website from absolute scratch. These three fully designed blocks would give your website the elegant look that it needs and even if you want to feature a blog on your homepage you can do that with these premade templates.
These templates are specially made for those people who don't have much time to make the design or want a basic layout to build on and modify the design.
It is also possible to build your personal blog using the Gutenberg Post Blocks Free plugin from scratch. You would need to have some imagination and the will to learn how the plugin works a bit to do it from scratch.
Steps You Need To Take To Build Your Personal Blog From Scratch
Building a blog from scratch can be a bit challenging but if you make your plans in advance then it can be like a normal routine for you. You can get the design done much faster and it would look appealing if you have a proper plan of action.
Step 1: Knowing About The PostX Gutenberg Post Blocks Free
You must dedicate some time to study the plugin and its features. If you have never used the plugin before you can start collecting information about what the plugin is capable of by visiting their blogs and reading more about it. You can visit the official WordPress site where all the features of the plugin are listed.
You can also visit their YouTube channel to see how the plugin works so you can get an idea of what you would be able to achieve with the PostX Gutenberg Post Blocks Free plugin.
Step 2: Start Getting Creative And Make The Design Visual
Now, that you know how you can use the plugin, you can start thinking about how you want your website to look. Before making designs of your blog you can check out the internet for popular personal blogs to get inspiration.
Many people does the mistake of keeping the design in their mind and not sketch the design on an actual piece of paper. You should not do this mistake and should either sketch the design on paper or by using any application on your computer.
You don't have to be a UI/UX designer to make a basic layout of the website however if you know how to use Abode illustrator it is certainly an advantage. You would need to address some important questions while making your designs.
How many pages do you want there to be on your personal blog?
How do you want your homepage to look like?
Where do you want the primary menu on your website to be?
What would be the primary colors of your website?
How many categories do you want there to be in your personal blog?
Answering these questions would give you clarity and help to finish the design quickly. Once you have completed the design, you can proceed to the next step.
Step 3: Planning The Development Of Your Personal Blog
You have made the design successfully and now it is time to move on to the next stage of the process which is planning and sequencing. When you are developing a website there are multiple ways you can go about it. Some ways are less messy and easier than others but they need a bit of planning before you go for execution.
PostX Gutenberg Post Blocks Free can be used for making the home look professional. The home page is where your traffic would land after entering your domain name and is the first page that they would notice. It is the most important page of your website and should be designed in a way that makes it easy for users to navigate the website.
You must also decide what plugins you want to use for your website. The loading time of your website is very important which is why it is always a good idea to keep the number of plugins to a minimum if you don't need them.
Step 4: Getting The Graphics And Content Ready For Your Website
All the images that you want to use on your website should be arranged nicely on your local computer to make it easy to work. You might need to improvise when you are developing the actual website but it saves a lot of time when you have all your graphics ready.
You can use all the free stock photo images to get images for your blogs and you can make a logo for your website using Canva which also has a free version.
Make sure that the content you want for your website is ready. It is a good idea to start your blog with at least ten posts
Step 5: Execution And Development
It is always a good idea to start with the home page but if for some reason you choose not to do it in your planning stage, stick to the plan, and start executing the plan. It will go like clockwork when you have all the designs ready.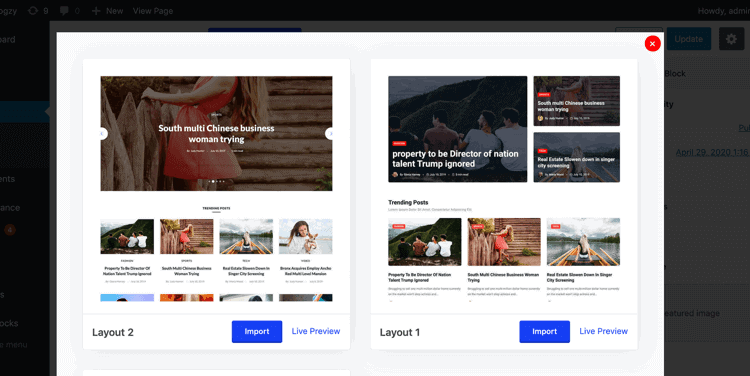 You can use the various features of Gutenberg Post Blocks Free to develop the home page that you must have thought of while making the plans of designing your website. When you complete your home page and eventually your whole blog make sure that it is optimized for mobile as well.
Features of PostX Gutenberg Post Blocks Plugin
Create Beautiful Grid Layouts within minutes
Powerful Typography Control
Dynamic Post Slider
Blog Listing variations
Filter Category Without Reloading Page AJAX Powered
Pagination, Load More and Next Previous are AJAX Powered
Quick Premade Query (Pro)
Image Lazy Loading (Pro)
Readymade Starter Packs (Pro)
Readymade Starter Packs (Pro)
Custom Category Style (Pro)
Blocks Layout Variations (Pro)
Content Animation (Pro)
PostX Gutenberg Post Blocks Pricing
PERSONAL – $49
1 Domain License
1 Year of Support
1 Year of Updates
All Pro Features
UNLIMITED – $79
Unlimited Domain License
1 Year of Support
1 Year of Updates
All Pro Features
LIFETIME UNLIMITED – $279
Unlimited License
Lifetime Support
Lifetime Updates
All Pro Features
PostX Gutenberg Post Blocks Free vs PRO Features Comparison
| Main Features | Free | Pro |
| --- | --- | --- |
| Starter Packs | 3 | 6 |
| Readymade Block Design | 10+ | 64+ |
| Block Layout Design | 11+ | 32+ |
| Advanced Quick Query | ❌ | ✔️ |
| Image Loading | ❌ | ✔️ |
| Specific Category Background Color | ❌ | ✔️ |
| Specific Category Color | ❌ | ✔️ |
| Content Animation | ❌ | ✔️ |
| Content Background Color | ❌ | ✔️ |
| Priority Support | ❌ | ✔️ |
PostX Gutenberg Post Blocks LifeTime Deal
The thought of developing a personal blog from scratch can be daunting. It can be a little difficult for people who have never developed a website before but Black Friday Gutenberg Post Blocks Free has now made the process of developing a personal blog very easy. With proper planning and execution, you too can develop your personal blog in no time.