A relatively new online website builder, the Brizy Cloud has already gained a huge fan following. Launched back by ThemeFusion, it has already begun to show great promise.
As a matter of fact, it has already managed to get over thousands of active users and increasing rapidly. So, you can obviously understand how excellently it performs. The best thing about this website builder is the fact that it comes with a highly intuitive and user-friendly interface.
And it can be attributed to the extraordinary React Technology that it uses. Plus, this website builder offers you with features that you will not find in any other website builder. Want to know more about this website builder?
Have a look at our Brizy Cloud Review to know more.
Brizy Landing Page Builder
Key Features of Brizy Cloud Website Builder
The Brizy Cloud software offers a plethora of extraordinary features. Thus, it is not possible to fit all of them in this review. So, we are listing the best ones for you to check out.
Drag & Drop Builder
This has to be one of the best features that Brizy Cloud offers. It comes with a highly intuitive drag and drop builder. Hence, it becomes very easy for you to build your website without any hassle.
Even if you do not have any expertise at coding, you will still be able to give the perfect look to your web pages without any hassle. Just drag and drop to get the work done.
Faster Loading Speed for pages
Everybody wants to ensure fast loading speed for their websites. Slow loading speed and increase in loading time can adversely affect your website. It can affect your SEO rankings and increase the bounce rate.
However, you will never have to worry about all these while using this website builder. The best thing about this page builder is that it incorporates minimal coding in their designs.
So, it makes sure that your web pages remain lightweight. Thus, ensuring you about the optimum loading speed.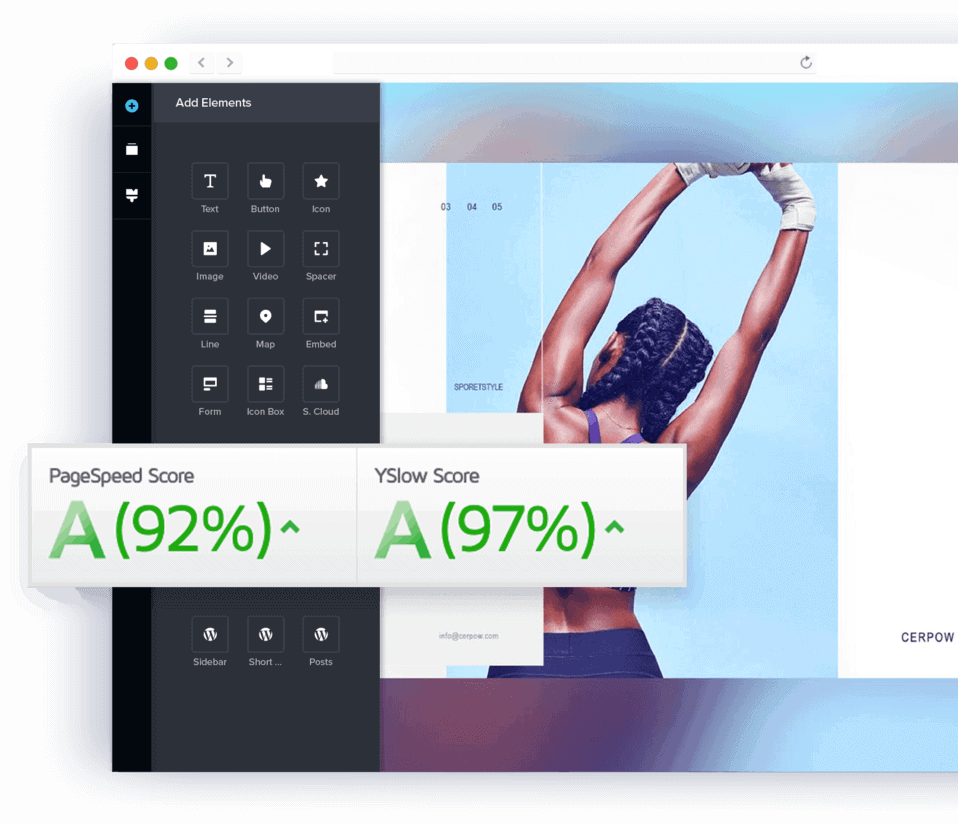 Comes with Pre Made Blocks and Layouts
Designing web pages right from the scratch can be too daunting at times even for an experienced website owner. So, Brizy cloud offers you pre-made blocks and layouts.
With pre-made blocks and layouts, you will be able to ensure the perfect design for your pages easily. Just click on the blue colored plus icon in the middle and you will be able to choose from a plethora of pre-made blocks and layouts.
Plus, this website builder software also allows you to choose between the light and dark modes which are obviously a nice touch.
Easily Integrate with all major email marketing apps
Of course, this is one of the best features that you can ask for if you are a website owner trying to build your repertoire on the online platform.
The best thing about Brizy is the fact that it easily integrates with every major email marketing app like ConvertKit, MailChimp, Campaign Monitor and so-on.
Therefore, it automatically adds the leads to your email list and takes the necessary follow-up actions to convert the lead into conversions.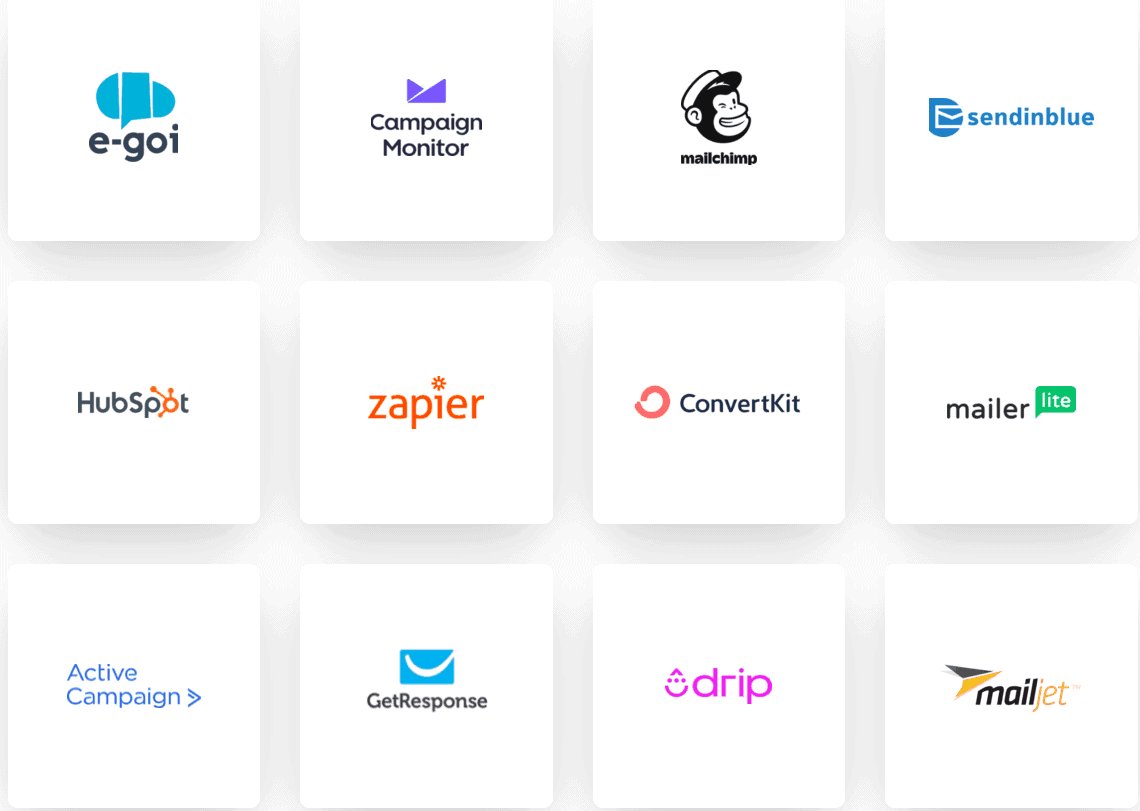 Offers highly secure and fast hosting
Brizy Cloud also offers you high-quality cloud hosting for your projects. As a matter of fact, the Brizy Cloud hosting uses some of the best specifications in the industry to provide you with the fast loading speed and utmost security.
More importantly, you will also get unlimited bandwidth as well as storage space with this Cloud hosting. It uses Amazon EC2 along with load balancers for hosting and Amazon S3 for storage. So, you get fast loading speeds and maximum uptime.
Or You can Use Fastest Managed WordPress Hosting Service by WPX Hosting.
Ability to Create professional multi-page websites for your clients
Obviously, Brizy Cloud also provides you with the ability to create multi-page websites in a breeze. It comes with several pre-designed templates and designs that you can use to give your website a perfect design.
More importantly, you do not need any coding skills to design a multi-page website. It is highly intuitive and user-friendly. So, you will have no trouble in giving your website the perfect design.
Easy Export CSS and HTML
Well, this is definitely a great feature that this website builder software offers. Often you may need to export the HTML or CSS coding from your website to build landing pages or at other places to add more functionality.
More importantly, it also allows you to restore your website at any time in case of any mishap. With the Brizy Cloud, you will have no trouble in exporting your CSS or HTML. Just a few clicks and you will be done with it.
3rd Party Free Hosting – Netlify, Render, Fast.io & Vercel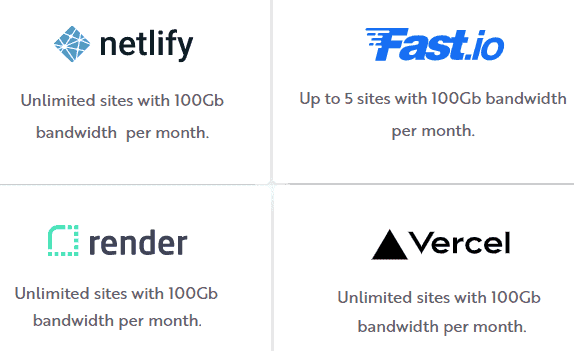 Recently Brizycloud introduced 3rd Party Free Hosting Services to publish your websites easily with one clicks. For that you have first sign up with GitHub & Free Hosting Provider and publish your site easily.
For publishing your projects on free 3rd party hosting providers you'll need to do follow these things:
Signup for a free GitHub account
Free hosting account from (Netlify, Render, Fast.io or Vercel)
#Step1 – First, Click the Publish Button when you finish the project.
#Step2 – Now Click on 3rd Party Free Hosting Connect Button & Choose your preferred Free Hosting Provider.
#Step3. Follow the steps to connect your GitHub account and sync Free hosting account with GitHub.
Brizy Cloud Coming Soon Features
Apart from all the features BrizyCloud currently offers, it plans to add some extra features to its list very soon. And it will help you to ensure maximum performance and efficiency for your website. Have a look:
Analytics & Tracking
Proper analytics and tracking of your web pages, landing pages and website as a whole are very important. It helps you to understand how every element of your website is performing and takes the necessary action as required based on that data.
Brizy plans to the tracking and analytics feature into its system to provide you with much more efficiency and a chance to improve your performance.
Ability to collaborate
Undoubtedly, this will prove to be a great addition to their features. Brizy Cloud also wants to help you achieve more efficiency by collaborating your team and support staff to enhance the performance of your website.
With this feature in its system, you will be able to work with your team easily to improve your marketing, analysis, sales and different other aspects easily.
Ability to create funnels
Funnels are of course one of the most proven tactics to improve your rate of conversion, generate more leads and increase your sales.
Once this feature is added in Brizy, you will easily be able to create funnels as required and answer the needs of your customers in a better.
Thus, you will not only be able to add efficiency to your sales and marketing processes but also take your business to the peak of success.
Brizy Cloud Website Builder Guides
BRIZY CLOUD Dashboard Overview
Create 1st project [CLOUD]
Brizy Cloud Workshop Webinar
Brizy WordPress Plugin Vs Brizy Cloud
The Brizy Cloud and Brizy WordPress plugin are both great options, to begin with. They are two great weapons in the arsenal of any website designer or owner.
And they will allow you to achieve several things without any hassle. But often the question arises that which one do you need to choose? Well, let's clear this confusion once and for all.
The Brizy WordPress plugin provides you with the ability to create complex WordPress websites irrespective of the genre easily.
Nevertheless, it demands a few things from you too. Firstly, you will need to host this plug-in. Plus, you will need to install this plugin to your website. More importantly, you will also have to worry about server security while using the plugin.
But you will never have to worry about these things while using the Brizy Cloud. With the Brizy Cloud, you will be able to create multi-page dynamic websites, landing pages, web-pages and much more.
Plus, it also allows you to create funnels and provides several other attributes. Furthermore, you will never have to install it or worry about the security or host it [Check Out Siteground Hosing Sale up to 70% Discount]. On the other hand, it will give you access to several features that will help you to address a different set of problems.
Brizy Cloud Plans & Pricings
Create Highly Converting Landing Pages & Websites in a Breeze
In conclusion, it is better to say that both Brizy WordPress Plugin and Brizy cloud have their own set of features and usefulness. But if you are looking for something to sky-rocket your website performance then Brizy Cloud is a wiser choice.
Brizy Cloud has proven to be a valuable asset in a very short period of time. And it is still continuing to evolve by adding new features and functionalities to help their customers in a better way.
Go through our review once again, understand what it offers and opt for it without worrying.