Every online business or blog using a WordPress content management system will collectively agree that using a Gutenberg and woo-commerce theme surely does wonders.
Introduced by WordPress developers, the Gutenberg editor uses different blocks and layouts which make it very easy for a website owner to design their WordPress website. On the other hand, the woo-commerce integration ensures efficient performance and seamless transactions for your online store.
If you are searching for the best Gutenberg and WooCommerce Optimized WordPress theme, opting for a Blocksy theme seems to be an excellent choice. Why do we say so? Let's have a look.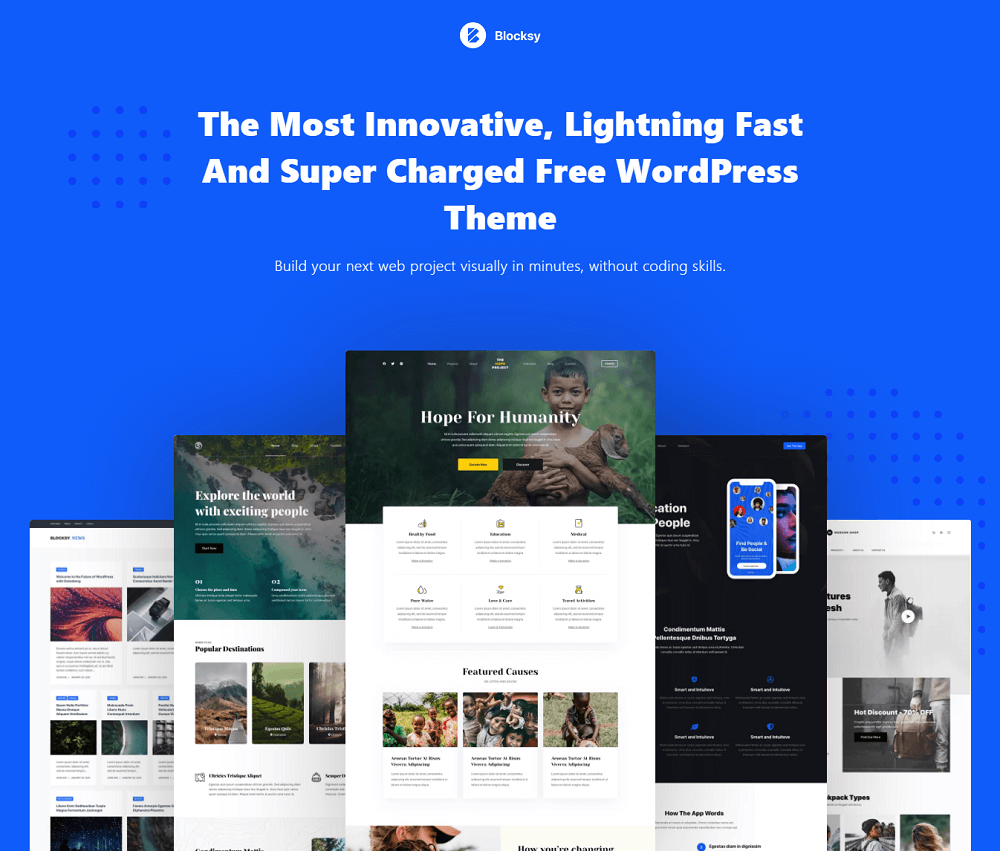 Features of Blocksy Theme
Ultra Performance lighter & faster WP theme
The best amongst the fastest loading Blocksy WordPress theme, Blocksy is much faster and lighter in weight than its competitors. In fact, the coding in the theme is very lightweight.

As a result, it will not hamper the loading speed of your website and you will be able to score well in all SERP results. Also, the theme has ranked at the top of various speed testing tools.
Thus, you can easily put your trust in it without any second thought.
Advanced WordPress Theme Customizer
The Blocksy WordPress theme is a fully customizable WordPress theme. Certainly, it comes with highly intuitive options which allow you to change any part of the website without any hassle.
So, you will not only be able to change the layout thanks to a plethora of options but you will also be able to customize the header, footer, and sidebar as per your desire.
It also comes with a customizable dark mode for all the people that love dark mode.
Gutenberg Ready Theme
Well, it is already known that Blocksy is a Gutenberg Ready WordPress theme. As a matter of fact, it was built with Gutenberg's readiness in mind.
So, this theme supports all kinds of Gutenberg block layouts. Furthermore, it also comes with different editor manipulations such as full as well as wide alignments.
Therefore, you will have complete freedom of controlling the layout of your website just the way you like. Give the best design to your website with this phenomenal WordPress theme.
Woocommerce Ready
Of course, this WordPress theme is completely woo-commerce ready as well. Apart from complete woo-commerce integration, it also comes with special personalization options that will enable you to create an outstanding online store.
You will get a multitude of product gallery style options along with a special Ajax to add to the cart option. Above all, the Blocksy theme also comes with a special product quick view feature which allows the customers to get all the details on the product in a nice popup view.
100% Compatible will all popular PageBuilders
The best thing about this theme is the fact that it works completely fine with all popular WordPress page builders. Apart from Gutenberg, this theme also works with Elementor, Beaver, and Brizy builder with utmost efficacy. So, you will be able to give your website the best and ambitious design without any hassle.
Mobile Ready and AMP Compatible
Most people nowadays use their mobile devices such as tablets and smartphones for surfing the internet and various websites. Thus, it has become very important for websites to be mobile-ready and AMP-compatible as a result. Well, the Blocksy WordPress theme is completely responsive.
It means the website that you design with this theme will be completely mobile-ready and compatible with AMP. Hence, the visitors will be able to access your WordPress site from any mobile device they wish to without missing out on any feature of the website.
Blocksy Pro Features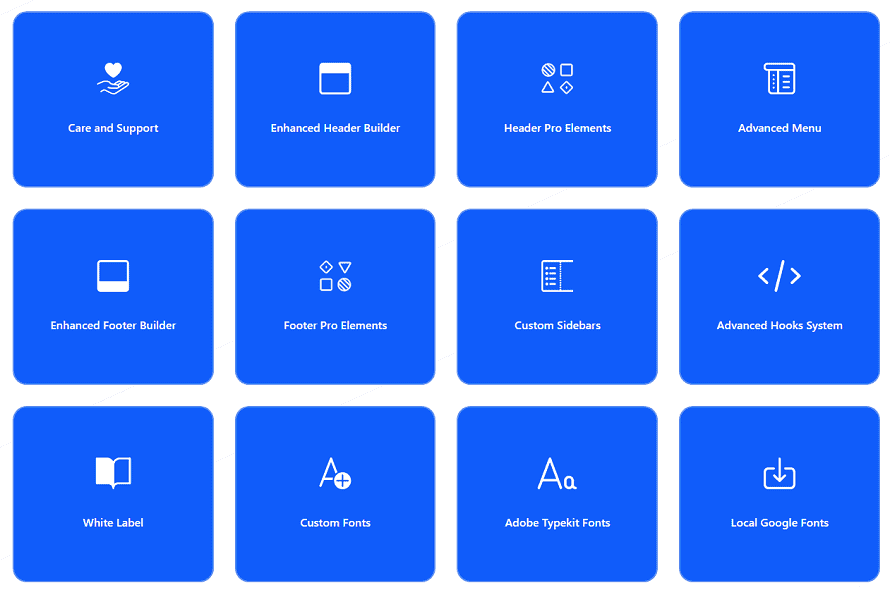 This hast to be one of the most unique features that the Blocksy Pro theme offers. You can create boundless numbers of headers and footers and have them displayed on individual pages according to your liking.
More importantly, it provides you with unique elements for your header and footer. So, it will allow you to make your website's headers and footers more innovative and attractive.
Advanced Menu Builder
Here you have another excellent feature that this premium theme offers. It allows you to create mega menus with a marvelous drop-down feature.

In this menu, you will be able to add any content that you want while controlling the complete layout of the menu to your preference.
Create mega menus
Add icons to your menu items
Insert content blocks (hooks)
Set design styles for menu items
Also, the advanced menu option also offers you the option to add different icons and content blocks to the menu if you wish.
Custom Sidebars
With this feature, you will be able to give a creative touch to all your pages. Well, you will be able to assign different personalized sidebars for different pages to add a unique look.
The highly intelligent and user-friendly UI that the Blocksy pro theme offers allows you to create sidebars from the same place as managing different widgets. Thus, you will never face any trouble in adding custom sidebars.
Create multiple sidebars.
Display conditionally.
Advanced Content Blocks (Hooks) System
Undoubtedly, this is one of the most innovative features that the Blocksy Pro has to offer. Thanks to its advanced content blocks system, it makes you are able to replace the mega menu with an overlay of the content block.
Thus, it opens new frontiers for you in designing your website. Most importantly, this feature works with excellent efficiency since the content in your website remains dynamic.
Custom Fonts, Local Google Fonts & Adobe Typekit
Thanks to the advanced features that this theme offers, you will be able to upload any number of custom fonts as you like. Just upload the fonts and they will be readily available to you.
Also, you can easily stay compliant with the rules set by GDPR by offloading different Google fonts from the servers you use. Plus, you can also integrate your adobe type kit with the theme just by pasting the kit ID.
White Label
The Blocksy Pro theme allows you to white label your website. It allows you to efficiently highlight your brand on the site to further generate interest amongst your customers.
You can easily customize any aspect of the website with relative ease. As a matter of fact, you can also hide the branding panels completely once you have branded the website.
Thus, promoting your brand and establishing a firm brand identity becomes a lot easier with this theme.
Replace original branding
Hide original branding panels
Custom Code Snippets supported
You can obviously choose to add JavaScript or CSS scripts to load globally or in general terms on every page of your website. It particularly helps in fast loading different libraries as well as code snippets.
However, if it feels too complex for you, you can also add header or footer scripts to load only within a specified page or meta box in a post.
Add globally header & footer scripts
Add header & footer scripts (page/post level)
WooCommerce Extra Features
Apart from all the features that the Blocksy free theme offers, you will get some interesting extra features in the pro version. The pro version provides you with a floating cart, off-canvas cart and off-canvas filters.

You will additionally get a quick view and gallery slider in this theme. Moreover, the Blocksy theme will soon add distraction-free checkout and multistep checkout functionalities as well.
Blocksy Theme Pricing
Annual Plans
Personal – $49/year – 1 site license – [Ideal for personal use]
Professional – $69/year – 5 sites license – [Ideal for online business] 👍
Agency – $99/year – Unlimited licenses [For freelancers & agencies] 🔥
Personal – $149/year – 1 site license – [Ideal for personal use]
Professional – $199/year – 5 sites license – [Ideal for online business] 👍
Agency – $299/year – Unlimited licenses [For freelancers & agencies] 🔥
14 Day Money Back Guarantee
Blocksy Pro also offers 14 days money-back guarantee to its customers. Thus, if you do not like the experience of using the Blocksy Pro theme then you can certainly request your money back within 14 days of purchase. In that case, you will get your money returned without any hassle.
Blocksy Theme Discount
One of the best WordPress creative themes, Blocksy theme surely offers a treasure trove of features and functionalities to its user.
With either the free or pro versions, you will be getting a promise of superior performance and different design features. On the other hand, you can opt for the premium version for added functionalities and features.
So, go for Blocksy theme and build your dream website.