It has been quite some years since Google unveiled its Google AMP projected. AMP or Accelerated Mobile Pages is the initiative to make the internet landscape even friendlier for mobile users.
Well, you can also add AMPs to your WordPress site. It will help your pages to load faster and allow you to appeal to your audience using the mobile devices.
Why do you need AMP for WordPress?
The main goal of AMP is to bring the most important content in front of the users as soon as possible. Thus, it accelerates the loading speed of your WordPress pages by getting rid of any extra JavaScript elements that you might be using in your website.
More importantly, it generates more clicks and impressions. As a result, with AMP plugin you will also be able to step up your SEO game.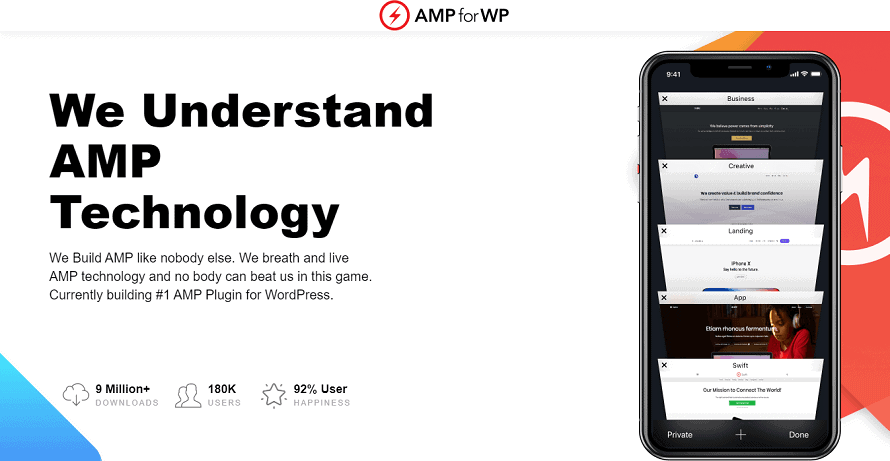 Features of AMP for WordPress
Best AMP Experience
With this plugin, you will surely get a wholesome AMP experience. In fact, the AMP for WordPress plugin makes it possible to load web pages instantly on the mobile devices of your customers.
Furthermore, it also allows you to get more engagement with the help of Google AMP. Besides, you will also get Auto AMP page validator feature that is inbuilt in this plugin.
Monetize with Native AMP Ads slots
One of the best ways to earn from your website is through proper placement of Ads on your website. Well, you can add ads to your AMP pages too with the help of Native AMP Ads slots which is distributed throughout the design. So, you will be able to add the ads to the most visible slots as per your wish.
Powerful Settings Panel
Of course, this plugin allows you to have complete control over the design of your AMP site with the help of the powerful settings panel. In fact, you will be able to control the colour schemes.
Moreover, it also provides you with 300+ highly powerful settings options. Plus, it is easy to use too. So, you will never have any trouble to design your AMP site.
Premade AMP themes
Of course, you will also get a plethora of premade AMP themes. It is not easy to design an AMP site from the scratch. Well, you will not have to worry about anything since you get a plethora of AMP themes along with this plugin. Thus, you can easily choose the right theme for your site and add the best look to your AMP pages.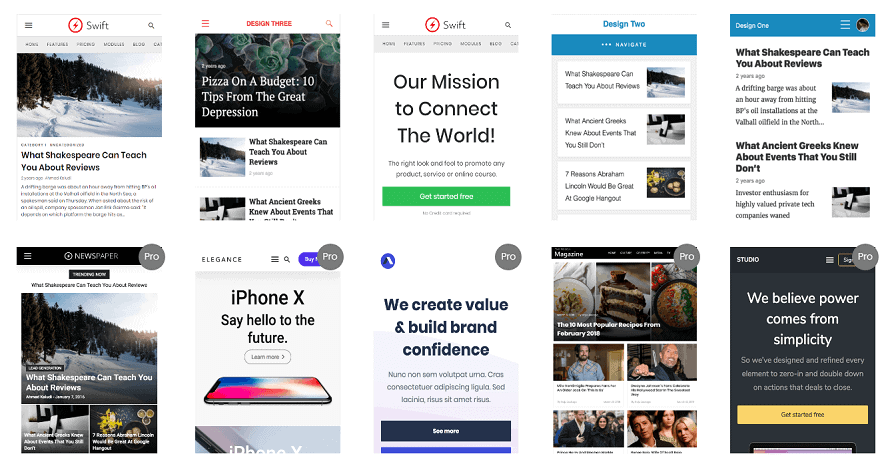 Highly customizable AMP Page Builder
Indeed, you will also get the AMP page builder along with this plugin. It will allow you to create complex yet stunning layouts for your pages without having to add a single line of coding.
Furthermore, it allows you to add a multitude of features to your pages like a call to action button, features section, videos, sliders, map, pricing section and a lot more.
Gutenberg & Page Builder Compatibility for AMP
Of course, AMP for WordPress is completely Gutenberg compatible. As a result, it will allow you to add different blocks and provide a neat yet captivating design to your pages.
Furthermore, this plugin is also compatible with page builders like Beaver Builder, Divi and others. So, it also makes sure that you can easily design your AMP site without much hassle.
AMP Extensions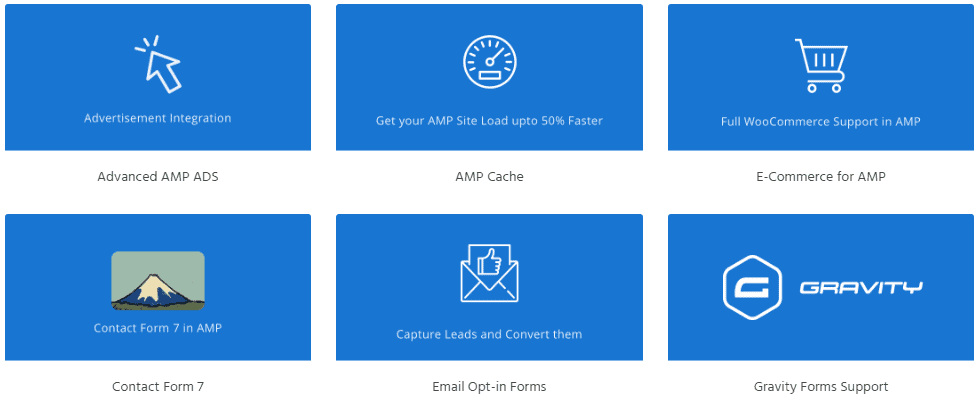 Well, AMP for WP also provides you with a plethora of extensions that you can use to your own benefit. In fact, you will get contact form 7, Woocommerce, CCPA, AMP Ads and different other extensions. So, you can always select the right extension you need and make your website more likeable for your audience.
Downloaded 11692635 Times & still counting.
Powering more than 1,80,000 Websites.
GitHub Stars 92%.
1092+ Ratings on WordPress.org
Total 334 Updates Pushed & More Coming.
AMP For WP Pricing
Personal 1 SITE $149/Year
Multiple 3 SITES $199/Year
Webmaster 10 SITES $249/Year
Freelancer 25 SITES $299/Year
Agency UNLIMITED $499/Year
AMP has created a whole new way on how we perceive the websites. Nowadays, most of the people use mobile devices for surfing the internet and visit websites.
Well, AMP for WordPress plugin allows you to optimize your website for such audiences and provide a lighting fast experience. So, get AMP for WordPress and take your WordPress site to the peak of success.