UpdraftPlus is undoubtedly one of the most popular and highly efficient backup plugins for WordPress out there.
With a comprehensive set of features and excellent support, it allows you to easily backup all the data in your website in a secure location or on the cloud.
Moreover, it is completely user friendly too. So, you will have no trouble in setting it up and using it.
Why do you need a backup plugin?
It is very essential for every WordPress user to back up their WordPress files as well as the databases regularly on a secure location.
In fact, it actually acts as a lifesaver if there is a loss of data due to any unfortunate incident or malware attacks. With regular backups, you will be able to restore all your data easily without any trouble.
With a good WordPress plugin, you will be able to perform these actions with the utmost ease and keep your website secure at all times.

Features of UpdraftPlus Plugin

Easy Backup & restore
Of course, this plugin is highly user friendly. In fact, it allows you to create a backup of your website with a few simple clicks on your screen.
Moreover, you will also be able to restore the data to your website easily too. The plugin has a very user-friendly interface so you will not have any trouble in using it.
Cloning and migration
This plugin also comes with a migrator add-on. Of course, the migrator add-on allows you to perform site to site migrations directly. With the help of this add-on, you will be able to clone a website for testing or to build a website on a local or temporary domain and then transfer it on the live website.
So, the UpdraftPlus plugin allows you to perform all these actions with relative ease.
Manual Backups & automatic backups
This has to be one of the finest features that this plugin offers. It allows you to backup your website in any way you want. As a matter of fact, you may choose to opt for a manual backup.
This way you will be able to back up your website at any time you seem fit. Otherwise, the plugin allows you to schedule your backups. You can schedule the backup time and your website will be backed up automatically.
Backup to remote storage locations easily
Updraftplus allows you to backup the data of your website in a secure remote location by simple tweaks on the settings.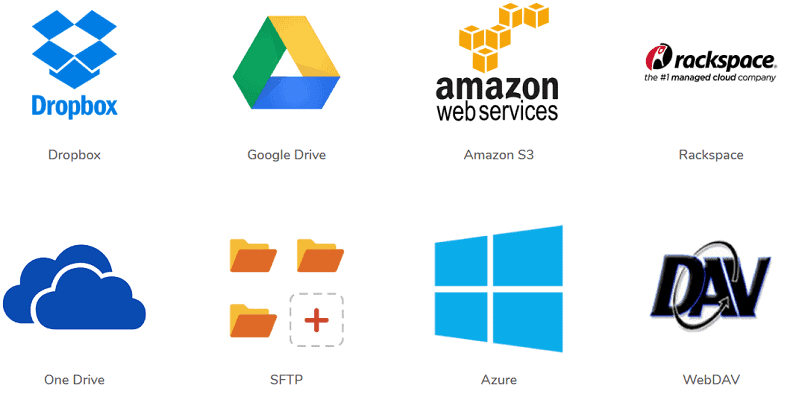 This is actually recommended since it amps up the data security greatly. Moreover, the plugin also comes with a special add-on which allows you to save the backup to more than one location for added safety.
Updraft vault storage
Updraft Vault storage has been sincerely tailored to meet all your backup needs. With this feature, you will not have to worry about saving your data to a remote location and go through all the hassle that it brings.
You can easily backup the data in Updraft Vault and make sure that your data remains secure at all times. Furthermore, the vault is built on Amazon S3 which provides it with high redundancy and scalability.
Updraft Central
Updraft Central is basically a highly intuitive centralised dashboard. It allows you to manage, backup and restore the data from multiple websites easily from a single place.
Thus, it saves you a lot of trouble and provides you with complete control over the entire backup process. It also provides you with plugin and theme management apart from connection to the Updraft Vault.
UpdraftPlus PREMIUM Plans
Personal 2 licenses at $70
Business 10 licenses at $95
Agency 35 licenses at $145
Enterprise UNLIMITED licenses at $195
Gold UNLIMITED licenses+ at $399/year
UpdraftPlus is certainly the most installed and efficient backup plugin for WordPress. It is undoubtedly efficient and user friendly. So, get this plugin for your website and ensure maximum security for your website data.