WP Rocket Spring Promo 2023 – Speedup Your Blog – The loading speed of a website is very important to the success of your website. Generally, people do not like the websites that take too long to load.
They get tired of waiting and close the tab. If that happens to your website, you can actually lose a lot of traffic as well as revenue.
The loading speed of your website is also essential when it comes to search engine optimization. Search engines like Google do not prefer websites with huge loading times. So, if you cannot reduce the loading time of your website, then you cannot achieve good ranks in search engine results too.
Thus, the WordPress caching plugins comes to rescue. The WordPress caching plugins create a ready-made copy of your website, thus it helps in maintaining the faster loading speed of your website.
WP Rocket Spring Promo [The #1 WordPress Caching Plugin]
When: from March 7th to March 21st
Promotion: 20% OFF on all new WP Rocket licenses
WPRocket is one of the most well known caching plugins in the world of WordPress. Created by Jean-Baptiste Marchand-Arvier, Julio Potier and Jonathan Buttigieg, the plugin started its journey back in 2013.
The creators of the plugin wanted to create something to change the slow speed of the websites thus they came up with this extraordinary solution.
Within just a few years, the plugin has been able to achieve huge popularity by optimizing the speed of 1,252,603+ websites. By now you must be looking for the advantages that the plugin offers in this WPRocket review.
Well, The WPRocket plugin can reduce the loading time significantly thus optimizing the speed. Whether its page caching, optimization of Google fonts, browser caching or gzip compression, the plugin provides you with everything that you need to optimize the speed of your website.
WP Rocket Real Customer Reviews From Trustpilot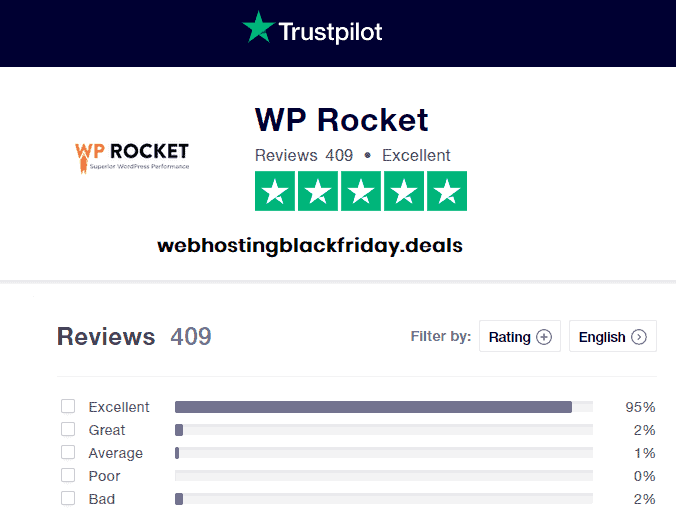 Pro's of WP-Rocket Caching Plugin for WordPress
Pros
Minimal Configuration, Immediate Results
Page Caching
Cache Pre-loading
Static Files Compression
Images on Request
Developer Friendly
Get a faster website in a few clicks – No coding required
Which cache plugin do you think is best?
Poll 1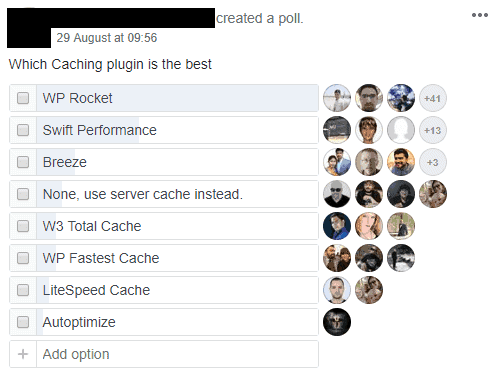 Poll 2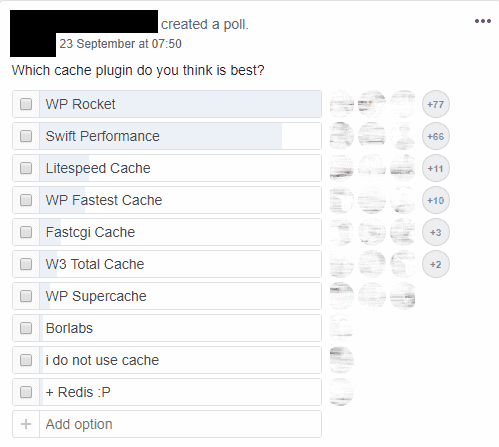 Interesting in knowing more about the WPRocket and the plethora of things that it offers? Well, then just go through our WP Rocket review and everything will be clear to you.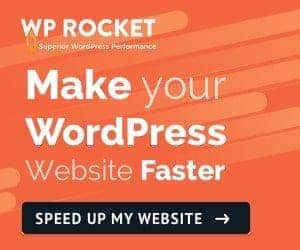 WP Rocket Spring Promo
Features of WPRocket Caching Plugin
WP Rocket provides you with a plethora of interesting features. As a matter of fact, it offers everything necessary to optimize the speed of your website.
Hence, it is not possible to fit every feature within the entirety of our WP Rocket review. So, we have listed the main features down below for you to check out.
Quick and Easy setup
It has to be the very first point in our WP Rocket review. The main USP of WPRocket plugin is the ease of set-up that the plugin offers. For most of the other caching plugins, you need to understand the mechanism and configure the settings carefully to successfully cache your website.
It is undoubtedly a daunting task since one mistake can seriously hamper the caching mechanism. However, you will never have to face such problems while using the WPRocket.
The control panel of the plugin comes with a few tabs and easy to understand options. So, you will be easily able to set-up the plugin quickly without having to worry about making mistakes.
Powerful Page Caching
Proper caching of the web pages is important in reducing the loading time and optimizing the speed of a website. The page caching process involves reduction of the server calls while fetching the contents of your website thereby boosting the loading speed greatly.
Plus, page caching also plays a significant role for empowering your SEO and helping your website to get more traffic.
The WPRocket plugin makes the process of page caching very easy. It gets activated as soon as you activate the plugin from your WordPress dashboard and increases the speed greatly.
Concatenation and minification
Optimization of the JavaScript, CSS and HTML of your website is also necessary to boost the loading speed. And they can only be optimized with the help of minification and concatenation processes.
Though the terms may sound highly complicated, it just takes a few clicks to be applied on your website when you are using WPRocket.
So, if you do not have any prior technical knowledge, then also you will not have to worry about implementing these tactics. All you need to do is to click on few boxes to get the job done.
Above all, the plugin also offers optimization of the Google fonts without any hassle.
Lazy Loading of the images
We all know that images take quite some time to load as they are downloaded from the server in order to be displayed on a web page.
And it ultimately increases the loading time greatly. But WPRocket has a perfect solution to eliminate the problem. The plugin comes with the lazy loading feature for images as well as videos.
Though it has been used by the different social media platforms, the feature is comparatively new for websites. What is this lazy loading feature that we are talking about in our WP Rocket Spring Promo review?
With the help of the lazy loading feature, the plugin helps your website to load the images only when the visitors scroll down. Thus, it reduces the loading time to a great extent.
Compressing GZIP
The GZIP compression has become very essential nowadays for utilizing the HTTP requests. As a result, most of the web browsers these days are enabling the GZIP compression. If you enable the GZIP compression, the size of a response that is being transferred can reduce by at least 90%.
With the help of this technique, you will be able to reduce the usage of data for users, improve the time of loading for your website and reduce the amount of time that is required to download the resources.
WPRocket provides you with highly efficient GZIP compression functionality that helps you to save a lot of bandwidth and optimize the connection with the server greatly.
Great custom cache lifespan
The cache of a dynamic website needs to be changed after fixed intervals in order to maintain the fast pace of your website. If you display social media feeds or similar fast changing contents, then the cache lifespan has to be very little.
Otherwise, the maximum lifespan of the cache for a dynamic website has to be 24 hours. With WPRocket plugin, you will be able to set the custom lifespan of the cache as per your needs.
Just set the duration for expiry of the cache and you will not have to worry about anything else.
Provides compatibility with CDN
With the help of WPRocket, you will be able to use almost all Content Delivery Networks or CDNs. The content delivery networks are basically used to reduce the latency of the HTTP requests.
You will be easily able to configure the plugin to work with your content delivery network from the CDN tab. Furthermore, the tools section helps you to get easy access to the clear cache as well as the preload cache option for better compatibility. Plus, you can also use it with CloudFlare.
All you will need is a CloudFlare account and you will never have to face any problem.
Great Help and Support
The WPRocket is undoubtedly user-friendly and easy to use. But that does not mean you will never get stuck anywhere. You can face confusion at any point while using the WPRocket plugin.
So, what will you do then? Does it mean that you will have to search the whole internet to find an acceptable solution? Well, that's not the case.
WPRocket comes with FAQs, Support tabs and knowledge-base that will help you to find a proper answer to your problem.
No matter what trouble you face, you will always be able to get the help you need when using the WPRocket caching plugin.
WP Rocket WordPress Caching Plugin Pricing
What's included with all licences?
Quick Setup
Page Caching
Cache Preloading
Sitemap Preloading
GZIP Compression
Browser Caching
Database Optimization
Google Fonts Optimization
Remove Query Strings from Static Resources
Lazyload
Minification / Concatenation
Defer JS Loading
CloudFlare Compatibility
CDN
DNS Prefetching
Mobile Detection
Multi-site Compatibility
eCommerce Friendly
Multilingual Compatibility
Connected Users
Import/Export
Developer Friendly
WP ROCKET vs HYPER CACHE vs WP SUPER CACHE vs W3 TOTAL CACHE
| | | | | |
| --- | --- | --- | --- | --- |
| | WPRocket | Hyper Cache | WP Super Cache | W3 Total Cache |
| Quick Setup | ✔️ | ✔️ | ✖️ | ✖️ |
| Page Caching | ✔️ | ✔️ | ✔️ | ✔️ |
| Cache Preloading | ✔️ | ✖️ | PARTIALLY | PARTIALLY |
| Sitemap Preloading | ✔️ | ✖️ | ✖️ | ✔️ |
| GZIP Compression | ✔️ | ✖️ | ✖️ | ✔️ |
| Browser Caching | ✔️ | ✖️ | ✖️ | ✔️ |
| Database Optimization | ✔️ | ✖️ | ✖️ | ✖️ |
| Google Fonts Optimization | ✔️ | ✖️ | ✖️ | ✖️ |
| Remove Query Strings from Static Resources | ✔️ | ✖️ | ✖️ | ✖️ |
| Lazyload | ✔️ | ✖️ | ✖️ | ✖️ |
| Minification / Concatenation | ✔️ | ✖️ | ✖️ | ✔️ |
| Defer JS Loading | ✔️ | ✖️ | ✖️ | ✖️ |
| CloudFlare Compatibility | ✔️ | ✖️ | ✖️ | ✔️ |
| CDN | ✔️ | ✖️ | ✔️ | ✔️ |
| DNS Prefetching | ✔️ | ✖️ | ✖️ | ✖️ |
| Mobile Detection | ✔️ | ✖️ | ✔️ | ✔️ |
| Multisite Compatibility | ✔️ | ✖️ | PARTIALLY | PARTIALLY |
| eCommerce Friendly | ✔️ | ✖️ | ✖️ | ✖️ |
| Multilingual Compatibility | ✔️ | ✖️ | PARTIALLY | PARTIALLY |
| Connected Users | ✔️ | ✖️ | ✔️ | ✔️ |
| Import/Export | ✔️ | ✖️ | ✖️ | ✔️ |
| Developer Friendly | ✔️ | ✖️ | ✖️ | ✖️ |
WP Rocket Spring Promo Sale FAQ's
Do WPRocket offers Free trial?
No, wprocket doesn't offers free trial, but they have a 14 day refund policy. If you dont like it you can get money back.
Does WP-Rocket work with my web hosting?
WP-Rocket is Recommended by Most of the WordPress Hosting Providers. Min Requirement of PHP 5.4 is Required. It will work will work on all type servers (Apache (with mod_rewrite, mod_expires, mod_deflate), NGINX, Lite-speed or Windows)
Is my license automatically renewed?
Yes, initially auto-renewal is enabled. you can disable it by visiting account dashboard-> order -> Disable Auto Renewal.
Can allowed to install WP Rocket on client sites?
Yes, you need to purchase Infinite license. They also have Reseller accounts contact the support for more information.
Is WP-Rocket GDPR compliant?
Yes, WP-rocket is 100% GDPR compliant. You have no issues, because this plugin doesn't include any cookies.
What is WP Rocket Black Friday 2022?
Every Year WPRocket conducts a special discount sale for their new customers, during that occasion you will get discounts to save extra money. WP Rocket Black Friday will be available during last week of November every year.
You cannot deny the importance of caching when it comes to increasing the speed of our website. WordPress being a user-friendly content management system helps you to do that with cache plugins.
A cache plug-in helps you by doing the job once setup properly. However, choosing the right plugin is always a hassle. So, go through our WP Rocket Spring Promo review once again and see if it serves your purposes well.
Is WPRocket the best cache plugin available for WordPress? Well, we leave it for you to find out.