Visual Composer Black Friday Sale Up to 30% – WordPress is great and if you able to customize WordPress by running a website is just the icing on the cake.
We all are not coding gurus, isn't it? Even some WordPress lovers don't know about HTML/CSS. Don't worry! It should not stop you from being able to customize your WordPress theme.
Visual Composer Black Friday Sale Up to 30%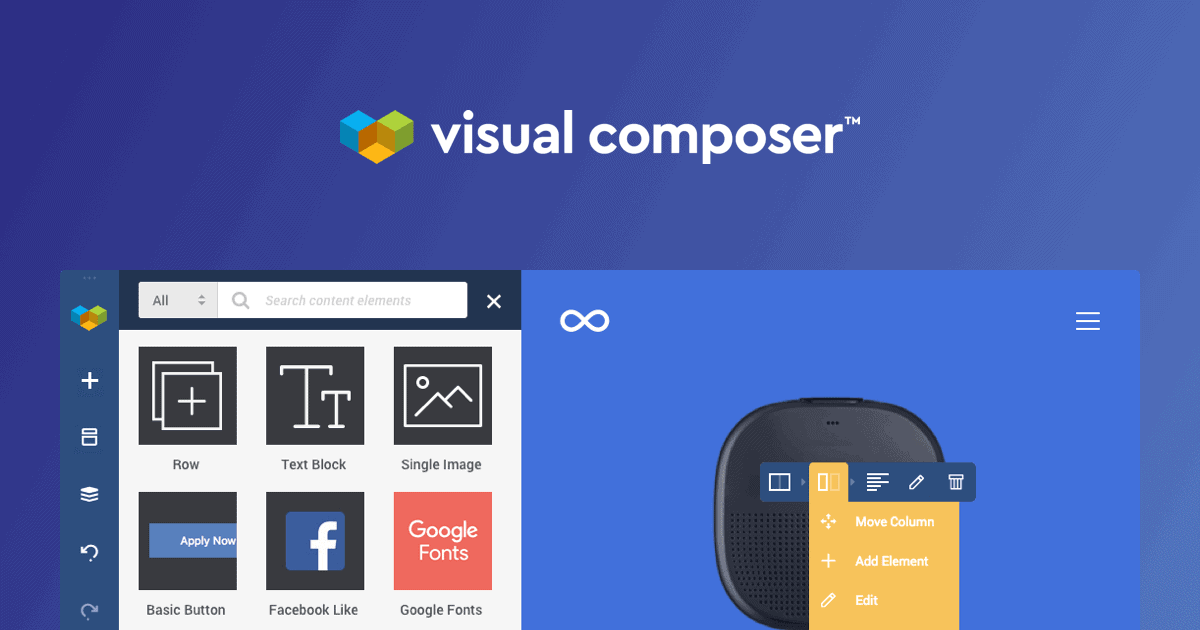 Visual Composer is an excellent plugin developed by WP Bakery that gives added a drag and drops page builder to your WordPress theme. You will be able to create complex page layouts without needing to touch the line of coding.
Coming Soon
Discount : up to 30% off Visual Composer Premium Plans (Both New Purchases & Upgrades)
Deal ends on: 23.11 – 30.11.
Plans (Up to 30% from below prices)
Single For 1 website $49/year
Plus For 5 websites $99/year
Accelerate For 20 websites $149/year
Agency For 1000 websites $349/year
VisualComposer Features
Drag & Drop Builder
300+ Content Elements
200+ Templates
Font Manager
Theme Builder
Popup Builder
Insights
Free Stock Images
Premium Support
---
Why You Need Visual Composer Premium?
How Visual Composer works?
It is a plugin you just need to install and enjoy its wonderful features. Once you activate it gives you control over the layout of your pages.
By simply adding a new page you will see new buttons that you can pin between classic and builder mode. As well as a button is there that takes you to the live front editor.
You can add rows, buttons, columns, text, images, etc. There is an option to save your layouts as a template to be used over and over again.

Just Drag and drop interface
To manage your layout and elements by using simple drag and drop across the page.
Easy user interface
Visual Composer is designed with keeping simplicity in mind. It offers an intuitive user interface with a low learning curve for the beginners and great features for the professionals.
Don't require coding skills
You don't need a tech-savvy person to create a website. The website builder is made and you can become a web developer today.
Instantly you can see the changes
You can instantly see all the changes you have made. You can play around colors, options and parameters and just see the results.
Adapter user interface
Configure interface and move navigation over the layout at any time. You can set it left, right, top, bottom or detached.
Undo and Redo option
While working with your content, you can revert back and forth at any time with quick Undo/Redo.
Blank page Wizard
By using a blank page wizard you to start your web design project. You need to start with a professional template or a blank canvas.
Installation and activation
This plugin can be installed like any regular plugin and you need to activate your copy to download additional content from the cloud.
Features of Visual Composer Black Friday Discounts

Saves your time
Visual Composer is now known as the WPBakery Page Builder is featured with rich drag and drop page builder. This feature made it one of the most popular WordPress plugins ever. It is also assured that you will create a website, portfolio, portal or blog without using a line of code.
Front-end Editor
You will experience the true editing with award-winning front-end editor. You will instantly see the changes you made using the most popular WYSIWYG editor on the market. You can simply build any type of element and highlight it using different colors to improve the user experience as well as navigation.
Excellent Backend Editor
You can quickly build your posts, custom posts and pages with backend editor. It is the perfect solution for content-rich layouts to check how your content looks on different devices such as mobile, tablet, etc. It ensures everything according to design fully responsive, grid as per your requirements.
Page Builder can work with any WordPress Theme
The PageBuilder work with any WordPress theme[We Recommend GeneratePress]. It means that you don't need to switch from builder to builder if you decide to change the theme. There is not requirement to learn new tools with each of your WordPress websites.
Downloadable templates from the template library
WPBakery Page Builder offers you a unique template repository with Pro designed layout. You can download any template you like and use them to build your WordPress website in seconds. The template library offers a large variety of different templates and gets updates on a weekly basis.
100% Compatible with Woo Commerce
Your Woo-Commerce website reaches the next level and edits your site on the go. The page builder provides all Woo Commerce shortcodes ready as content elements. It also ensures full compatibility with the most popular E-Commerce plugin for WordPress.
Work with multi-site network
If you are running a multi-site network WPBakery Page builder is for you. You can simply work with it without any problem.
Great design options
The plugin control over your layout with advanced Design Options. You can choose from various background effects like parallax, animations and shape dividers. Using Visual Composer you can even control the smallest details of your design.
Automatic Responsiveness
A mobile-friendly website is becoming a necessity these days. Visual Composer is an intelligent system that makes your website responsive automatically. The plugin is able to adjust the setting at any device. It hides the elements, control spaces for a desktop as well as mobile phones.
Optimized for SEO
All elements and layouts are following best SEO practices to keep your rank higher. This plugin is the most popular SEO plugin for WordPress, Yoast SEO. Visual Composer follows best SEO practices to ensure that your content is fully indexed and seo compact-able.
Great Performance
Visual Composer is designed for high performance, it is the fastest builder available in the market. The Smart CSS ensures high performance with the support of Post CSS. The high performance is ensured as it is based on cutting edge technology. This plugin is already tested on all major WordPress hosting on the market.
Regular updates
The regular updates with the new features and tools ensure a great experience using this plugin. The great customer support is there which is full of pro technical experts. The team will help you to resolve your queries forever.
Customer support
You can easily use a Visual Composer by using FAQ and detail documentation. The dedicated team of technicians is there for the premium version of the Visual Composer Website Builder is there to assist you round the clock.
Activate online community
You can activate online community by visiting slack.visualcomposer.io with regular office hours from the technical team. The detailed video tutorials are there to help you get started or create advanced layout step by step.
Multi-language Ready
The plugin talks your language, with the help of PO/MO files to meet your WordPress language preferences automatically. You can simply use right to left language with this plugin without any difficulty. All are covered in the basics when it comes to RTL compatibility.
Work with revisions
The plugin keeps your work safe as it is compatible with the WordPress revisions. It reverts quickly to the previous version without any issues.
Grid layout
It builds your website using rows and columns. You can add rows and divide them into columns and then resize the columns using the mouse. It keeps the content position within columns. You can go for the full row and full column width to achieve different content display options.
Disable Stacking and sticky elements
It disables the stacking for specific rows to adjust your layout for different devices using a single click. You can create sticky headers and interactive sections with a sticky row, column and section feature available out of the box.
Visual Composer Black Friday Discount 2022
Visual Composer Website Builder Vs WPBakery Page Builder
Visual Composer Website Builder – Can be used for Creating Website & Content[including Headers and Footers]
WPBakery Page Builder – Can be Used only for Creating Amazing Visual Content for you blog.
credits: visualcomposer
| | | |
| --- | --- | --- |
| Features | WPBakery Page Builder | Visual Composer Website Builder |
| Free version | ❌ | ✔️ |
| Drag and Drop editor | ✔️ | ✔️ |
| Frontend editor | ✔️ | ✔️ |
| Tree view mode | ❌ | ✔️ |
| Backend editor | ✔️ | ❌ |
| Mobile editing | ❌ | ✔️ |
| Inline text editor | ❌ | ✔️ |
| Instant save | ❌ | ✔️ |
| Header editor | ❌ | ✔️ |
| Footer editor | ❌ | ✔️ |
| Sidebar editor | ❌ | ✔️ |
| Page layouts | ❌ | ✔️ |
| Global header and footer | ❌ | ✔️ |
| Works with any WordPress theme | ✔️ | ✔️ |
| Custom Post Type support | ✔️ | ✔️ |
| Multisite support | ✔️ | ✔️ |
| Multilanguage ready | ✔️ | ✔️ |
| RTL compatible | ✔️ | ✔️ |
| Template management | ✔️ | ✔️ |
| Blocks templates | ❌ | ✔️ |
| Element presets | ✔️ | ❌ |
| Templatera/Global Templates (Reusable templates) | ✔️ | ✔️ |
| Template Export/Import | ❌ | ✔️ |
| Design Options | ✔️ | ✔️ |
| Copy/Paste | ❌ | ✔️ |
| Element clone | ✔️ | ✔️ |
| Element custom name | ✔️ | ✔️ |
| Grid Builder | ✔️ | ❌ |
| Hide element | ✔️ | ✔️ |
| Keyboard shortcuts | ❌ | ✔️ |
| Recent colors | ❌ | ✔️ |
| Undo/Redo | ❌ | ✔️ |
| Blank Page Wizard | ❌ | ✔️ |
| Custom CSS | ✔️ | ✔️ |
| Custom JavaScript | ❌ | ✔️ |
| Element replace | ❌ | ✔️ |
| Role manager | ✔️ | ❌ |
| Icon libraries | ✔️ | ✔️ |
| Google fonts | ✔️ | ✔️ |
| Instagram-like filters | ✔️ | ✔️ |
| Parallax effects | ✔️ | ✔️ |
| Gradient background | ❌ | ✔️ |
| Slideshow background | ❌ | ✔️ |
| Carousel background | ❌ | ✔️ |
| Zoom In/Out background | ❌ | ✔️ |
| Video background | ✔️ | ✔️ |
| Element animations | ✔️ | ✔️ |
| Background image position | ❌ | ✔️ |
| Shape divider | ❌ | ✔️ |
| Box Shadow | ❌ | ✔️ |
| Instant column resize | ❌ | ✔️ |
| Column stacking | ✔️ | ✔️ |
| Reverse column stacking | ❌ | ✔️ |
| Row full width/height | ✔️ | ✔️ |
| Responsive preview mode | ✔️ | ✔️ |
| Automatic responsiveness | ✔️ | ✔️ |
| Custom row responsiveness | ✔️ | ✔️ |
| Yoast SEO support | ✔️ | ✔️ |
| Shortcode support | ✔️ | ✔️ |
| WordPress widget support | ✔️ | ✔️ |
| Gutenberg element | ✔️ | ✔️ |
| Block for Gutenberg | ❌ | ✔️ |
| Custom widget support | ❌ | ✔️ |
| Unsplash Stock Images | ❌ | ✔️ |
| API | ✔️ | ✔️ |
| Staging activation | ❌ | ✔️ |
| 3rd party Add-ons | ✔️ | ✔️ |
| WooCommerce Support | ✔️ | ✔️ |
| Cloud library | ✔️ | ✔️ |
| Menu elements | ❌ | ✔️ |
| Online customer support | ✔️ | ✔️ |
| Theme integration | ✔️ | ✔️ |
| Developers License | ❌ | ✔️ |
Note: Both are different products, you can import & export data's between two builders.
Buy Visual Composer Black Friday Offer
Visual Composer Black Friday Deal is one of the best popular and high rated plugin sale. It is also known as drag and drop page building plugin on the market. If you are unable to create a complex page layout using the code, then Visual composer is a great choice.
However, there is a little bit of a learning curve to use this plugin, that is relatively easy and saves your valuable time. There are a lot of plugins are available in the market, but the Visual Composer is one of the good choice.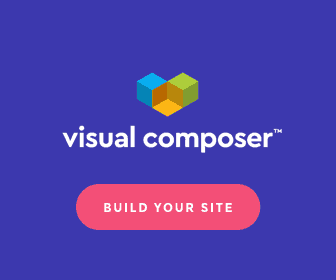 This plugin gives some advanced tools to the developers who will be able to make their own add-ons and plugins. You only need to buy it for once to have it for a lifetime without any renewal fee.