Novashare (A Fast and Lightweight Social Sharing Plugin for WP) – Social sharing plays a crucial role in building a loyal web audience. It allows you to build traffic for your website while providing success to your online marketing campaigns.
Thus, it has become very important to pursue social sharing in the world today. Novashare is a phenomenal social sharing application that allows you to easily share your website content in different social media sites.
Novashare is completely light in weight yet highly efficient. In fact, this WordPress social sharing plugin is just 5 KB in size.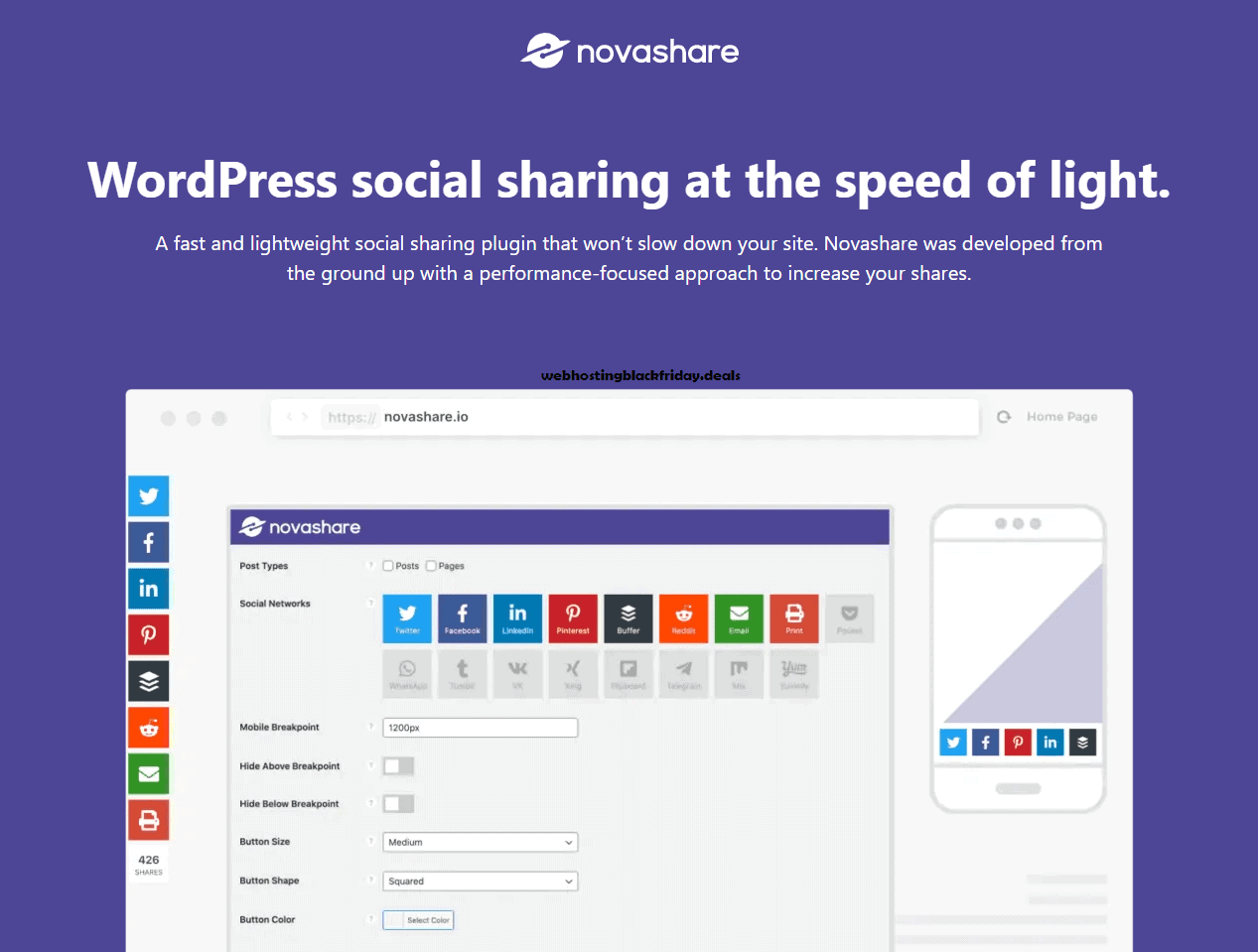 Therefore, it will never slow your website down. Moreover, it comes with inline SVG icons as well as a click to tweet box. Thus, it makes sure to provide you with all the privileges to up your social sharing game.
Being a top WordPress sharing plugin, Novashare provides you with a plethora of excellent features. What are they you ask?
Well, here we are listing down the top features of Novashare only for you. So, have a look to understand what Novashare actually features:
Adding sharing buttons to your website actually increases your social visibility and increases engagement.
You can add the share buttons on your blog posts, e-commerce products, web pages and custom post types with the help of the Novashare plugin.

In fact, with NovaShare you will get share buttons for Twitter, Facebook, LinkedIn, Pinterest, Buffer, Reddit, Pocket, Email, Print, Whatsapp, Tumblr, VK, Xing, Flipboard, Telegram, Mix and Yummly.
So, you can easily share your post or page in any social network of your choice. Moreover, it also comes with a count button which displays the total number of shares of the specific post or page thereby encouraging others to share.
Novashare currently supports following networks,
Twitter*
Facebook*
LinkedIn
Pinterest*
Buffer*
Reddit*
Hacker News
Pocket
Email
Print
SMS (mobile)
Copy
Messenger (mobile)
LINE (mobile)
Whatsapp
Tumblr*
VK*
Xing
Flipboard
Telegram
Mix
Yummly*
Subscribe
Share
*share count supported
Offers a simple and friendly UI
The user interface of any plugin determines how user friendly the application actually is for any website owner. It is not possible for anyone to learn a new and complicated UI just for the sake of using it.
Well, with Novashare, you will never have to worry about these things at all. It certainly takes advantage of the native WordPress styling.
Thus, it makes Novashare UI very easy for you to use and fashion the social sharing options on your website without any hassle.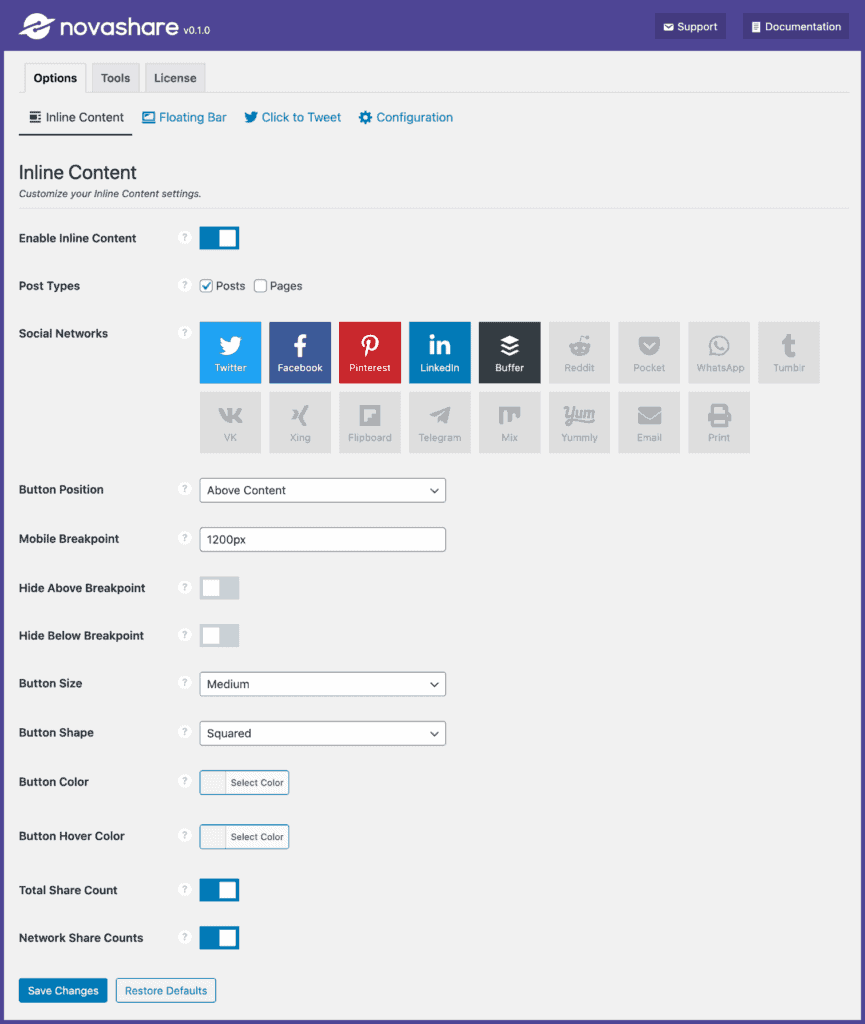 Lightweight and fast-loading
Of course, it is one of the few things that Novashare efficiently offers. It does not run any script on the places where you have not selected it to run.
Instead, it makes use of the special SVG icons that are inline. Thus, it does not take any separate DNS lookups or extra libraries to load the sharing icons. They use custom tables thereby keeping your wp_options table light and breezy.
Moreover, it also takes a special staggered approach to refresh the count rates which further enhances the performance of your website.
Most importantly, its file size is less than 5 KB on the front-end which further ensures maximum speed to your website.
CSS – 1.4 KB.

JS – 928 B.
Click to tweet block
Novashare also provides you with a special click to tweet block. You can add it anywhere in your post with a simple click.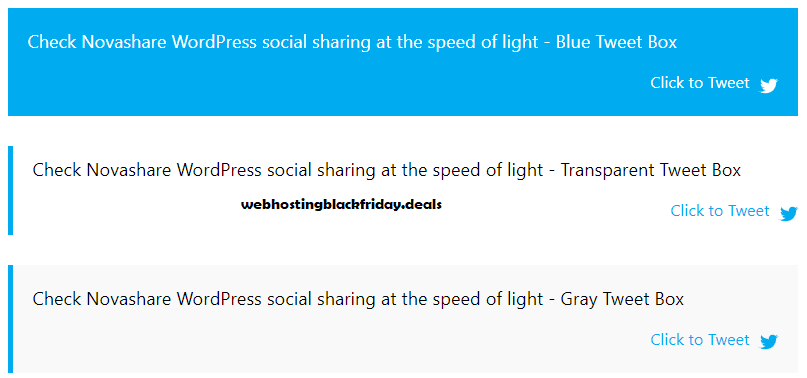 It offers you three different colours to choose for the block theme along with the ability to change the default CTA as well as CTA positions.
Plus, you can also hide the URL as well as the username along with an option to hide the hashtags. It also adds your twitter username to your tweets automatically.
In other words, it provides you with complete efficiency when it comes to tweeting.
Pinterest image hover pins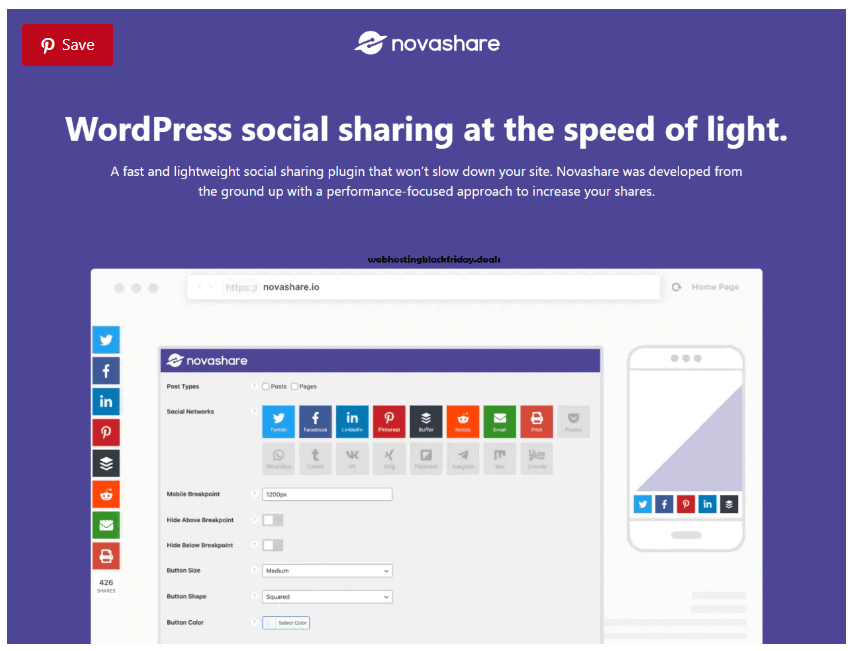 Maximum Responsiveness across all devices
It is very important to make your social sharing buttons responsive across different platforms. The audience nowadays does not use a specific device type to browse through a website.
While some use their desktop, many make use of their tablets or smartphones to surf through your website. Thus, it is very important to make your social sharing buttons responsive across all devices and Novashare allows you to do that easily.
You can also configure the buttons as per your preference across different platforms and set breakpoints where you want to simply hide the sharing options using this plugin.
Caters to your branding
Like every person has their own individuality, every website has its branding which serves as one of its USPs. And Novashare respects that totally.
Hence, Novashare allows you to customise its sharing buttons as per the branding of your website. You can easily adjust the colour of the buttons along with its size with few simple clicks.

Thus, it enables you to present an efficiently tailored experience for your visitors which are completely unique to your site.
Offers Link Shortening and Analytics
Novashare believes in simplicity while providing you with all the data you need. Hence, it offers easy to use analytics as well as link shortening features.
You can easily configure the parameters of the UTM to understand which social sharing site is driving more traffic to your website.
Moreover, it allows you to simply shorten the URLs without distracting them with the help of Bitly. Plus, you can also analyse the data from the shortened link in the Bitly dashboard.
Provides multisite support
Well, this is definitely one of the most important things Novashare offers. It caters to a multisite setup with ease. You can easily apply the settings from your primary site to your other sub-sites without any hassle.
Thus, you will be able to address different social sharing needs of multiple websites without having to set up a separate account for others.
Light weight, other plugin files were minimum 90 KB per file.

Does not add burden to your blog.

Highly customizable, Offers all popular social media networks.

GDPR-friendly, Analytics and link shortening Supported.
Pricing is High for beginners.
1 Site – Personal $24.95 $22.45 per year
3 Sites – Business $54.95 $49.45 per year
Unlimited Sites $149.95 $124.95 $112.45 per year
Currently it supports 17+ Social Media Networks, Developers were working to bring more Social Media Networks.
Yes, Novashare is 100% GDPR-friendly and No additional configuration needed to enable. Like other Social Sharing Plugins, this doesn't use any trackers, place cookies, or collect personally identifiable information (PII) data of any kind.
Currently, they provide 10% Off for all new purchases. You can use above button to avail this offer.
Do I need to renew my license after my expiry?
Yes If you need latest features, you have to renew your novashare.io subscription. If you didn't renew it you can still use the plugin without any future upgrades.
Is there any Offer for Renewals?
Yes, they provide a automatic 15% renewal discount. It will applied automatically at checkout page for renewals.
Can i upgrade my Single Site to Unlimited Site License?
Yes you can visit dashboard and click on View Licenses – View Upgrades and Click on Upgrade License. The amount will automatically adjusted.
Does they offer Money-Back Guarantee?
Currently they support 30 day Money-Back Guarantee, if you don't like the plugin you can opt for it. Do checkout their Refund Policy. Refunds do not apply to product upgrades or annual renewals.
Social sharing is gaining utmost interest as time passes. It has become one of the most vital factors that allow you to generate traffic and drive up the rate of conversion.
Being an excellent WordPress share plugin, Novashare makes sure that you get all the functionalities needed to reach your online marketing goals easily.
So, opt for Novashare and bring efficiency to your efforts of building a loyal audience base.