In the world today, there are several web hosting providers offering managed hosting services. While everyone claims to be the best, there are only a few services that really fulfill your needs and Kinsta Managed hosting service is undoubtedly one of them who provides fastest wordpress hosting.
Established by WP programmer and developer Mark Galvada, Kinsta offers high performance managed service that will deliver your needs as per expectations.
Having been in the hosting industry since early 2014, it has incorporated cutting-edge technologies to give tough competition to leading hosting services and making its mark among every interested user.
The best thing about this company is that it always updates its offerings in order to set new milestones in the WordPress managed hosting niche.
As per the test conducted by Loadstorm, the performance of Kinsta is truly remarkable. Plus, they offer a wide array of incredible features thus establishing itself as a prime choice for everyone seeking WordPress managed hosting service.
Still confused about whether to opt for Kinsta? Well, go through our Kinsta managed hosting review [currently one of the top 10 websites in the world] and you will be able to make the right choice.
Features of Kinsta Managed Hosting – High Traffic WordPress Hosting
As we mentioned at the beginning of our Kinsta managed hosting review, it offers a wide array of exciting features. However, it is not possible for us to incorporate all of them in the course of our review.
Thus, we have listed only the most important ones to make sure that you get the proper idea.
Powered by Google Cloud Platform
This is the very first feature that we considered appropriate for our Kinsta managed hosting review. Kinsta is one of the first managed hosting companies to run on the Google Cloud Platform.
The Google cloud platform comes with LXD containers, automatic scaling and one of the biggest networks across the globe.
Since the Google Cloud Platform makes use of the container technology, your site will be isolated from any other website that uses services from Kinsta.
Kinsta also utilities the premium tier of Google Cloud Platform. Thus, it offers 16 data centre locations which are strategically placed in order to provide the lowest latency.
Google Cloud Data Center Locations
Hamina, Finland (europe-north1)
Council Bluffs, Iowa, USA (us-central1)
Jurong West, Singapore (asia-southeast1)
Sydney, Australia (australia-southeast1)
Montréal, Canada (northamerica-northeast1)
The Dalles, Oregon, USA (us-west1)
Moncks Corner, South Carolina, USA (us-east1)
São Paulo, Brazil (southamerica-east1)
Netherlands (europe-west4)
Changhua County, Taiwan (asia-east1)
Ashburn, Virginia, USA (us-east4)
St. Ghislain, Belgium (europe-west1)
Mumbai, India (asia-south1)
Tokyo, Japan (asia-northeast1)
Frankfurt, Germany (europe-west3)
London, UK (europe-west2)
100% Uptime reliability
Most of the hosting companies in the industry claim to provide maximum uptime. But they hardly match the industry average of 99.5%. However, that is not the case when it comes to Kinsta.
Kinsta assures you about the uptime of their server completely. When you are using Kinsta, then you will not have to worry about unwanted downtime's or crashes thus enabling a hassle-free experience.
Kinsta's Custom Dashboard for Server Management
The dashboard that Kinsta offers is really cutting-edge. The Kinsta dashboard is not only elegant but also smart too. The access to the panel is made completely secured with the help of "two-factor authentication".
Plus, it keeps all your activity logs which keep all records of your activity in the account make sure that your account remains safe and can be accessed reliably.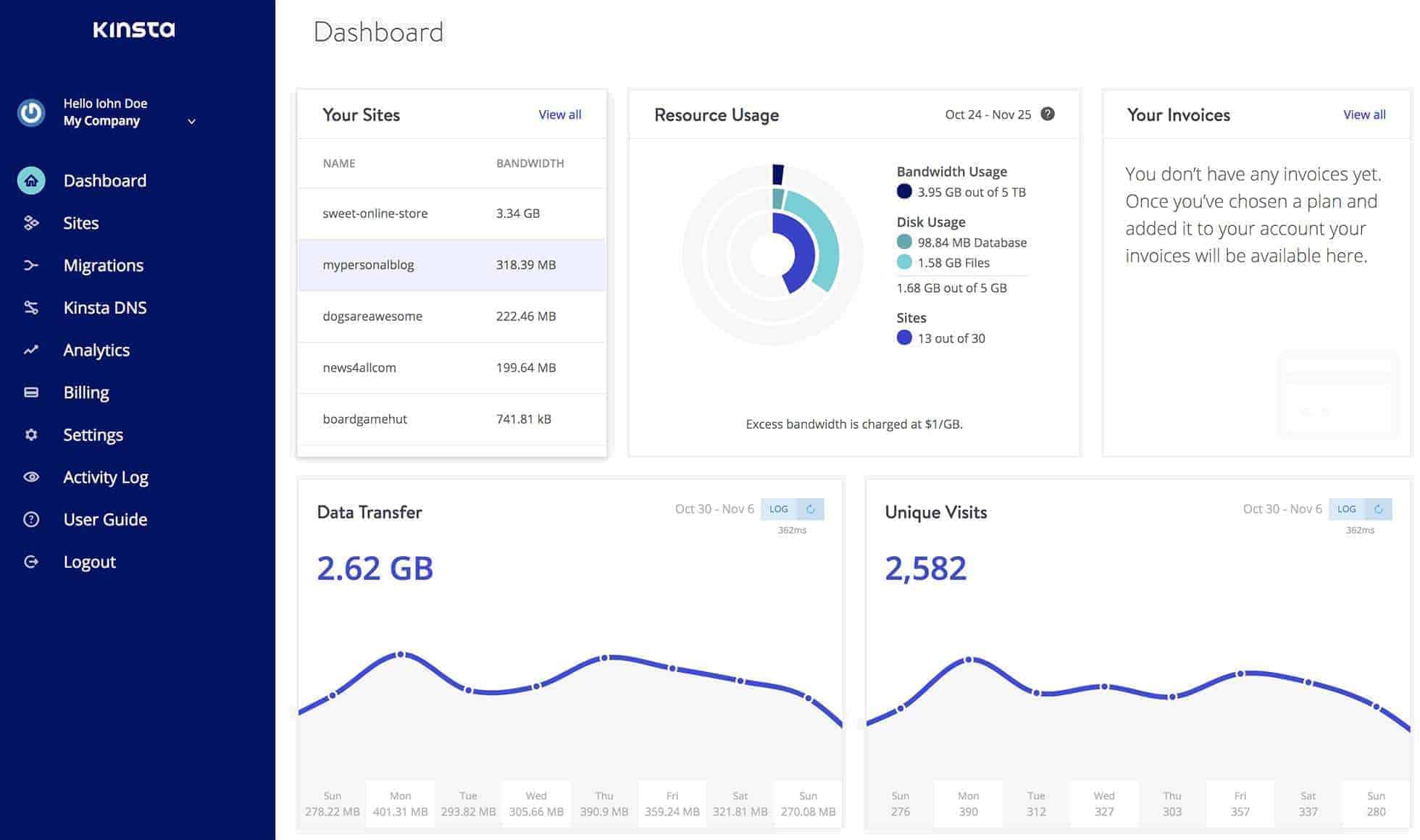 Moreover, the dashboard also provides you with all the relevant information like visitors, invoices, usage of bandwidth and several other things. The custom Kinsta dashboard also comes with a management screen that helps you to filter the site if you have several websites.
Note: They don't use cPanel Dashboard or Plesk, this is customized completely by them for easy to use.
MyKinsta vs Cpanel vs Plesk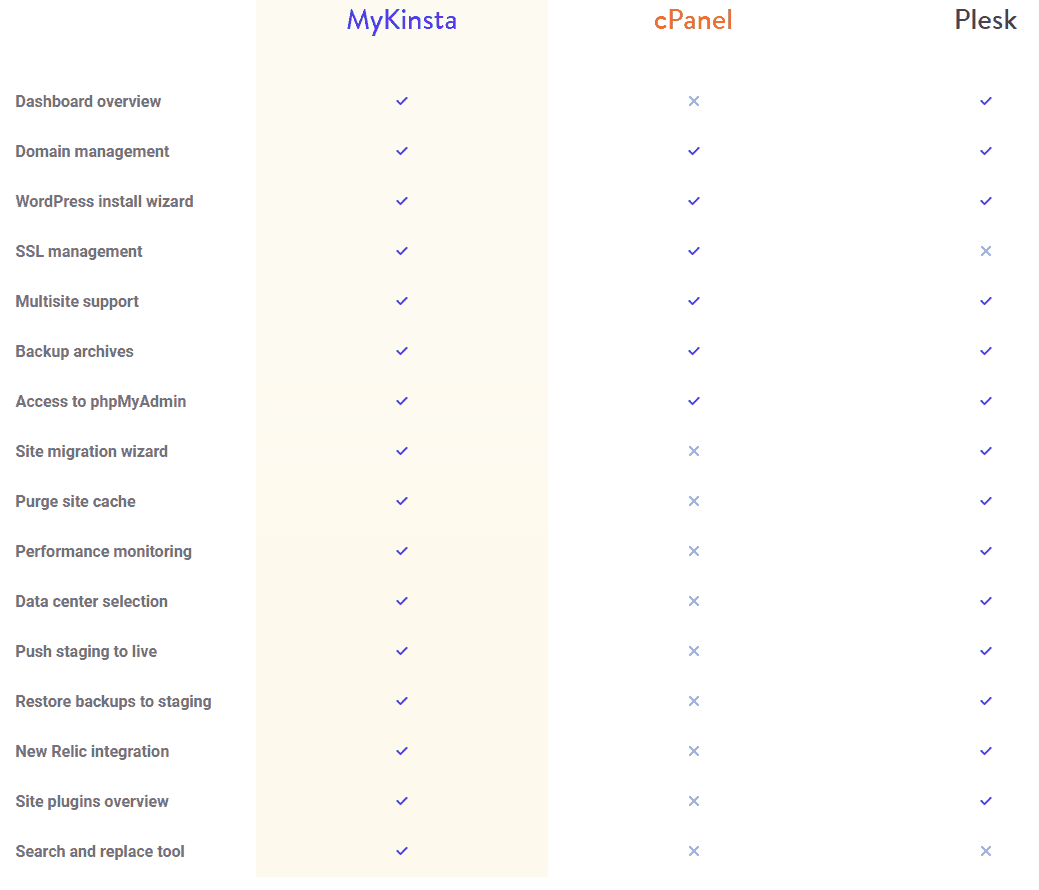 Kinsta Performance, Speed and Security Features
Kinsta offers passive as well as active security to all its clients. Their incredible team of professionals looks for every malicious threat or security hazards and they take immediate action to eliminate the threat through their multilayered protection.
Speed obsessive architecture
Nginx
LXD containers
PHP 7
MariaDB
The sites that are managed by Kinsta are continuously checked for uptime as well as DDoS attacks and they block every code that tries to breach their network efficiently.
Site Performance Tests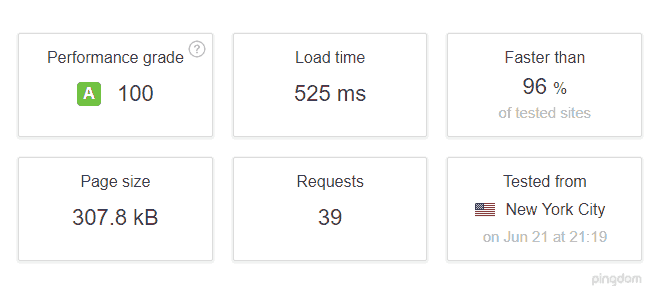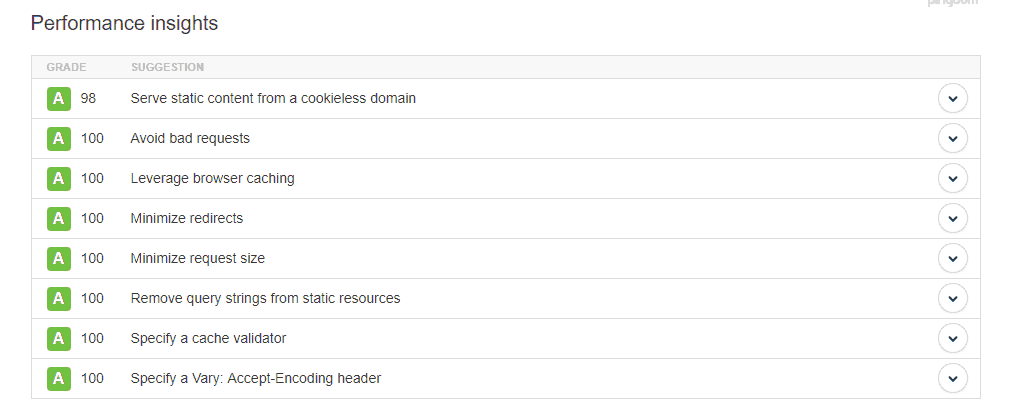 Kinsta security comes with hardware firewalls along with tight restrictions based on software and malware scanners. Above all, they also offer third-party SSL support.
They offer,
DDoS detection
Hardware firewalls
Uptime monitoring [Every 5 minutes -288 checks/day]
SSL support
As far as the speed of the website is concerned, Kinsta makes sure that the loading time of your website remains low. It offers you with server level caching which enhances the speed of your website greatly.
Furthermore, the strategic location of the data centers also reduces the latency.
In Built Kinsta Caching Plugin
The best thing about Kinsta that we must mention in our Kinsta managed hosting review is the caching feature that it comes with. Caching is an important aspect when it comes to maintaining the speed of your website. However, caching your website manually can be a real tiresome job.
But you do not need to worry about that if you are using the Kinsta managed hosting. It comes with an inbuilt server level caching feature or plug-in which cache all your web pages and make sure that your website functions at top speed. Thus, if you are using Kinsta you will not even have to go for any caching plug-in or Install Anything extra.
Easy one-click staging area
This is really an innovative feature. Kinsta provides you with one-click staging area that helps you to make necessary modifications to your website easily. Whether you want to test new plug-ins or your site needs developing, Kinsta makes sure that you get a secure site staging environment.
👉 You can find this option under MyKinsta Dashboard -> Sites -> Info,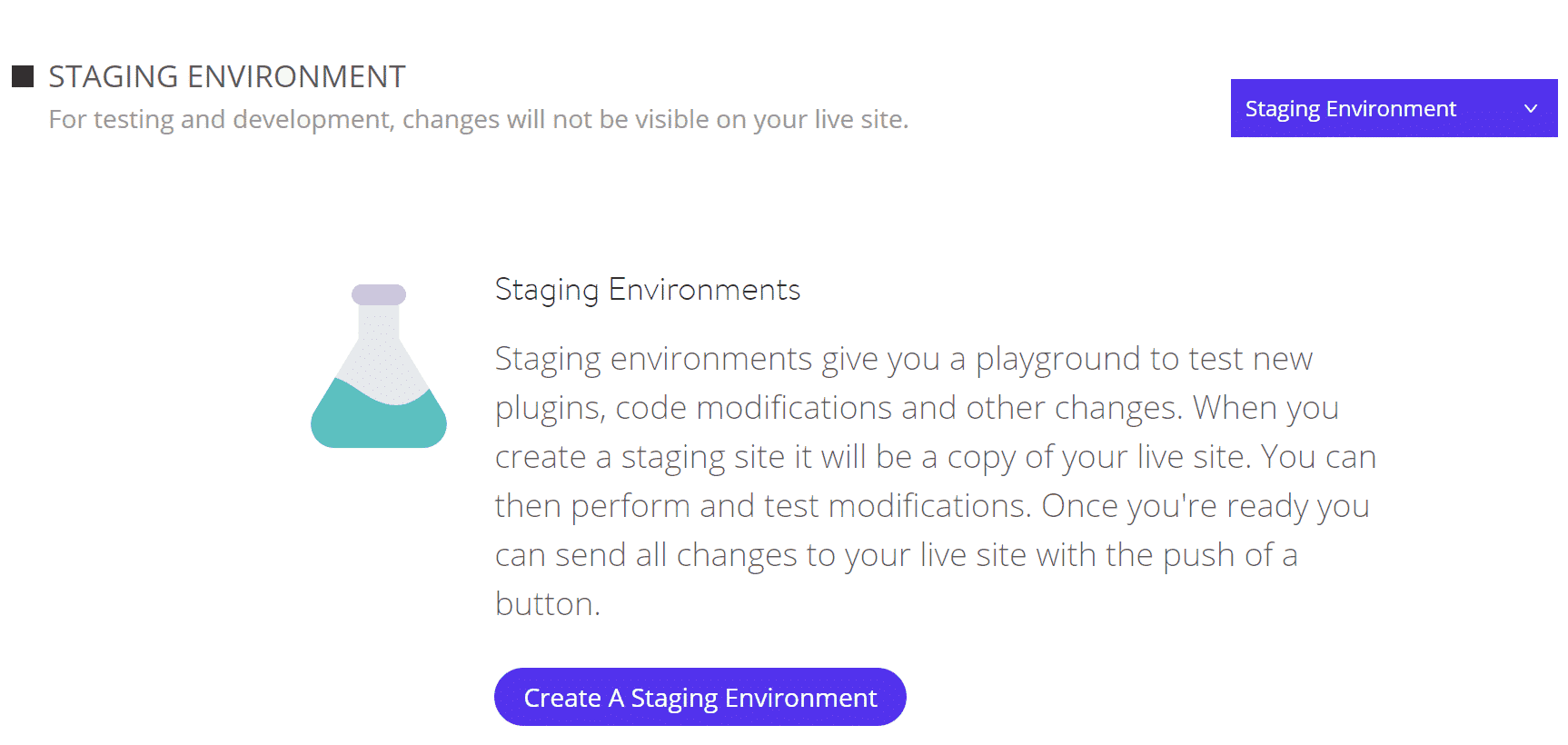 👉 Click On BackUp Now to Take Cloning or Stagging Environment of Your Site.
This is an especially interesting feature for the developers since it helps you to make necessary changes instantly. With the staging feature, you will be able to restore the changes made during staging even when your website goes live.
Thus, it provides you with total control over your website.
Automatic Daily Backups
Kinsta offers you the ability to automatically backup your website. With Kinsta, you will be able to store 14 backups at the same time. However, the default setting is one backup per day. If you restore any backup, then it also takes a backup of your website just before restoration and features it on your dashboard so that you can utilize it completely.
👉 You can find this option under MyKinsta Dashboard -> Sites -> Backups,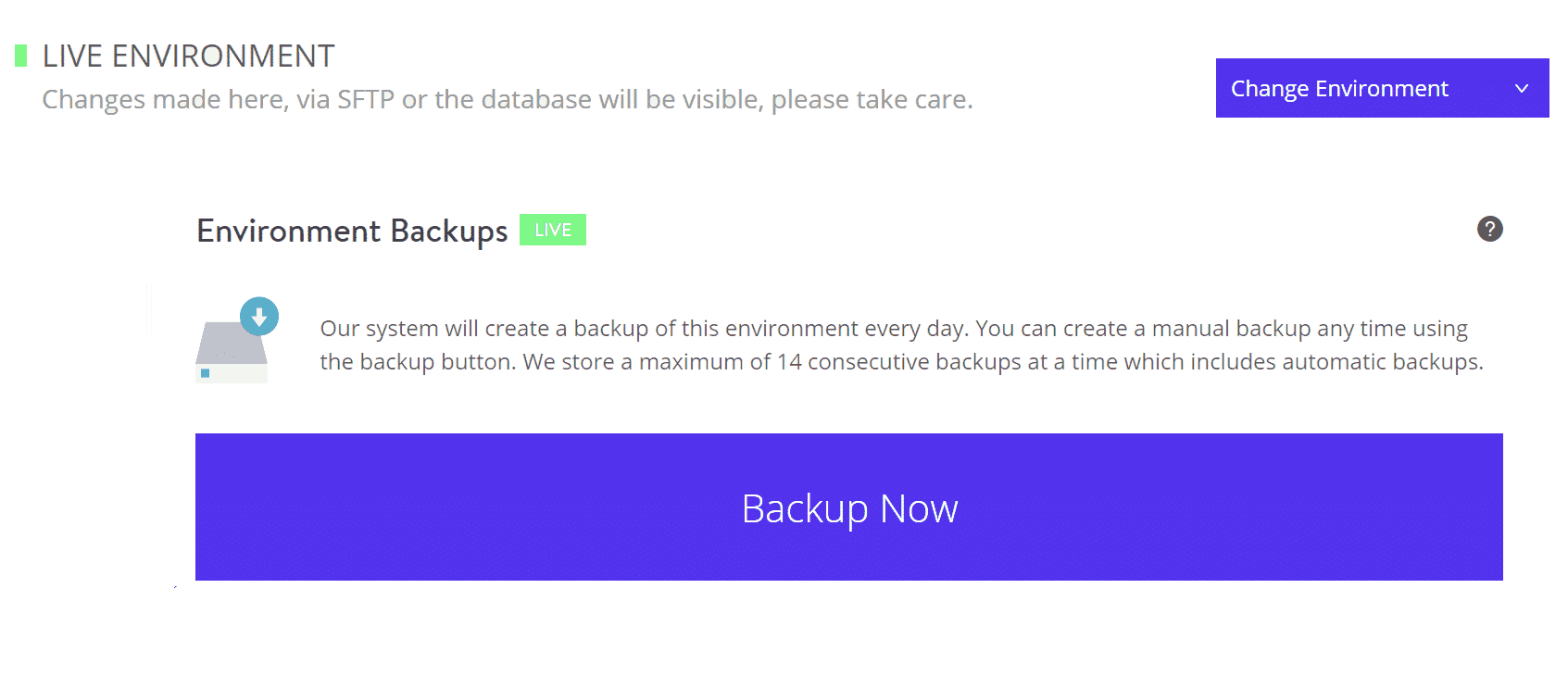 👉 Click On BackUp Now to Take Backup of Site.
Free Site Migrations
Most of the people refrain from changing their web hosts due to the hassles of migrating your website to a new server. But you do not need to worry about that when you are opting for Kinsta.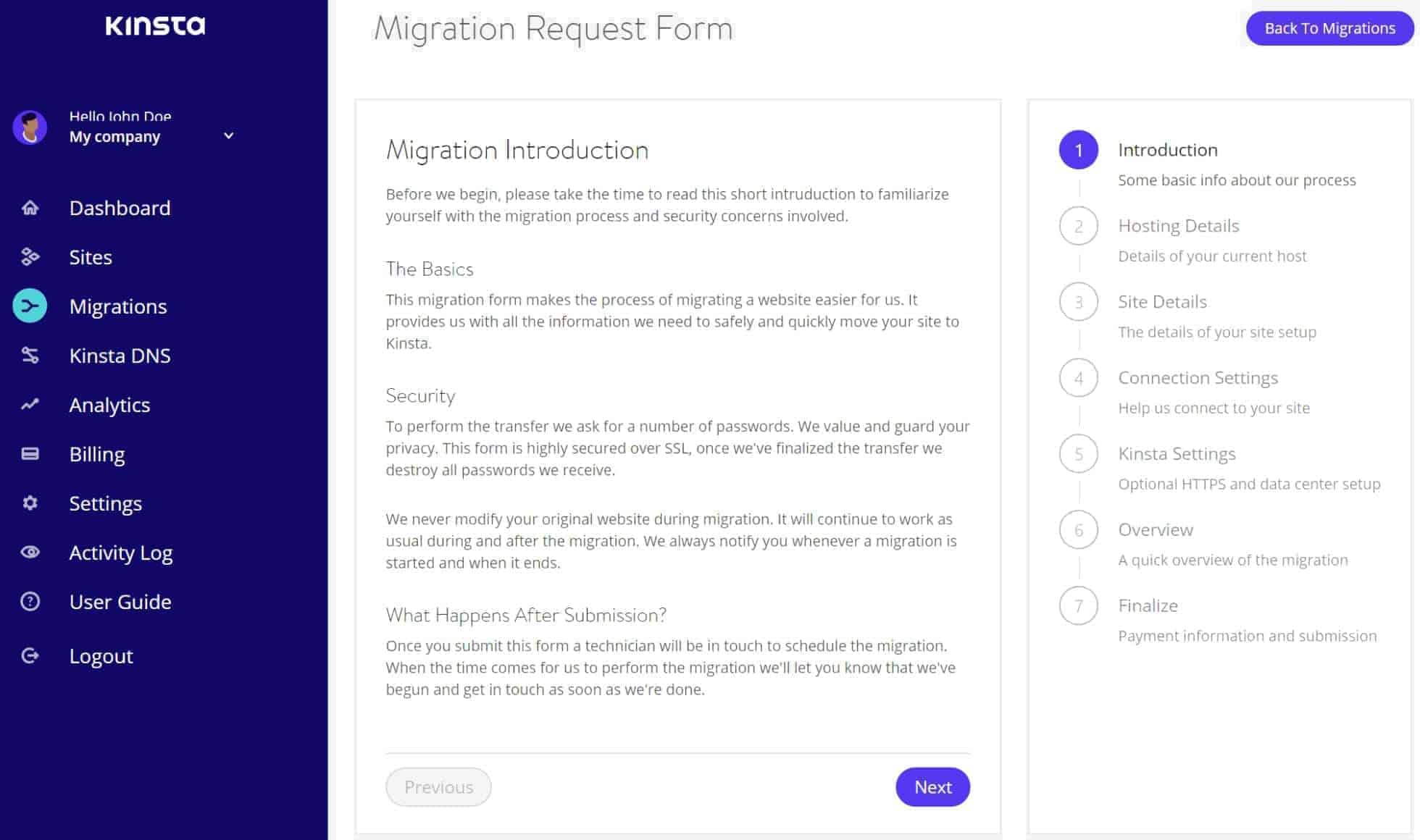 Kinsta offers you with free migration service. They put your website on a temporary domain on the Kinsta servers. And their expert team transfers your website safely to the Kinsta servers thus saving you from all the troubles.
Free Kinsta CDN
Though Kinsta did not have the CDN feature previously, they have now partnered up with KeyCDN to provide you with the CDN integration functionality.
If high speed is something that you seek along with Kinsta's powerful servers, you can easily enable the CDN feature from your dashboard.
As soon as you enable CDN, it provides you with a combo that makes your website unparalleled in terms of speed and performance.
How to Enable the Kinsta CDN on Your WordPress Site?
Step 1:  Goto Mykinsta dashboard -> Select Sites and Click on Manage.
Step 2 : Now go to CDN tab & Click on Add Zone & wait till below process to complete
Kinsta CDN zone is created
CDN domain propagation
SSL certificate is issued for CDN domain
Now Kinsta CDN is Completely Enable, You can conform it by checking URL's of scripts or images.
CDN Bandwidth Limits for each plans
Starter plan provides 50 GB
Pro plan provides 100 GB
Business 1 plan provides 200 GB
Business 2 plan provides 300 GB
Business 3 & 4 plan provides 500 GB
Enterprise 1,2,3 & 4 plan provides 1 TB
If you find ant mixed content error or problem in using CDN, you can use their knowledge base or contact them for lighting fast support.
WordPress Expert Kinsta Support
The customer support that Kinsta offers is better than anything that you may have experienced so far. In other words, it is really fantastic. The team is very supportive and they always go out of their way to help you out.
The support team is really knowledgeable and helpful as they help you in every possible way to make sure that you get the perfect answer to all your questions. The best thing about the Kinsta support team that needs to be mentioned in our Kinsta managed hosting review is the fact that they are available 24/7.
No matter when you are facing the trouble, you will get the perfect solution whenever you need. So, there is absolutely nothing that you need to worry about while using the Kinsta managed hosting.
Whether it is a technical problem or anything else for which you need support, you will get it easily from the Kinsta support team.
Some more notable features
PHP 7.xx
One-click cloning /One-Click Staging Environments
WP-CLI, Composer and Git
Free SSL, SSH and SFTP
Support
High-Performance
Global Reach
Automatic Backups
Developer-Friendly
Security
Scalability
Premium DNS
How to Save Money on Kinsta Hosting Purchases?
Currently they don't any kinsta discount coupons, but you can save money on Annual Purchases..
Get 2 Free Months of Hosting – Savings if Paid Yearly
Starter plan ($60 savings)
Pro plan ($120 savings)
Business 1 plan ($200 savings)
Business 2 plan ($400 savings)
Business 3 plan ($600 savings)
Business 4 plan ($800 savings)
Enterprise 1 plan ($1,200 savings)
Enterprise 2 plan ($1,800 savings)
Kinsta Managed WordPress Hosting Black Friday Cyber Monday
Conclusion
Kinsta is one of the Best Managed Wordpress Hosting providers currently. The only con is too expensive for Beginners or intermediate bloggers.
kinsta vs wpengine
kinsta vs flywheel
kinsta vs siteground
kinsta vs pantheon