As the name suggests MemberPress is a tool that allows you to turn your WordPress site into a membership website. A Membership plugin is a tool that is added to your WordPress website for managing your blog subscribers and customers data's. This plugin helps you to easily manage your site customer orders, data's and etc..
MemberPress Best WordPress Membership Plugin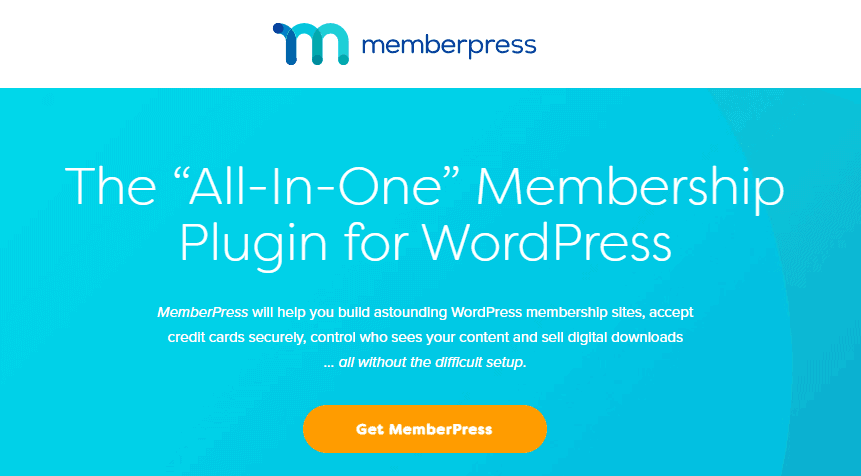 Features of MemberPress
To review a MemberPress you must check what is offered to its users. Here I am going to mention the features of MemberPress.
Unlimited Members, Membership & Products
All the plans includes unlimited members, so you no need to worry about adding members, you can add as much as, while in other membership plugins there will limit on adding members based on their plans.
Also a single member can access more than one product at a time so this feature makes the plugin awesome. You ca show multiple products, courses, or content to a single member without any restrictions
Also you can sell one or many number items, because memberpress works best with small or large websites, also the setup is easy and simple. No need of extra addon or plugins to sell products to your blog members.
This will help to increase your business and earn more money.
Protect You Content with Unlimited Access Rules
Using this feature you can show content according to member subscription level. Yes, access rules helps to protect your content like posts, pages, license keys, special sections, file download links according to their membership level.
So you can protect your content easily using this memeberpress plugin without any additional addons.
Cleanly coded & fast loading Wordpress membership plugin
This plugin is developed in the way to load faster, also it follows the latest standard rules of wordpress community. So it must clean coded and fast loading wordpress membership plugin.
If you use a slow and bad coded membership plugin you cant like to open a membership or purchase your product. This plugin is designed in the way to avoid conflicts with other plugins and can manage data's unlimited members.
Simple Setup
Once you setup memberpress plugin correctly, it will auto generate pages according to your customer plans.
For eg: if you customer does not have any purchases, it will display product pages and makes your new member to purchase your course or product.
You can also show payment pages, thank you pages after product purchasing, etc. You can use Access rules to display pages so no conflicts with other pages and members.
You can also Simple Payment Setup with multiple vendors, complete and automatic tax handling.
Add Coupon Feature and Increase Your Sales
Nowadays when people decided to purchase a product they mostly look for coupons to save their hard earned money. If you dont offer any discount to your visitors, the you will lose 79% of customers.
But this memeberpress has inbuilt coupon features, all you need to create a coupon and display it on your blog. When a visitor decided to purchase your product he/she can apply it during checkout page. The coupon feature will automatically show final price after the discount applied. This process is simple & easy.
Using this feature you can create as many number of coupon, plus you can also control the limit of coupon, coupon starting date and expiration date, etc.
Accurate Reporting Tool
You don't need any additional addon to view stats of your product/blog performance. The memberpress dashboard is designed in the way to display your product performance. You can get details like how many active purchased members, last sale, refund request, you earned money, etc..
You can also sort it according to time period and view data's easily. The data will be easily understandable and following this you can take actions to increase sales.
Incredible customer support
You don't need to pay extra money for premium support. They have easy to understand knowledgebase, you can search queries on it. If you still didn't get the information you need, you can contact memberpress support and they will solve your problem as much as possible.
Best Priced Wordpress membership plugin
Many membership plugins were priced highly and also charges extra $$ in the name of addons. But MemberPress is fairly priced and you don't need to worry about it. You will be extra features for the money you paying when compared to other wordpress membership plugins available in the market.
Also they have 14 day money back guarantee, if you don't like the plugin contact them and ask for refund within 14 days of your purchase.
MemberPress Plans
MemberPress is my top Favorite "All-In-One" Membership Plugin for WordPress, it has many inbuilt features which can be easily understandable for new users and mostly useful.
After installing this plugin managing your wordpress membership site will be easy and you will have great user experience without any conflicts.