WP Social Ninja Black Friday & Cyber Monday Discounts – Every WordPress user needs a tool to help them create the best blog for themselves. With a whole host of amazing features, WP Social Ninja is an extremely powerful software that is your one-stop for anything you need.
You are the administrator and will have everything at your disposal. WP Social Ninja gives you a multitude of tools that are perfect for everything that you might want to do.
Here are a few of the features that make WP Social Ninja the Best Social Media Plugin.
WP Social Ninja Black Friday-Cyber Monday Discount
upto 50% discount. Offer Starts: Offer Starts: 15-11-21 & Offer Ends: 05-12-21.
Other WPManageNinja Black Friday Cyber Monday Deals UpTo 40%
Social Reviews Features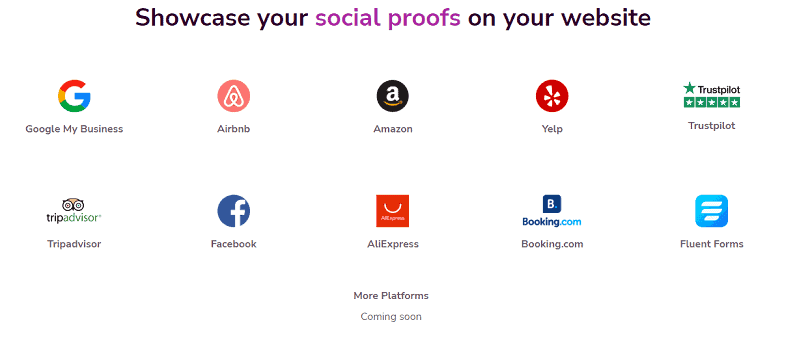 Take control of your displayed reviews
Many WordPress articles and blogs include reviews on the website. With WP Social Ninja you can control the exact amount of reviews you want to be shown on the site at any given point in time. You can even pick and choose individual reviews.
Choose your display rating
Similar to reviews, you can also tailor the ratings that your websites receive. You can choose to display the top ratings, the average ratings, or any specific ones that you want to filter out.
Easiest Way to Fetch User-Generated Reviews on your Website
Include or exclude specific reviews
Businesses receive a ton of reviews, even though not all of them can be displayed on your page. WP Social Ninja allows you to select particular reviews based on filters of your criteria to decide which ones can be shown, and which reviews are to be hidden. You can process through vast amounts of reviews and show only the most relevant ones.
Ask for More Reviews
Showing reviews is only part of the picture in order to motivate more and more people to drop in their own reviews and boost the traffic engagement that your WordPress blog is able to enjoy. Thus, we can help you create the best system for collecting even more reviews.
Social Feeds Features

Social media posts are a great way to grab the attention of the viewer. However, manually loading each one of them can be a long and difficult process.
WP Social Ninja updates social media posts in real-time and displays them right on your website feed. This ensures that the social media content that is being displayed loads quickly and is always up to date.
Place your Shortcodes anywhere
Placing your posts in the right position, location and format are critical in order to drive customers to click on them. Our tools give you advanced options to place shortcodes anywhere on your website for quick and easy access for anyone who desires to visit.
Besides, having multiple such shortcodes make it easy to navigate around the page, and reach your desired destinations without any worries.
100% Fully responsive on any device
From mobile phones to desktops, irrespective of what devices are being used, WP Social Ninja can ensure responsiveness and support across multiple types of devices and operating systems.
All your design and layout elements will appear scaled according to the right manner. This level of cross-compatibility is amazing to boost the popularity of your webpage.
Hashtag or Search term
Social feeds are useful only when they are relevant to your content. By using hashtags and search terms, WP Social Ninja can filter out the best and most relevant social media posts and put them directly into the feed of your website. You can precisely choose what you want to display on your page with utmost control.
Social Chat Features

Multiple chat widgets
Chat widgets built using WP Social Ninja have compatibility with multiple device types on phones and desktops. Multiple communication channels can be opened and managed simultaneously without any hiccups.
Personalize chat box widgets
WP Social Ninja is the Best Social Media Plugin for customizing your chat box widgets. These chat boxes are a part of your website's identity, and hence you should heavily invest in making their design as appealing and popular as possible. Our tool gives you everything you need to tailor-make a design for yourself too.
Pop-up chat box anywhere
Pop-up chat boxes that can open anywhere or be moved to any part of the screen are a huge convenience. This feature ensures that none of the important information on the website is blocked out by any of the pop chat boxes for a smooth and uninterrupted experience.
Set the time schedule when offline
Addressing the customers immediately is extremely important. Hence, if your team is unavailable at the moment, instead of leaving the customer hanging expectedly for a response, we can schedule the time when your team can be online in order to address the needs and queries of the aggrieved customer.
WP Social Ninja Black Friday-Cyber Monday deals
UpTo 50% Off from below pricings,
Single Site License $79
1 Domain License
1 year Plugin Update
1 year Priority Support
All Features Included
Agency License $249
25 Domain License
1 year Plugin Update
1 year Priority Support
All Features Included
Unlimited License $399
Unlimited Site License
1 year Plugin Update
1 year Priority Support
All Features Included
WP Social Ninja Black Friday Deal 2021
Many experts believe that WP Social Ninja Black Friday-Cyber Monday deals is the Best Social Media Plugin out there because of its feature-rich and easy-to-use platform.
The services of WP Social Ninja are managed by industry experts who know exactly what is needed in order to give a much-needed boost to your WordPress account.
Whenever you use WP Social Ninja you will feel like it is the swiss army knife of WordPress Tools. It allows you to do whatever you want, whenever you want with your page.