Well,If you Own a Hostgator Hosting Package (Additional Domains not available on Hatchling Plan) and confused How to Add Addon Domain to it and To Host Multiple Blogs on Hostgator Hosting. If Yes Continue Reading this Guide, I will be Guiding How do I create and remove an Addon Domain on Hostgator Hosting?
If you were a 1st time Hosting buyer then you can try Hostgator Baby Plan, Because it supports Unlimited Domains, Unlimited Bandwidth , 24/7/365 Support and many more features. Buying Hostgator Baby Plan would be a Best deal for first time hosting Buyers.
What is an Addon Domain?
An addon domain is a fully functional domain that can be created from within your control panel. Think of it as having multiple hosting packages all sharing the same control panel.
You can create email addresses, forwarders and more — the same way you do for your primary domain on the account. The only difference is that the files share the same control panel and server.
HostGator offers unlimited addon domains for all accounts except for the Hatchling plan. If you have doubts regarding Addon Domains you can refer these articles written by Hostgator.
What is an Addon Domain?
Please Read before Creating an Addon Domain.
Note:- You can use the Same cPanel For all the Addon Domains, Hostgator will not provide any additional cPanel for the New Addon Domains. You can access all the Details from that cPanel itself.
Before jumping into creating Addon Domain on Hostgator cPanel, You must make sure that the Domain which you using must point to Hostgator. So You must Change the Default Domain Name servers to Hostgator Hosting Nameservers.
After Pointing Your Domains Nameservers to Hostgator Follow the Below steps to Add and Remove Additional Domain on Hostgator cPanel.
Check Out Fastest WordPress Themes 2020
Steps to Create HostGator Addon Domain:
With addon domains you can host multiple different domains with different website content, all under the same disk space and bandwidth of one cPanel
Login in to your cPanel using your login ID and password & Scroll down to Domains section.

Now click on Addon Domains & A New Window will open. In that enter the details as shown on below image.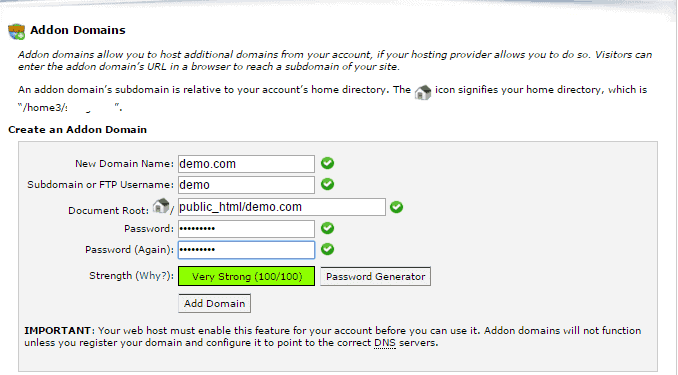 Details About These Fields,
New Domain Name: Enter the new domain name, but do not put http or www in the name.
Username/directory/sub domain Name: This will be the folder cPanel creates in your public_html folder. Normally, you want to ensure the name you provide doesn't already exist as a folder in public_html, but cPanel will automatically suggest the name and we recommend you stick with the suggestion.
Password: Fill in any password you want here. This password is used for an FTP account which is automatically created by cPanel. (You likely will not ever need this password, so we suggest picking a random password and forgetting about it.)
After entering all the details now click on Addon Domain and your Domain will be Created Successfully.

Guide To Add Add-on Domain To Siteground Hosting
Video Tutorial on How To Setup Addon Domain To Hostgator Hosting:
Hope this video tutorial on setting up the Addon Domain on Hostgator Hosting will provide a clear understanding.
Note: Your new domain name will not display your site until you set that domain's name servers pointing to Hostgator.
How to Remove an Addon Domain
To delete an addon domain, please do the following:
Login to your cPanel and click Addon Domains.

At the bottom, under Modify Addon Domains Section, click Remove for the Domain which you need to Delete.

Note:- Removing the addon domain removes the domain from the DNS and server configuration. Your files and databases are not deleted or affected by removing the addon domain (other than the fact that you can no longer access the affected files via that domain name).
Hope now you have clear idea about Adding and Removing Addon Domains to Hostgator cPanel. Check Hostgator Tutorial for More WordPress Guides.
Buy Hosting Using this Link and for Latest Working Hostgator Promo Codes Check Hostgator Black Friday 2020 Deals.