WP User frontend Lifetime Upto 30% Off Review – This Plugin plays a vital role in building up a site for you where users are easily allowed to register, user management, manage submission of posts by the user, the process of publishing, and subscription payment.
In order to run a good and smooth community site where users are allowed to register with a specific set of properties and features, submit content of their choice, limit content only to those who have a membership, etc., requires a plugin and that is where WP User Frontend comes into play!
Lifetime Plans Upto 30% Off
Features of the WP User Frontend Sale
The WP User Frontend WordPress Plugin has a wide variety of features that will help you to run your website smoothly and comfortably.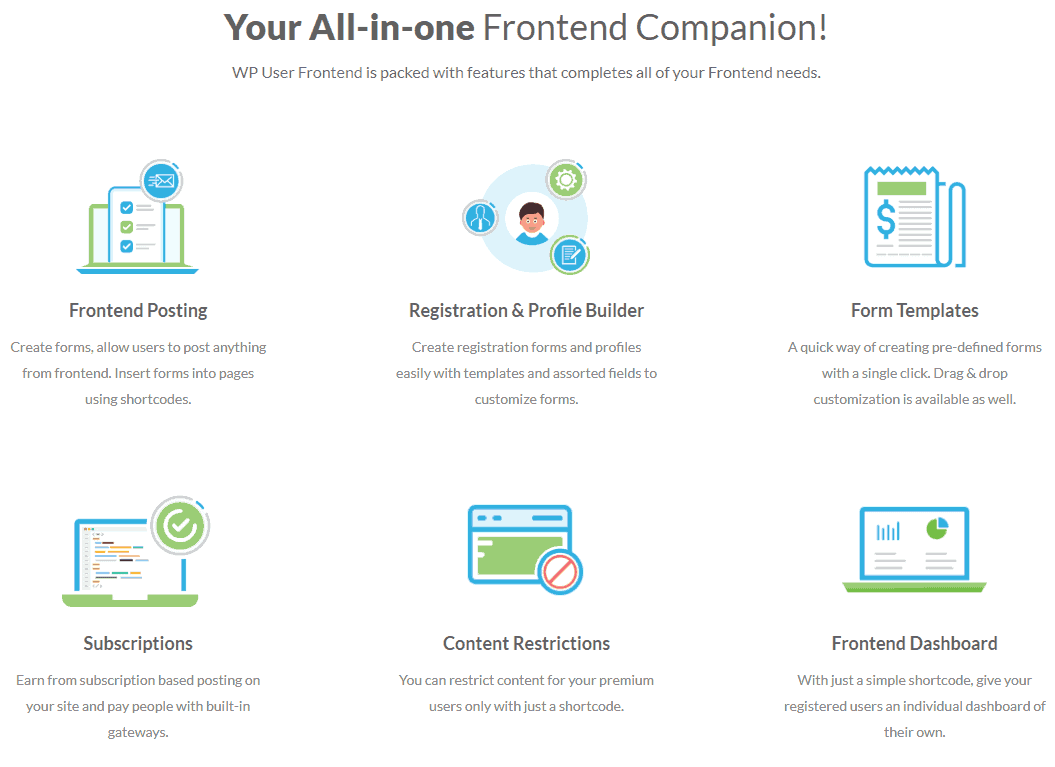 Let us take a detailed look into each of them right here!
The Frontend Posting
This is one of the most important and main features of the WP User Frontend Plugin. Through this feature, you can provide the users with the permission to access the custom field support, engage in posting through the post form builder, select from a variety of post types and taxonomies where you can bring out your inner creativity.
The guest posting feature allows your users and guests to post from the frontend using all the characteristics, with membership or subscriptions. The post form builder is an easy-to-use drag-and-drop character that will allow you to create post submission forms quickly and easily for your users.
These forms can be filled up in the format that you wish to be visible on the site. The custom field support under this will allow you to provide more than 30 custom field types to help you create as many variations as you feel like.
Unlimited Forms & Multistep Forms
Custom Post Type Support
Custom Taxonomy
Custom Fields
Guest Posting Support
Custom Redirection
Image Insertion in Post Content
Control Submitted Post Status
Conditional Logic's Much More
Registration and Profile Builder
This is another most basic yet important feature of the WP user frontend plugin. Registration forms can often become quite lengthy and of different kinds. The WP User Frontend provides you with a comprehensive set of forms that are already arranged.
It will allow the users to gain access to the special user's profile page where they can update their profiles without the need to go to the backend. It helps users to create a a dashboard named 'My Account' for a quick look into their profile and also allows the users to edit and make changes on their individual profiles, if necessary.
Users can Upload avatars to make their profile more interesting and fun too! You can also create your own custom profile form if you do not like the one as default and add as many fields as you like.
User Subscription management
Another feature of the WP User Frontend Plugin is Subscriptions. Here you can charge the user for posting in different ways using the WP User Frontend.
You will be able to add multiple payment gateways and add or withdraw policies according to your will without any trouble to allow smooth transactions on the site.
The special pay-per-post on each form, you will be able to earn money from every single post appearing on your site. The WP User Frontend also provides content restriction in which, using a simple shortcode, you can put a lock on submissions that are of high value and content of high quality for your special premium subscribers.
With the paid content on your site, your site can get the premium mark, limit the submission types, quantity as well as the duration of publishing.
User Content Restrictions
This is also very crucial to your website. With the help of WP User Frontend, you can restrict the premium contents on the basis of the different roles you have specified on your WordPress Site.
In case you are running a site that is based on subscriptions, then you can easily create separate pages and/or contents and lock them based on the subscription packs the users have opted for.
There is also a feature where you can restrict some users from reaching specific content on your site based on whether or not they have subscribed. Sometimes you may also do so for users who have logged in.
You can also hide or lock some menu links or options for users on the basis of user roles, registration, or subscription. You can also restrict users from posting on a category based on their subscription.
Content Restriction Types:
User Role Based Restriction
Subscription Based Restriction
Restriction for Visitors
Menu Link Restrictions
Taxonomy Restrictions
Frontend Dashboard
WPUF also allows you to create a customized Frontend dashboard using a few simple shortcodes for your users. You can also be free to create a 'my account' page separately for individual users in order to restrict access to the backend of your site.
You will be free to allow your users and visitors to manage the posts they create directly from the frontend using a dashboard that is rich in features.
With this frontend dashboard feature, you will be able to provide your users with a profile editing page where they can easily edit their information as and when they like.
Users will be able to gain access to the information related to subscription packs. You can also generate invoices directly from the frontend and send it to the users all on a single page. Let your users know more about their expenses through this simple way now!
Create Customized Frontend Dashboard
Frontend Post Management & Profile Editing
Frontend Subscription Details & Invoice Page
Premium Modules for popular app integrations
WP User Frontend plugin also has the fantastic feature of Premium Modules for popular app integrations. These includes
BuddyPress, which is an add-on that allows you to create a comprehensive field of profiles with WPUF and sync all registration and profile details
Campaign Monitor with which you will be able to enable it with a simple toggle button, get smooth information flow, direct the information submission process to any contact, set the form to which they want to connect, etc.
Comments Manager that allows the regular premium users to manage and control the comments on their posts directly from the frontend
ConvertKit is led by WPUF and sends emails curated professionally, transfers data in real-time, maintains a list of contacts, etc.
GetResponse that provides an all-in-one frontend solution to the emails you receive
HTML email templates that provide designs for your automated emails.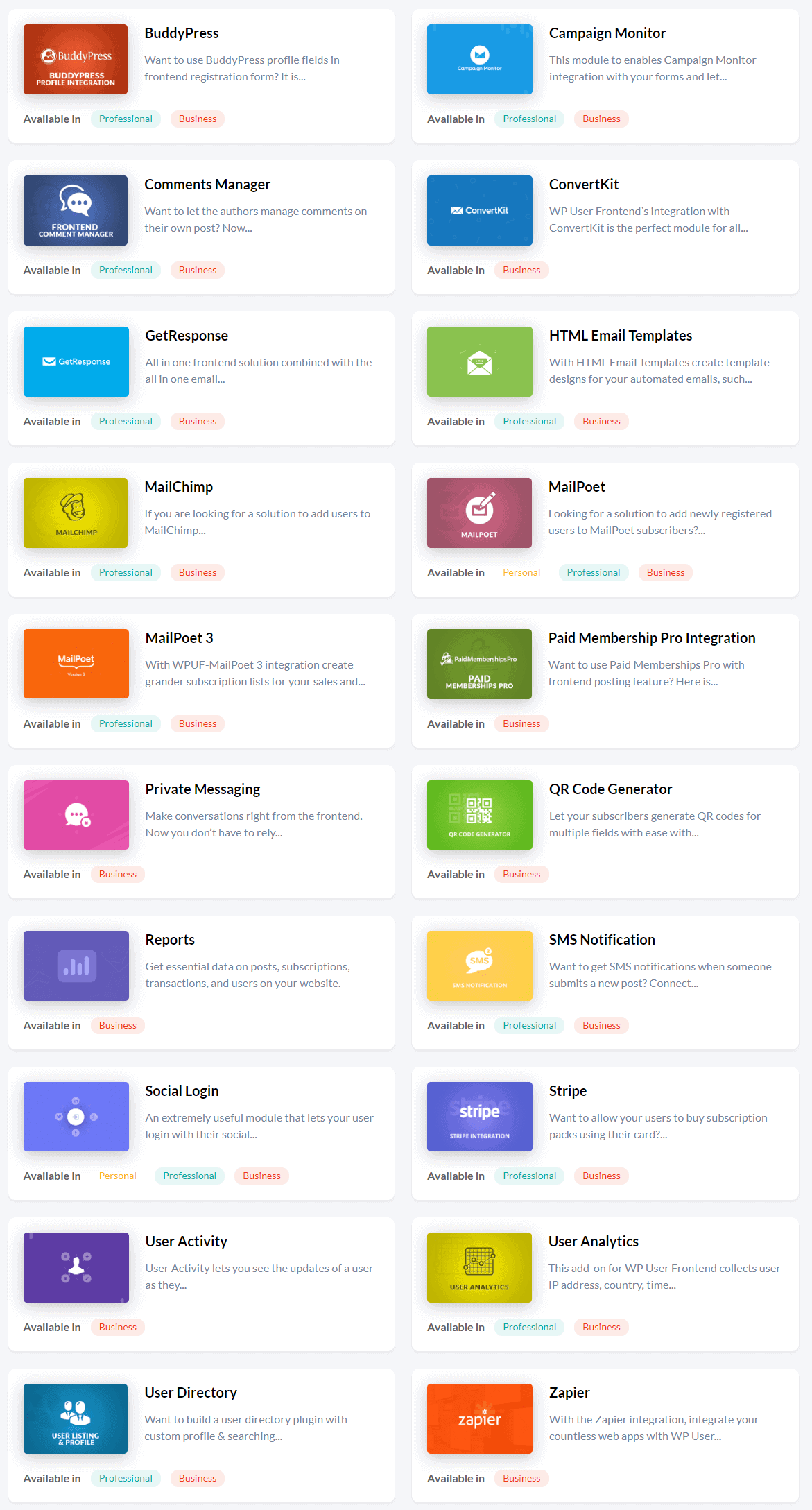 WP User Frontend Pro Plans & Coupon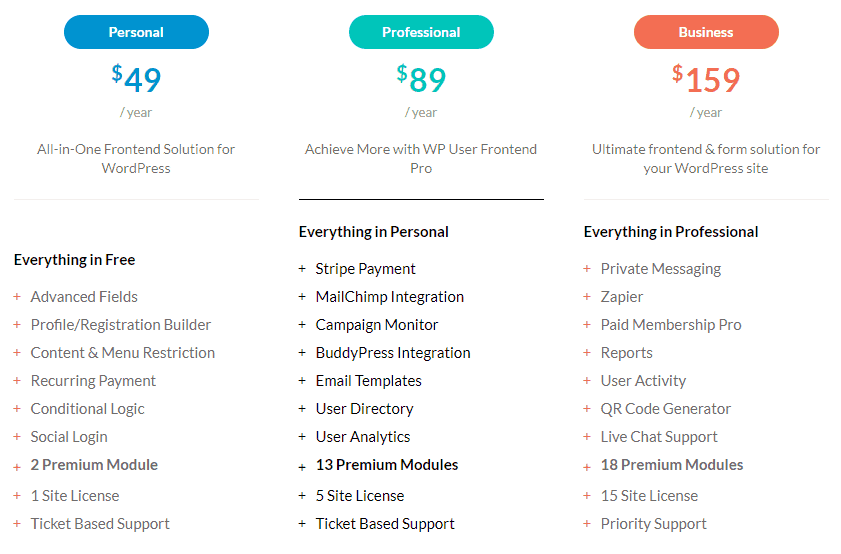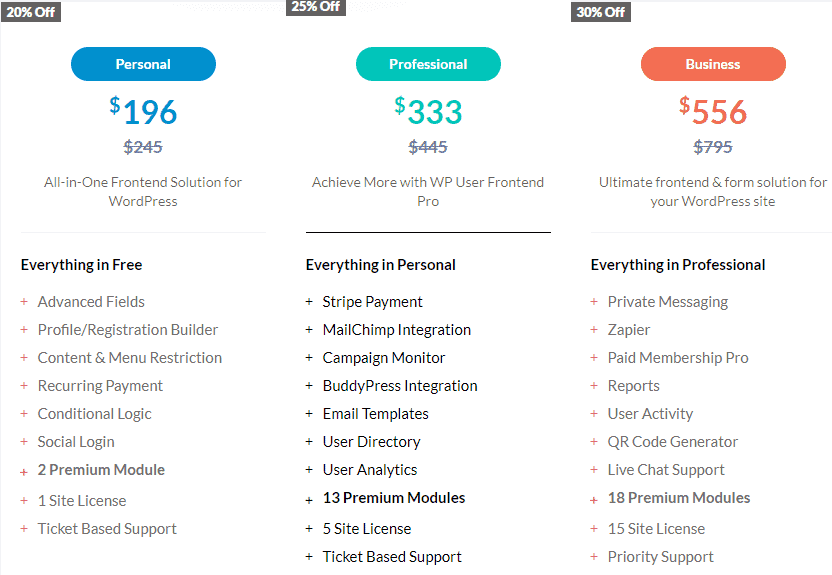 Wedevs BlackFriday LifeTime Deal 2023 Upto 30% Off
WP User Frontend is one of the best plugins you can use to control and manage your website easily and quickly control the flow of active users. Manage information and data and get more number of users every time people visit your site and help users to do their work hassle-free!