Fluent Forms Summer Special Sale 2023 – Contact forms are an essential component needed for communication in the business ecosystem. WordPress does not have a default option for creating contact forms and users must rely on plugins to get the job done. FluentForms is a WordPress form builders plugin that allows you to build a powerful contact form for your website.
Fluent Forms Pro Lifetime Deal 2023
FluentForms were developed by WPManageNinja and are one of the fastest-growing contact plugins for WordPress. Fluent forms fill an essential gap in the website creation tools available to WordPress users and help you create any type and any number of online forms for your site.
Fluent Forms 5.0 COMING SOON
Top changes:
Revamped UI and better UX (You will love it )
The new framework for faster response
Powered by REST API
Dedicated Developer Docs
WPManageNinja Summer Special Discount! upto 50% off
Annual Single Site $41
Annual Agency [5 Domains] $90
Annual Unlimited Domains $139
LifeTime Single Site $239
LifeTime Agency [5 Domains] $399
LifeTime Unlimited Domains $719
Features of Fluent Forms Summer Special Sale
Fluent Forms Conversational Forms
Fluent Forms Discount [30+ Ready Made Drag & Drop Input Fields]
The drag and drop capability instantly turns this form builder plugin into one of the most user friendly WP Plugins you can find for your website.
With 30+ drag and droppable input fields for your forms, you can instantly create forms, input fields within a short time without having to know to code, saving time and effort.
Pre-built Quick Forms in Fluent Forms
This WordPress form maker has a number of pre-built form templates available even in the free version making it incredibly easy to create basic forms.
With these pre-built form templates your form creation speed gets a huge boost as all the necessary woodwork is already done and all you need to do is edit and rearrange to create the form that suits your needs.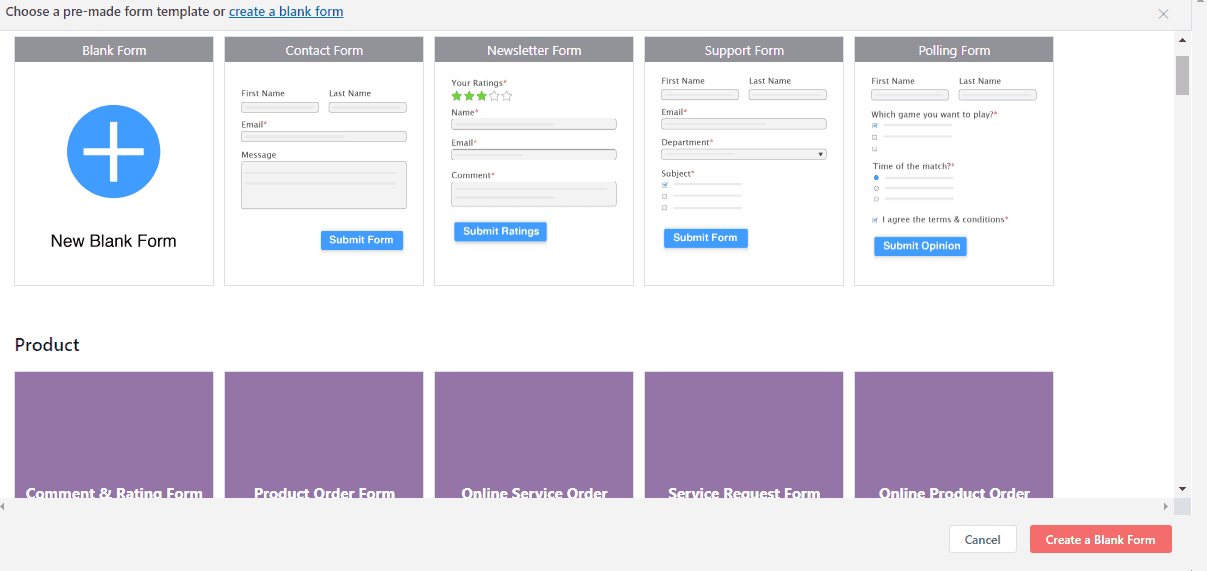 Block Spams & Blank Entries
WPManageNinja WordPress secure form has an inbuilt spam protection feature that blocks spam and keeps your website and forms safe. Fluent forms have integrated reCAPTCHA to ensure that bots stay away from your website.
You can ban empty form submissions and even require users to log in first to ensure that bots and security threats stay far away from your website.
Activate anti-spamming options to protect your forms
Google reCAPTCHA Supported
Honeypot
Prevent Blank Submission
Restrict Users (Require user to be logged in)
Visual Data Reporting of Form entries in One Click
What differentiates Fluent forms from other form plugins in WordPress is the built-in data analysis tool. Data visualization helps immensely in decision making and allows you to make a quick and easy analysis of data accumulated through your forms.
The visual charts are generated automatically and you don't need to do anything to get the visualization done.
15+ 3rd Party integrations in one place
The reason Fluent forms have become one of the best WordPress form plugins is because of its 3rd party integrations.
Fluent forms have integrated renowned tools from various categories to make your form creation even more convenient and easy.
ConvertKit, Aweber, HubSpot, iContact, SendFox, MailChimp, etc. Are some of the top email marketing tools integrated into our forms that can be used to create specific forms as per your needs and requirements.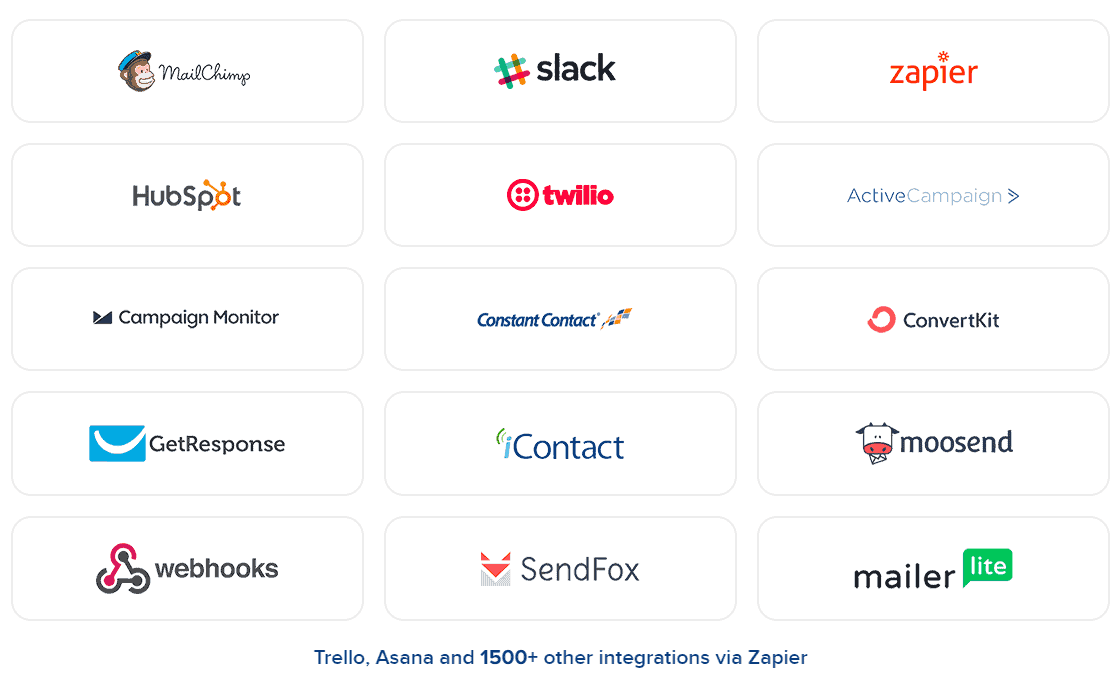 SMS Notification Supported
FluentForms is an advanced form builder plugin that comes with Twilio integrated which allows you to get in touch with your users immediately.
Send customized messages to your users without ever getting lost in the recipient list. Twilio ensures that the message is sent to the right recipients and gives you the ability to send highly customizable messages.
Automated Form Confirmation
Once users submit the form, it can be a headache for them to know whether their responses were submitted and if they were, were they submitted correctly.
Fluent forms provide instant confirmation through custom notifications which can let your users know that their responses have been recorded. You can also send an email confirmation of their responses being submitted.
File & Image Upload
One of the most important features of an online form is the ability to upload images and files. Whether it is for a CV or some other photos, Fluent forms allow your users to upload files and images[checkout best image compression tool for wordpress blogs].
You can set the limit on file and image sizes to be uploaded and the number of files to be uploaded. It also accepts files and images of various file formats to be uploaded.
Allow users to submit an image with the form with just one click
Keep an option to upload files alongside the form completion
Set restriction during the file and image upload to prevent violation
Multi-Step Forms
One can also create multi-step forms using Fluentforms. This WordPress form maker allows you to create forms divided into several steps. It keeps the long forms in order and allows you to store data in a more convenient way.
Conditional Logic
Conditional logic makes forms more dynamic, allowing you to control which fields to display and where to send entries. It increases the efficiency of your form based on the data provided by your users. It is incredibly easy to set up and use.
WPFluent vs Caldera vs Ninja Tables vs Gravity vs WPForms
| Features | WP-fluent | caldera | ninja tables | gravity | wpforms |
| --- | --- | --- | --- | --- | --- |
| Input Fields | 30+ | 20+ | 25+ | 40+ | 20+ |
| Pre-built Templates | ✔️ | ✔️ | ✔️ | ✔️ | ✔️ |
| Conditional Logic | ✔️ | ✔️ | ✔️ | ✔️ | ✔️ |
| Slack | ✔️ | ✔️* | ✔️* | ✔️* | ✔️* |
| Export-import | ✔️ | ✔️ | ✔️ | ✔️ | ✔️ |
| Multi-column Layout | ✔️ | ✔️ | ✔️ | ✔️* | ✔️ |
| Multi-step form | ✔️ | ✔️ | ✔️ | ✔️ | ✔️ |
| File Upload | ✔️ | ✔️ | ✔️ | ✔️ | ✔️ |
| Form Submission by Ajax | ✔️ | ✔️ | ✔️ | ✔️ | ✔️ |
| Anti Spam | ✔️ | ✔️ | ✔️ | ✔️ | ✔️ |
| Repeat Field | ✔️ | ❌ | ❌ | ❌ | ✔️* |
| Custom CSS Editor | ✔️ | ❌ | ✔️ | ✔️ | ✔️ |
| Front-end Editing | ❌ | ✔️ | ✔️ | ❌ | ❌ |
| Built-in Visual Reporting (Charts, Graph) | ✔️ | ✔️ | ❌ | ❌ | ✔️ |
| Mask Input | ✔️ | ❌ | ❌ | ✔️ | ✔️ |
| Country List Field | ✔️ | ❌ | ❌ | ❌ | ✔️ |
Credits: wpmanageninja Fluent Forms
* Supported with Additional paid Add-ons or 3rd-party Add-ons.
FluentForms Summer Special Discount Pricing
Annual Single Site $41
Annual Agency [5 Domains] $90
Annual Unlimited Domains $139
LifeTime Single Site $209
LifeTime Agency [5 Domains] $349
LifeTime Unlimited Domains $629
Fluent Forms Summer Special Deal FAQ's
Do I need to know to code for using FluentForms WordPress Plugin?
No, you don't need any programming knowledge to use this plugin. It's user-friendly and you can set up online forms with drag & drop.
Will FluentForms Plugin Slow down my blog?
No its is one of the fastest wordpress form builder plugin available in the market.
will it work with wordpress page builders & Gutenberg Editor?
Yes, this plugin is 100% compatible with any plugin. If you find a compatibility issue you can contact support they will solve the issue.
FluentForms Form Builder Lifetime Deal
FluentForms Summer Special Sale is a powerful WordPress form builder plugin that allows you to create quality custom forms for your website and provides you enough freedom to customize and manage your forms in ways necessary and suitable for you.