Zion Builder LifeTime License only 600 Left
Zion Builder Extended Plan One Time Purchase of $249.00
Everything in FREE +
Unlimited websites
Unlimited domains
White labeling
Pro Library Templates and Library Elements
Pro Zion Builder Elements
Dynamic data content
Custom fonts and icons
Modal and slider builder
Blog archive and post builder
WooCommerce builder
Repeater functionality
Theme builder
Popup builder
HappyFiles and Rankmath SEO integrations
If you are looking for the best WordPress theme builder plugin, then you should definitely consider the Zion Builder. While it is a new contender in the market of top-notch page builder plugins, it has turned several heads with the wide array of features that it offers.
This WordPress page builder is certainly very fast, flexible and provides you with all the right kinds of tools that you will need in order to create high-quality WordPress webpages.
Zion Builder Top Free Features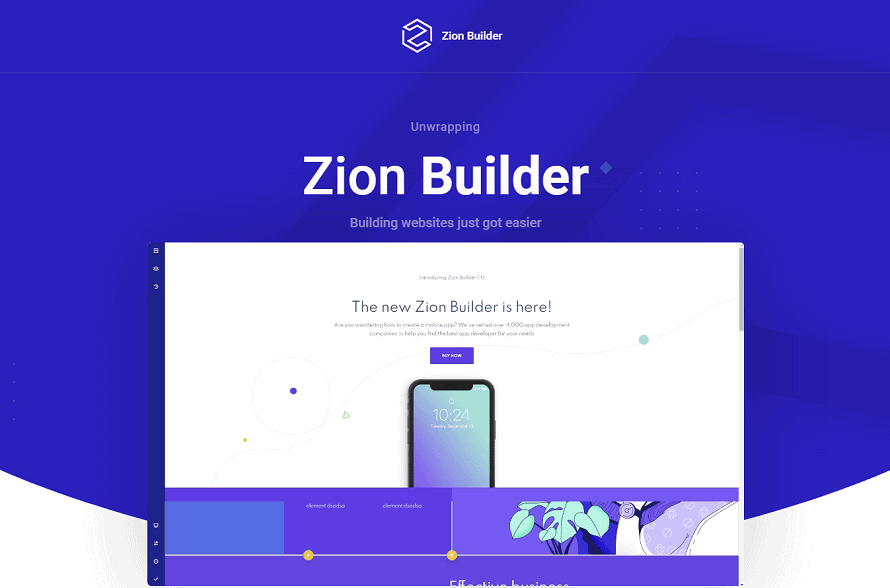 Fastest WordPress Page Builder
Of course, the Zion builder is undoubtedly the fastest WordPress page builder there is. It comes with lightweight coding which increases the speed of the builder greatly.
It also reduces the loading time and makes sure that every page you create loads at the top speed that you can think of. So, if you are looking for speed then this page builder will never let you down.
100% customizable Zion Builder Elements
The Zion builder also comes with a plethora of different elements. From sections, columns, modals, containers to WooCommerce widgets, testimonials, anchors, media widgets and different elements are also available for adding to the webpage.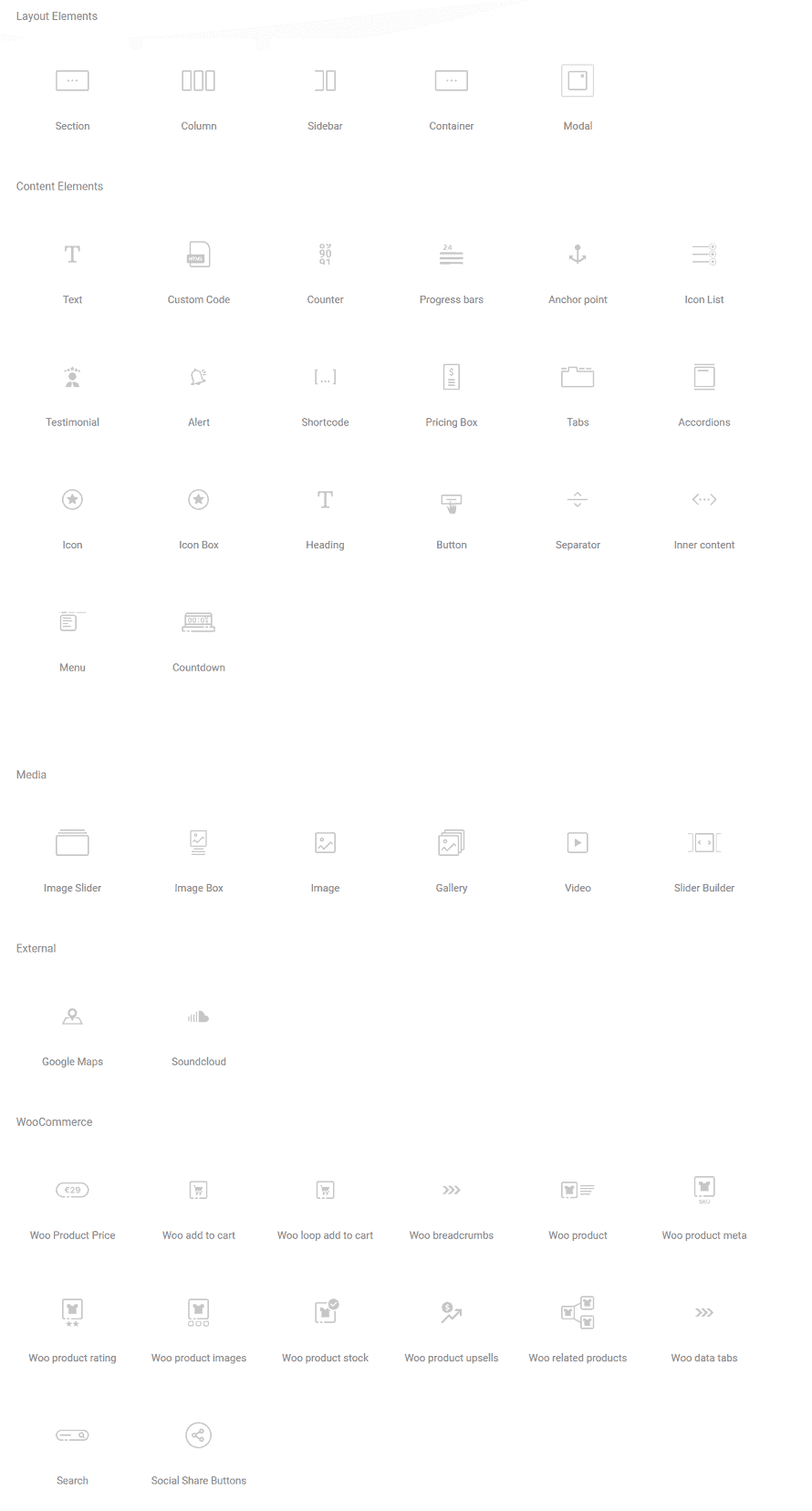 However, the best thing about this page builder is the fact that you can add the elements through drag and drop easily without having to face any trouble.
Live responsive editing
This excellent page builder for WordPress allows you to decide the positioning, colours and sizes visually for each element respective to the screen.
It means you can make any changes to the elements for the desktop screen and it will appear for that device only. The changes will not be visible for other screen types as they will retain the original design features only.
Pre Made Elements and templates at your fingertips
You will also get a wide range of pre-made elements as well as WordPress page builder templates with the Zion Builder software.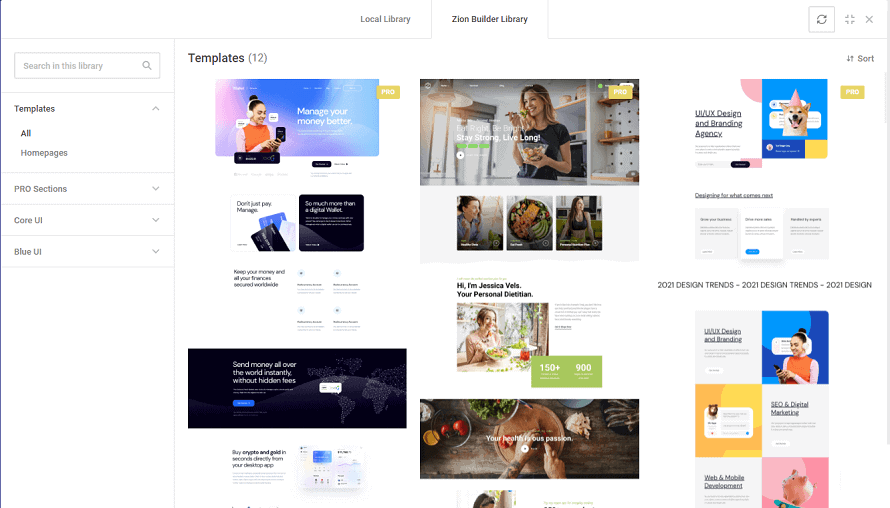 So, you will not have to make the page from scratch. You can just choose the templates that you find compatible with your vision directly. If you want to create the page on your own, you can also do that by just dragging and dropping different elements from the library without any hassle.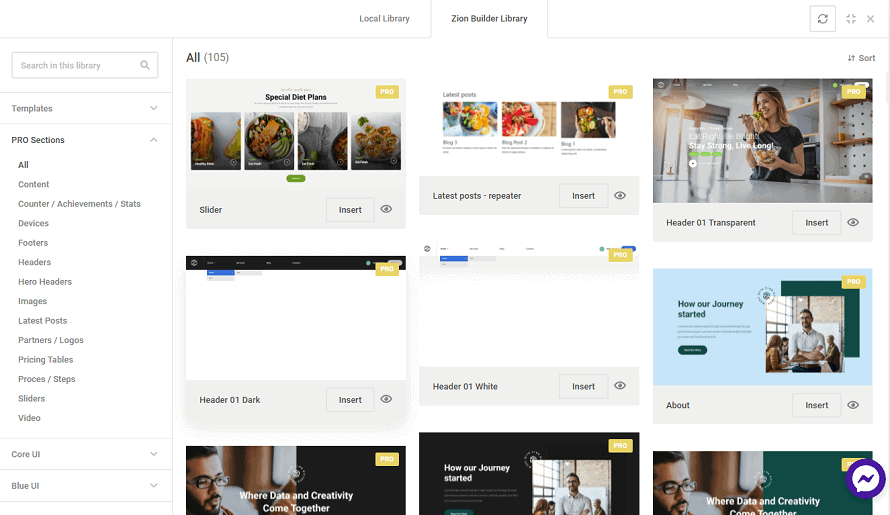 Drag & Drop elements
The Zion Builder also provides you with a special drag and drop feature. It allows you to drag an element anywhere within the page with absolute ease.
When the cursor changes to the move option, you will be able to drag the element to its next position with ease. The next position is also indicated by a line that appears on the page to guide you.
Global Colors and gradients styles
The page builder provides you with global colours which you can pick from the custom colour picker and use freely. Furthermore, the page builder also allows you to style your background by using different gradients.
You can obviously make use of colour opacity to use the colour gradients wisely to provide your WordPress page with a unique look. There are also different gradient options that you can experiment with.
History of Actions
The system of the Zion Builder automatically saves the entire history of your actions. You can review your post-revisions, different changes you have made and user permissions as per your discretion.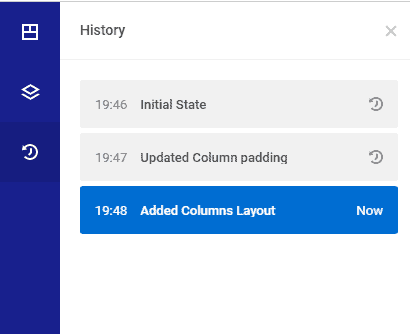 Thus, the page builder provides you with the complete authority of bringing your vision for your website to reality. Most importantly, there are different shortcuts for undo and redo that you can also utilise for saving time.
Library System
There is a whole library system at your disposal in the Zion Page Builder. From templates, blocks and categories to other elements, you can get access to the library of Zion Builder easily.
The library is also searchable. Thus, you can easily search for anything in the Zion Library. You can also export a template from the library in .zip form which can be imported to another page through the efficient library system.
Zion Builder Pro Top features
The pro version of the Zion Builder provides you with an excellent Header and footer builder. With the help of the header and footer builder, you will be able to create unlimited headers as well as footers for your web pages without any worry.
Plus, you can assign the headers and footers to any page of your choice without a second thought.
Theme Builder
Also, the pro version comes with a special theme builder as well. With the theme builder, you will be able to assign content to different pages easily as per your discretion.
Be it a single product page, product archive page or a blog archive or blog single page, creating content and assigning them will be very easy thanks to the theme builder.
Blog Archive & Blog Post Builder
Of course, the Zion Builder Pro also provides you with complete flexibility in designing your single blog page or the blog archive page. Furthermore, you will also be able to assign the contents freely to these pages with the theme builder as well.
WooCommerce Builder
You will also be able to accept orders and payments from your product pages with the WooCommerce builder. The WooCommerce builder allows you to integrate WooCommerce to each product page as well as to the product archive page. Thus, accepting orders and payments will no longer be an issue.
Repeater Queries in advanced elements
Zion Builder Pro also provides you with several advanced features and elements like accordions, sliders, tabs and others. Thus, creating excellent repeater queries on your web page will no longer be a problem for you. Just drag and drop the appropriate elements and create your repeater queries.
Dynamic Data Content
One of the best things about the pro version of the Zion builder is the fact that it allows you to add dynamic content to your posts and pages with ease. In fact, you will be able to add post descriptions, post links, featured images and other dynamic content easily without any hassle.
Modal & Slider Builder
You will also get a modal as well as a slide builder with the Zion Builder Pro. Thanks to the modal builder, you will be able to create and customize your modal popups with any content and trigger type you want. You will also be able to create beautiful slides with any content as well as dynamic repeater content as per your choice.
Custom CSS & JavaScript
With this pro page builder, you will be able to add custom CSS and javascript to your pages as per your choice. Custom CSS can be added to posts and elements in order to enhance the styling. On the other hand, the custom JavaScript is added for the entire page through different page options for enhancing its design.
Zion Builder PRO Pricing
ZionBuilder LifeTime Sale $249 – UNLIMITED WEBSITES / LIFE
PERSONAL $39 – 1 WEBSITE / YEAR
PRO $79 – 3 WEBSITES / YEAR
EXTENDED $169 – UNLIMITED WEBSITES / YEAR
Each Plan Includes,
Pro Library Templates & Library Elements

.
Pro Zion Builder Elements.
Dynamic Data Content.
Custom fonts & icons.
Modal & Slider Builder.
Blog Archive & Post Builder.
WooCommerce Builder.
Repeater.
Theme Builder.
White Label.
Support & Updates according to plan validity.
Zion Builder Discount
Whether you opt for the Zion WordPress theme builder free or pro version, this page builder is surely one of the best ones there is.
With excellent speed, lightweight coding, and a treasure trove of multiple features, it really makes creating pages for your website a complete cakewalk and allows you to add the best design to your website.