In today's times, web hosting services allow individuals or companies to post content on the internet.
A good web hosting service provider is a business company that offers you technology, tools, and services that you will need to get your webpage viewed.
When a person wants to have a look at your website, they need to type the domain in the browser and the internet will connect to the server.
Today we are going to talk about one such hosting website and we will have a look at the detailed Rose Hosting review.
What is Rose Hosting?
Rose hosting is basically a U.S. based company. The office is located in St. Louis Missouri. It was founded in the year 2001. It became famous as it was the very first hosting company that was offering Linux virtual servers.
The main focus of the company is on providing quality equipment and other web hosting solutions. They are really quickly becoming the leading providers for personal and web hosting solutions.
What set them apart from their competitors is their stability and a friendly customer support. So you get a unique and user-friendly service that can be beneficial for your business or for personal use.
Rose Hosting review and top features
This is one their most unique features. They make all of the work regarding shared hosting very easy for the user. The shared hosting that they offer comes with a graphical user interface. Not only this, but they also provide a huge selection of control panels. All of this is accessible to the user through a web browser only.
Uptime Guarantee
Rose hosting offers an amazing 99.99% Uptime Guarantee. Honestly, this is a pretty impressive number as it literally means it is a just about a hundred percent.  Only when it is necessary they reboot the host servers. This usually happens during a hardware or networking issue that needs to be fixed.
SSD Storage enterprise
All of their servers are equipped with enterprise-grade SSD drives.  When compared to any other normal shared hosting that runs on traditional spinning hard drive storage, this is way ahead. It offers a so much better disk I/O performance.
Weekly Backup
The VPS plans offer an absolutely free complete weekly backup. They not only allow all of the virtual servers for the backup, but it also makes faster and a more efficient recovery when needed. As an additional option, you can also set your own backup and this can be done daily as well.
They offer website migration
One of the key features that Rose to host offers in website migration. And to make this even easier they let you migrate absolutely free. This is a feature that not a lot of hosting services offer.
Customer support and services
The absolute need of a good customer care is a must for any hosting services. This is where Rose hosting takes over. It has the most amazing customer care service that is available 24 hours a day, seven days a week. They say that it takes them on an average just five minutes to reply to an e-mail or giving a response to support tickets.
Increased security and performance
There cloud dedicated servers offer a performing environment that is enterprise level. This enhances the performance and also makes sure that your servers have the maximum security as well.
Server Resources exclusivity
This is also one of the features of their cloud dedicated service. It lets you have a complete control over the hardware resources. Also, you will be easily known how they are distributed. You can be assured that they are never going to share your server resources with any other party.
No overselling policy
It is seen that a lot of the web hosting companies oversell bandwidth and space. But Rose hosting never does that. You will have the surety that you are receiving exactly what you have paid for. This is not only an amazing feature but also very realistic.
All Plans Include
FREE Fully Managed Support, Migration, Unlimited Websites.
Dedicated IP Address
100% Uptime Guarantee
FREE Full Weekly Backup, Full Root Access, CloudFlare CDN.
FREE Let's Encrypt SSL & Integrated Firewall
Seamless Upgrade/Downgrade between plans
Solid-State Drives (SSD)
and much more
Rose Hosting 10% Off Annual Pricings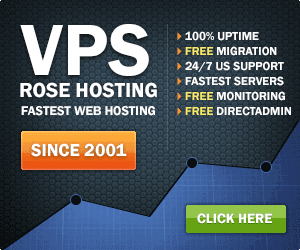 If you have any questions or need any help, feel free to contact us. We are available 24/7.
Conclusion
So this was our Rose hosting review. Being the world's first Linux virtual hosting provider, we can say that they have a great ability to provide really innovative and an extremely reliable service.
They have a huge range of packages and plans that will be suitable for most of the customer's requirements.  In case you have some other specification you can also opt for their VPS services that can be customized as per your requirements.
Without a doubt Rose hosting is one of the best VPS hosting services with amazing features.