Better Uptime Appsumo LifeTime Deal – The uptime of your website is undoubtedly one of the important aspects that you need to be very careful about. In fact, website downtime's discourage your visitors and customers from visiting your website and increases bounce rate.
Thus, it is very crucial that you give full effort on website uptime monitoring. Well, the best way to do that is obviously with the help of Better Uptime application.
In fact, it is the fastest website uptime monitoring service which immediately alerts you when your website is down while providing you with all the information as well as screenshots to debug the problem.
So, it always keeps you ahead and helps you to ensure an extraordinary experience for your website visitors.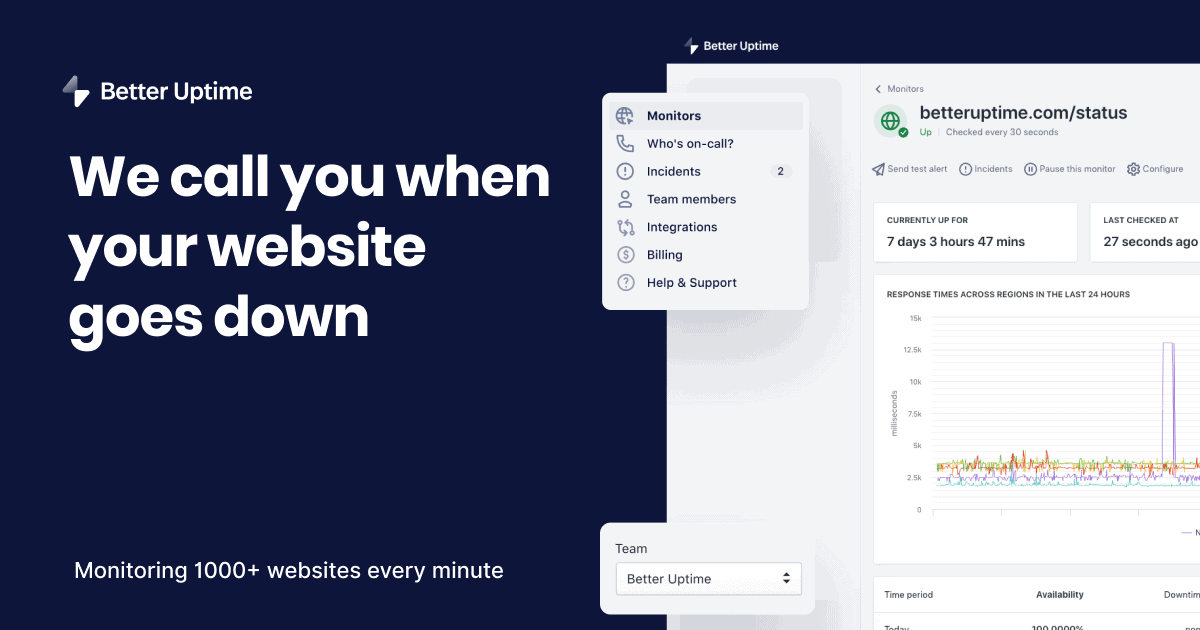 Appsumo Plans and Features
Lifetime access to Better Uptime
All future plan updates
You must redeem your code(s) within 60 days of purchase
Stack up to 5 codes
GDPR Compliant
A phone number is required to use Better Uptime
Previous AppSumo customers who purchased Better Uptime can buy more codes to increase their feature limits
Optional Add On: $15/mo. to receive Call and SMS for supported international numbers
60-day money-back guarantee, no matter the reason
Features Included in All Plans
30-second checks
Unlimited integrations
Incident escalation
Features Better Uptime AppSumo LifeTime Deal
Fastest website uptime monitoring service
Of course, Better Uptime is the fastest website monitoring service that you can hope you to find in the online market. As a matter of fact, it immediately detects if your website is down.
As soon as it detects the anomaly, Better Uptime verifies the condition and informs you within seconds with proper information on how to debug the condition. So, it makes sure that you never face any trouble.
Receive alerts via phone, SMS, Slack, and email when your site goes down
When the site goes down, you will immediately get alerts from Better Uptime through multiple channels.
While Better Uptime will call you or the designated team member for fixing these problems, you will also get emails, text alerts as well as ream messages.
Hence, you will never have to worry about missing the information about your website going down at all.
Plugin the services you already use
This website monitoring service also integrates with multiple applications that you use on a daily basis to further enhance your experience.
In fact, you will be able to sync Better Uptime with other applications like Zen-desk, Data dog, Prometheus, Heroku, Grafana and New Rellec.
With the help of these applications, you will not only be able to have complete control over your infrastructure but you will also be able to raise an alert if the memory becomes full or your website faces similar problems.
Easy on-call duty scheduling
To make sure that your website always remains up and running, it is always important to notify the key people who will be able to debug the errors if your site goes down.
So, you will be able to schedule the on-call duty rotations for Better Uptime as per your wish by using your favourite calendar application without any issue.
Branded status page
Of course, you will be able to create brand date status page with the help of Better Uptime. It helps you to communicate with your customers in a much more efficient way.
Plus, it makes it very easy to notify your customers about the status of your products and services. So, it makes sure that you can develop confidence amongst your customers and get the best results.
30s multi-location checks
Of course, Better Uptime provides you with the fastest HTTP(s) from multiple locations within 30 seconds. In fact, it pings your website from four different regions namely Australia, Europe, North America and South America.
So, it immediately notifies you if it fails to obtain ping-back from your website from any location. Plus, it also offers heartbeat monitoring using the special CRON scripts as well as background jobs.
Thus, it further assures you that you will never use any backed up database ever.
Better Uptime AppSumo Exclusive Offer
Better Uptime is certainly the best website uptime monitoring service that your website requires. It comes with a very user-friendly dashboard. Moreover, it is very easy to configure too.
Thus, you will never face any problem at any step using this product. Thus, opt for Better Uptime and make sure to keep your website up as well as running at all times.