Crocoblock Gutenberg WordPress Editor plugins can be of great help when it comes to building top-notch websites and blogs.
It helps in easing out the process of website creation process while providing the best results for you. Well, Crocoblock thus created a series of Gutenberg plugins that allows you to design your website in no time.
The plugins have been designed in a way that carefully considers different aspects of the website in a mind. So, you can easily add any functionality you want to your website.
Crocoblock Black Friday Sale 2023
Sale has begun! 🎉 Get Your Whopping 50% OFF while others have only 40%
Dates: November 20, 12 P.M. – November 30, 12 A.M. (EET)
Discount: 50% OFF for all subscription plans (yeah, even Lifetime)
The Best Deal of this Black Friday = 50% discount + expert's sessions!
Crocoblock Gutenberg Jetplugins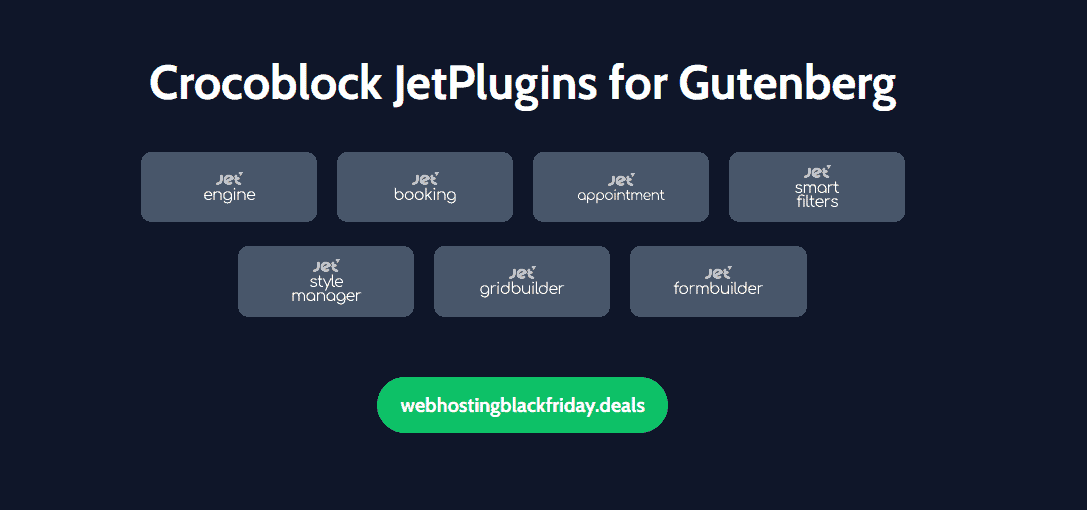 JetEngine Gutenberg Dynamic Content Plugin
JetEngine is one of the best plugins that Crocoblock has created for wordpress Gutenberg. A highly advanced Crocoblock Gutenberg dynamic content plugin, the JetEngine allows you to create custom content for your website easily. You can use the JetEngine to add custom lists, custom posts, custom taxonomies, and several other things.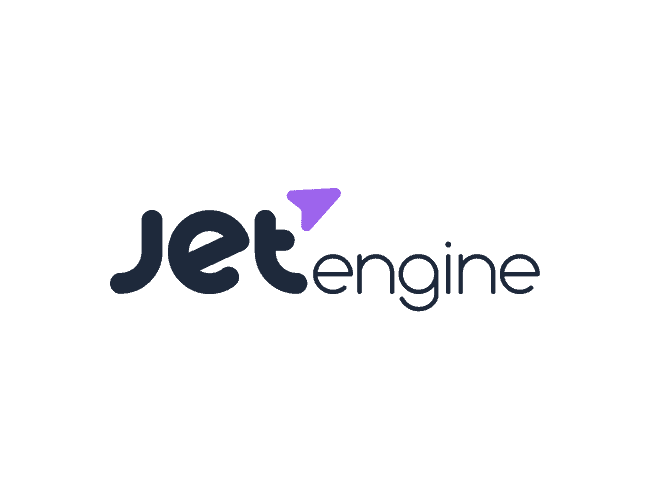 Features
Dynamic Website Structure
Flexible Listing Items
Dynamic Features
Query Builder
Tables Builder & Charts Builder
REST API
As we previously mentioned, you can create any number of custom fields with JetEngine. But how does the JetEngine custom post plugin work?
Well, it is effortless to add custom fields using the JetEngine plugin. You can create Dynamic Website Structures like,
Custom Post Types
Custom Content Types
Custom Fields
Custom Meta Boxes
Taxonomies & Terms
Options Page
Posts Relations
All you need to do is to click on the Meta boxes and click add new to add custom fields with ease. You can also add different JetEngine modules like grid galley for dynamic field widgets, calendar, QR code for dynamic field widgets, forms, profile builder, map listings, dynamic visibility, and different other modules that are available that you can easily add to your website thanks to JetEngine.
In short, JetEngine is the perfect solution that allows you to create complex websites using WordPress block editor.
Compatible with JetFormBuilder, SEOPress, AdminColums, ACF, WooCommerce, RankMath, and Yoast.
JetBooking Gutenberg Booking WP Plugin
Type Of Daily Rental & Booking Services Sites You Can Build with this
Car/Bike Rental Services.
Hotel & Tour Booking.
Dresses & Equipment Booking.
Property Rental, etc…
You Can Combine with JetAppointment to offer hourly-based services.
Crocoblock has also developed a special WordPress booking plugin with payment for the block editor, best for Rental & Booking Service websites. Most people think that to create a booking page to accept reservations or bookings from customers, it is required to take help from a professional web developer.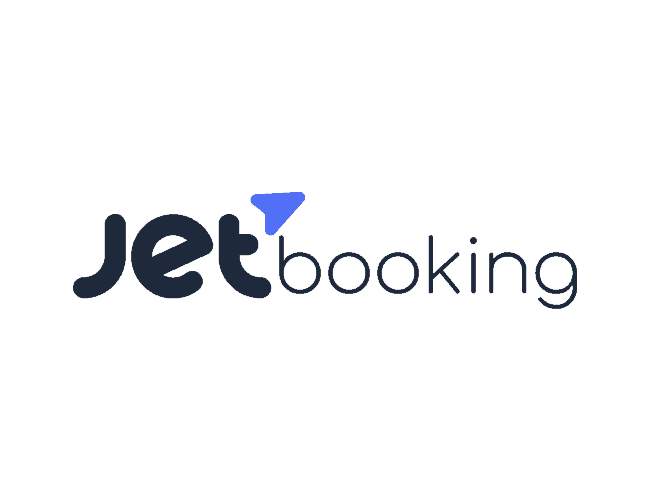 However, with Crocoblock Gutenberg JetBooking, you will not have to worry about anything ever. Now, you can simply install the plugin and enable online booking functionality with a few simple steps without any hassle. All you have to do is to select the correct booking instances, add the form of your choice and integrate WooCommerce to start taking the bookings.

Furthermore, JetBooking also allows you to add a filter option. Hence, it will allow your customers to filter the items by filtering characteristics, prices, dates, manual services provided by you, and many more.
More importantly, you can also get expansive forms that are catchy and best suited for your business. There are different options that you can choose from.
You can also integrate the desired payment options along with WooCommerce checkout into the forms to accept payments from your customers as well.
JetAppointment wordPress gutenberg Appointment Plugin
Sites You can Build
Barbershop scheduling & Spa appointments
Medical Clinic & therapist appointment
Lawyer or other professional services
Sports training's
Service stations, etc…
It is very important to make sure that your website is capable of accepting online appointments from your clients. This way it becomes very easy to manage the appointments and ensure delivery of the best quality service to them.
Well, now you can easily develop an efficient business website capable of accepting appointments with the help of the Crocoblock Gutenberg wordpress appointment booking plugin.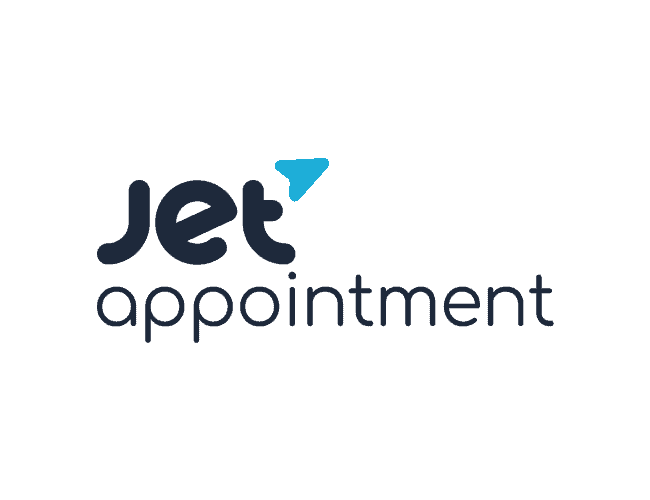 Similar to the Crocoblock Gutenberg JetBooking plugin, you can also install it with a few simple clicks after choosing the service type that you are offering. You can also integrate WooCommerce into your business website with the help of this plugin to accept fees from clients for appointments.

Besides, you can accept appointments for different types of services that you offer from a single form without hassle. You can also add holidays to your schedule.
More interestingly, the wordpress appointment plugin also allows you to add buffer time to the schedule before every slot to avoid any last-minute appointments. It also allows you to add working hours and customize the calendar labels according to your needs.
JetSmartFilters Advanced Filtering System for Gutenberg
JetSmartfilters is an interesting Advanced filters plugin for any post type. It is nothing but a toolkit that makes it very easy to create complex filtering mechanisms for your website effectively.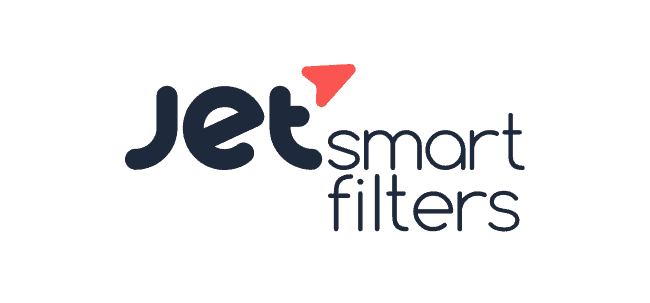 So, now the question is what do you get from the JetSmartfilters?
There is hardly any editing or coding that you will need to perform to add an efficient product filter. The best part of this Crocoblock Gutenberg search plugin is the fact that the design and settings of the filter bar are highly customizable with the JetSmartFilters & JetStyleManager combination.
Thus, you will be able to customize it according to your needs and your website type. Moreover, you will be able to use the filter for your website irrespective of the theme, pages, or post type.
However, the thing that makes this filter plugin so exciting is its layering functionality. Make a complex filtering system, it allows you to layer up to 9 different filter types hierarchically and provide your customers with the best quality experience.
Filter types
Sorting Filter
Rating Filter
Visual Filter Widget
Search Filter Widget
Radio Filter Widget
Date Range Widget
Check Range Widget
Range Filter Widget
Select Filter Widget
Checkboxes Filter
Additional widgets
Alphabet Filter
Date Period filter
Active Tags
Remove Filters
Active Filters Widget
Apply Button
Pagination Widget
JetFormBuilder Dynamic WordPress Form Builder [Free]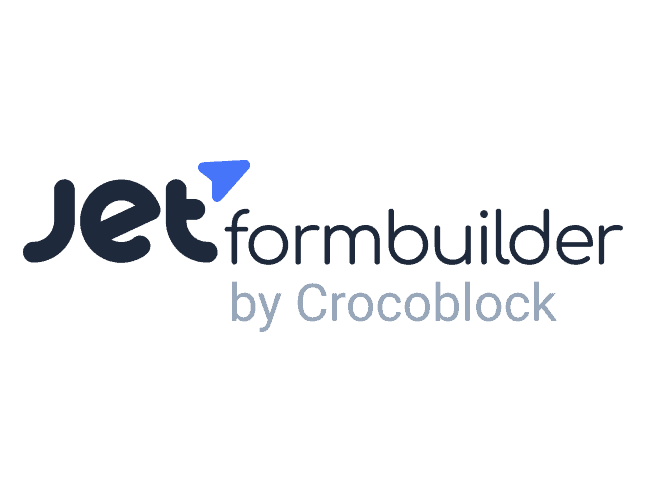 Building a wordpress dynamic form is not an easy task. There is a lot of planning, coding, and hard work that goes into developing dynamic forms for a website.
But, the Crocoblock team has made this task trivial with the help of their JetFormBuilder for Gutenberg. This form builder plugin allows you to create appealing forms to deliver the best quality user experience to your website visitors.
Of course, the Crocoblock Gutenberg form builder plugin allows you to add Conditional Logic to the forms without any coding.
Depending on the type of visitors or other parameters, you can choose which fields are visible to them using the Conditional Fields Visibility feature. You can also set specific conditions on how the next actions will be carried out after the submission of a form. You can also link different Dynamic field values to the data from the database.
Thus, few fields will automatically be filled thereby offering a better customer experience. There is even an option to add Calculated Content & Hidden Fields to perform complex calculations as well as repeater forms to showcase data and appeal to the customers.
In other words, no matter what type of form you need, you will be able to build and add it with the help of Crocoblock Gutenberg JetFormBuilder.
Features
19 Field Types
Smart Conditional Logic Features
Dynamic Values
Multi-Step Forms
Form Validation
Set Actions After Form Submission
JetStyleManager Gutenberg Block style manager Plugin [Free]
Ensuring that your website is visually appealing is one of the most important things that you need to make sure that your visitors find it exciting. With this style manager plugin, it becomes very easy to Add styles to Gutenberg blocks.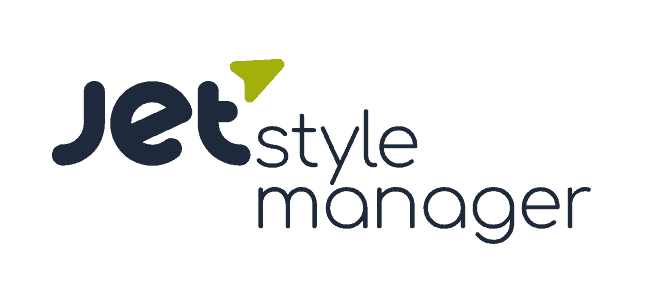 The very first thing about this plugin that you will find very exciting is that the plugin is very lightweight. So, it will help you to add custom styles to your web page without having to add any extra bloat.
Furthermore, the plugin allows you to add multiple style parameters. Therefore, it will help you to refine the style of the website with absolute ease.
Finally, the JetStyleManager plugin allows you to control the styles you generate with utmost efficiency through 10+ different style controls. Plus, you will be able to add different styling for different Gutenberg blocks without any issue.
Hence, you can add a unique look to your website easily. Crocoblock Gutenberg JetStyleManager also provides you with absolute control over every styling aspect such as color, typography, alignment, and dimensions.
Hence, you can make sure that you will have all the best tools available to provide your website with the best look.
JetGridBuilder – gutenberg grid blocks [Free]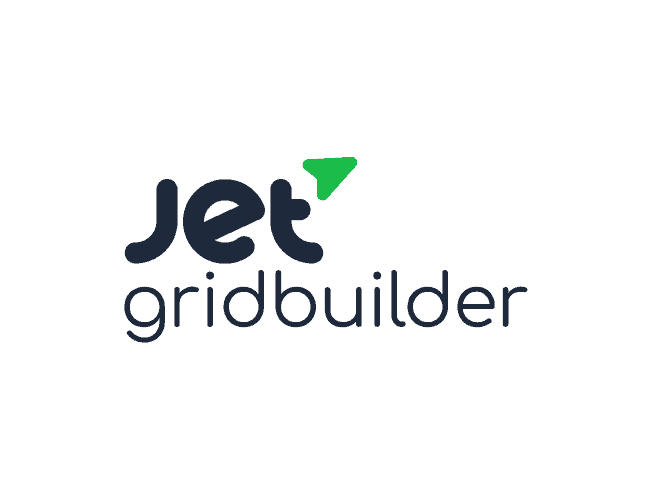 Crocoblock Gutenberg JetGridBuilder is another fantastic plugin that allows you to organize your blog posts and terms in a beautiful grid layout effortlessly. The best thing about this plugin is that it is widely compatible with other wp plugins. Hence, you will be able to use it with Gutenberg and JetEngine plugin without any issue.
This plugin is undoubtedly very flexible. It allows you to organize the posts instantaneously without having to keep specified distances between tiles or maintain the row heights. The wordpress Gutenberg blocks plugin allows you to see the changes by applying different grid options instantly and choosing the right grid for your website.
You will also be able to align the posts, move the cards along the grid, resize as well as reshape the cards while specifying the gaps between the cards with a few simple clicks on the screen.
This plugin also provides you with the vertical compact feature. It allows you to place the cards anywhere on the screen and when you turn on the vertical compact to align the posts to the top without having to do any extra work.
Subscription Plans with 30 days money-back guarantee
Subscription Plans (Single/ Package/Lifetime)

1 website/yr

Unlimited websites/yr

JetEngine – Everything for Dynamic Content
$43
$54
JetSmartFilters – Advanced Filters for Any Post Type
$43
$49
JetBooking – Implement Booking Functionality
$19
$39
JetAppointment – Appointments on Hourly Basis
$19
$39
Crocoblock All-Inclusive subscription (20+ plugins)
Save up to 60%
$199
$399
Lifetime Crocoblock All-Inclusive subscription at
$999/onetime 🔥
–
–
Does Crocoblock have plugins for Gutenberg?
Crocoblock has developed some of the best plugins for the Gutenberg WordPress Block Editor. These plugins make your work easier and lower the development time. So, use these plugins and you will be able to deliver the best service to your website visitor or clients