Crocoblock Review – As the popularity of WordPress increases with every passing day, many theme shops, plugin stores and page builders have been developed to provide you with complete ease of building your website on the Wordpress CMS platform. crocoblock wordpress theme/plugin is another wp theme membership club which provides best theme for elementor and crocoblock elementor addons.
Crocoblock Black Friday Sale 2023
Sale has begun! 🎉 Get Your Whopping 50% OFF while others have only 40%
Dates: November 20, 12 P.M. – November 30, 12 A.M. (EET)
Discount: 50% OFF for all subscription plans (yeah, even Lifetime)
The Best Deal of this Black Friday = 50% discount + expert's sessions!
Crocoblock Review – all in one solution for creating excellent WordPress websites?
Crocoblock takes this experience to an even higher level by providing you with all the things you need under a single roof.
The first thing about Crocoblock that instantly garners your attention is the multitude of themes that it offers.
The themes that Crocoblock provides you are not just page templates but these themes also come with impressive designs and an overall appeal.
Plus, it offers you with the Kava package and JetPlugins set which make the job of building your website much easier.
Thus, it gives you all the chance to make your website look more appealing.
Interested in knowing more about the Crocoblock? Well, stop wasting time any further and scroll down to have a look at our Crocoblock review.
Crocoblock Package – All-in-one Toolkit For Building Websites with Elementor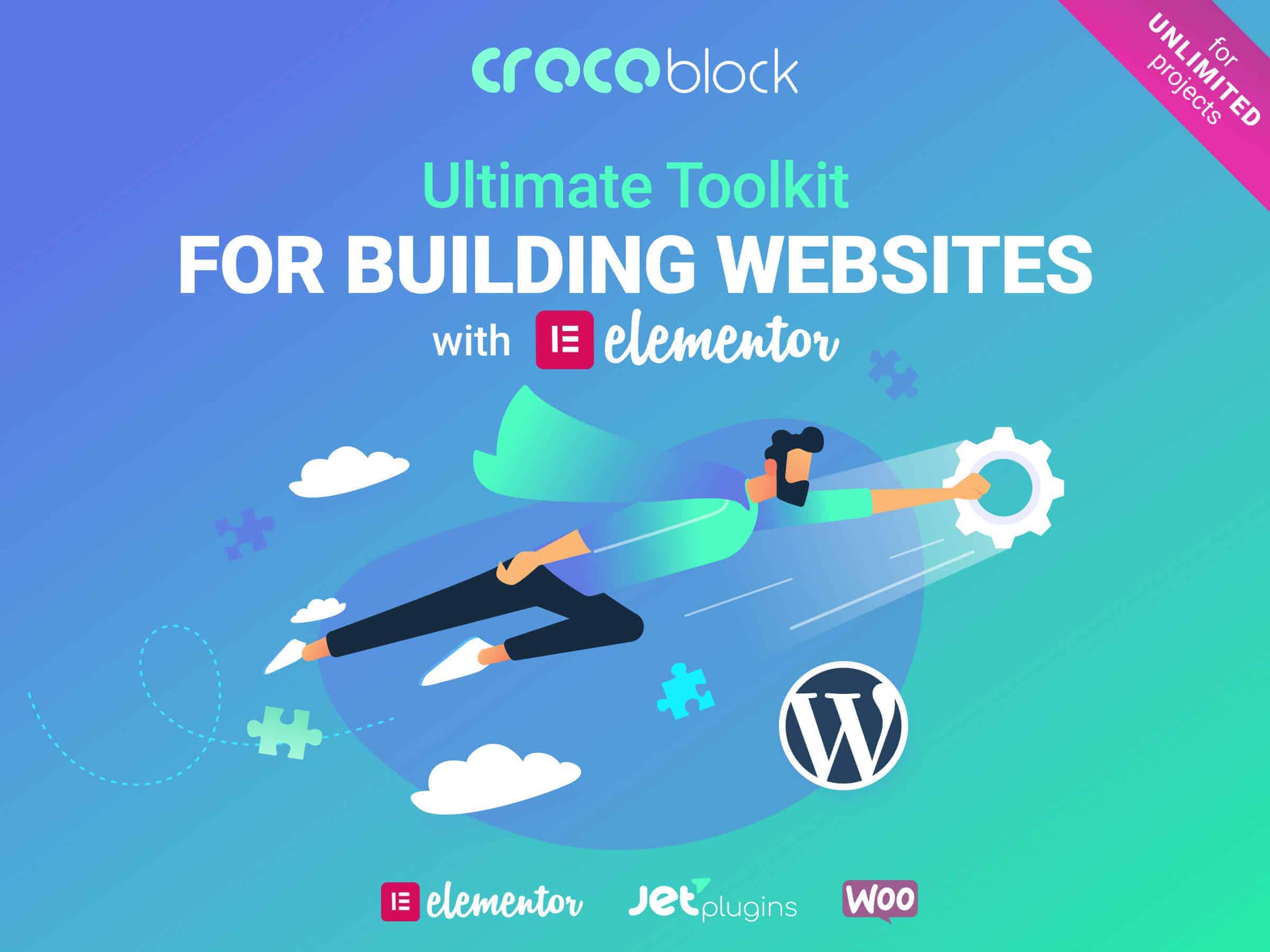 It is the very first thing that we must mention in our Crocoblock review. The crocoblock PRO Package allows you to create your own website with the help of pre-designed modules, pages and several efficient functionalities.
Plus, with the Drag-N-Drop page-builder and One-Click installation, setting up your website becomes extremely easy.
Without any doubt, the crocoblock Pro Package provides your website with an appealing look and it is easy as well as efficient to use.
Check Siteground web hosting discount sale
What more does the crocoblock offer? Well, have a look at its features below and find out:
The header and footer play a crucial role in the success of every website. If these two parts are not designed properly, then you may fail to appeal to your online visitors.
The Kava package makes it very easy to create a header as well as the footer with almost any content.
You also get a lot of designing options for building the header and footer.
Most importantly, everything can be done easily without having to do any coding.
Offers pre-designed modules
The modular interface of Kava allows you to create extraordinary content for your website by utilizing 500 pre-made blocks.
Above all, these building blocks can be easily integrated into your website through few clicks.
Easy and exciting demos
With the Kava package from Crocoblock, you also get several demos on different aspects. Whether it is a blogging or an e-commerce website that you have, you will be installing the appropriate demo through a simple click only.
Compatibility with Woocommerce
The Kava package from Crocoblock also comes with utmost compatibility with the vast array of themes that Kava offers when it comes to creating a Woocommerce website.
So, you will never have to face any trouble in designing your own e-commerce website in WordPress.
Makes your website responsive
Responsiveness of a website is very important for generating leads as well as traffic. With JetPlugins set, you will be able to adjust the height and width of your widgets successfully.
Thus, it will become possible for you to set responsive padding's to make them appear as a perfect fit for different types of screen.
Different layouts for different requirements
Be it Grid or masonry, the JetPlugins enable you to select the perfect layout style for your images. With JetPlugins, it becomes possible for you to showcase the images on your website in the perfect way that you want.
Add a special look with grid, carousel and slider
The best thing about the JetPlugins that we must mention in our Crocoblock review is the fact that these user-friendly plugins set to allow you to do almost anything that you need, to make your website look beautiful and attractive to others.
The plugins set also comes with carousel, grid and slider options. You can choose any of these three styling options to display your posts.
Choose the one that fits you most and you will be able to provide the best outlook to your website.
Supported by RTL and ready for WPML
For easing up things for the users, the JetPlugins can be incorporated with WPML plugins to achieve the best results. Thus, you can now get it translated to your native language or any desired language.
Plus, with the RTL support, one can make changes in the direction of the texts on the website without putting much effort.
Comes with a myriad of excellent widgets
When you are using the JetPlugins from Crocoblock, you will have the complete freedom of customizing your content in the most appropriate as well as stylish way.
It comes with a myriad of user-friendly yet stylish widgets. Be it advanced carousel, animated box or countdown timer, you will be able to provide a stylish outlook to your content.
Premium JetPlugins for Elementor
Overlooking the contribution that contribution of JetPlugins in our Crocoblock review will not let our review be perfect.
The JetPlugins let you find the acute variety content and provides you with all the functionalities that let you style the content to even the smallest detail.
JetPlugins does not only provide you with the ease of designing your website but it also allows you to make your website responsive and highly presentable to your visitors.
Whether it is different ways to display the posts or the RTL support that it comes with, you will have the complete freedom of designing your website to your heart's content when you are making use of the JetPlugins.
Interested in knowing more? Have a look at some of the best features of JetPlugins:
JetElements [44 Easy To Use JetElements widgets]

List Of Widgets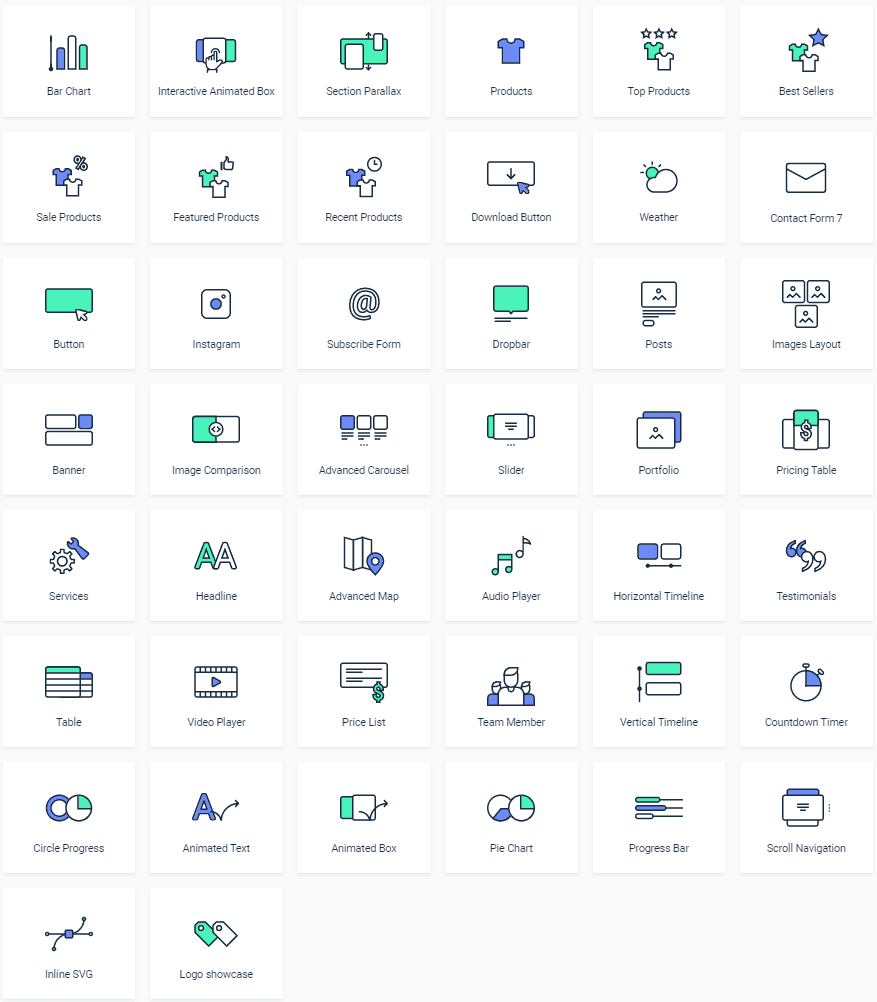 JetMenu [Easy To Customize]

Features
Flexible Backgrounds
Lots of Typography Settings
Different Item Content Layouts
Changeable Submenu Styles
Ability to Create Menu Presets
Stylish Badges and Icons At Hand
Normal, Hover & Active Styles
JetBlog [6 Powerful Widgets For Adding Content]
Widgets
Smart Post List
Smart Post Tiles
Text Ticker
Video Playlist
Posts Pagination
Posts Navigation
JetTabs Plugin for Elementor

Widgets
Horizontal Tabs
Vertical Tabs
Classic Accordion
Image Accordion
Switcher
JetReviews [Add Reviews & Style Them Up]

Features
Rich in Styles
Responsive
Lots of Layouts
No Coding Needed
JetWooBuilder [Build WooCommerce Product Pages]

Features
Easy-To-Use Functionality
Simple In Customization
No Coding Skills Needed
Made for Elementor
40 Widgets for Product Pages
JetTricks Widgets [Visual Effects to Liven Up Your Site]

Tooltip
HotSpots
Sticky Column
Section Particles
Read more
Unfold
Satellite
Scroll Parallax Effect
JetBlocks [9 Exquisite Widgets]

Blocks
Site Logo
Breadcrumbs
Auth Links
Login Form
Registration Form
Hamburger Panel
Nav Menu
Search
Shopping Cart
Crocoblock offer plans & Pricing
All Plans Include below Access Based on Your Plan
Handy Installation Wizard
Awesome Elementor templates
Lightweight Kava theme
Regular updates
30 days money-back guarantee
Caring and efficient support​
A huge community of users​
Feature requests accepted​
Crocoblock LifeTime FAQs
If i dont like the crocoblock, is refund allowed?
Yes, you can get 30 days money-back guarantee. If you are not satisfied with the product.
Can i use crocoblock products for client websites, any limitations?
No limitations, you can use on client websites.
What happens when my license validity ends?
If the license is expired, customers will not receive the updates, except the users that have a Lifetime license as this one can not be expired.