QUBELY WordPress Block Editor Plugin- The Full-fledged Gutenberg Toolkit – Website creating and making has become an extremely easy and convenient process in the modern generation and now you can create an extraordinary site using Gutenberg.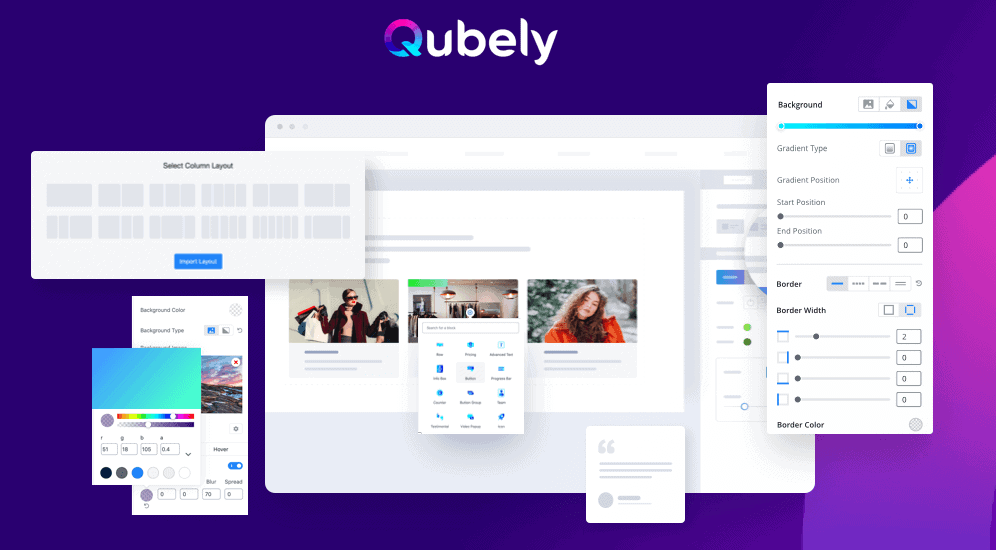 They have created an advanced Gutenberg tool kit called the Qubely, so that you can create your customized and interactive website, the way you like it, in minutes.
The WordPress Gutenberg block Toolkit is an extraordinary addition that can enrich the whole process of website making. Already a hit among thousands of developers and designers around the globe, entrepreneurs are also showing a lot of interest for their business websites.
The efforts of the WordPress experts at themeum has resulted in this Gutenberg block plugin.
What makes Qubely the best third party Gutenberg Plugin?
There are chances that you haven't realized whether you actually need a Gutenberg plugin when it comes to boosting of website's performance.
The Qubely editor takes the process ahead after Gutenberg itself fails and in the process rewards you with a Gutenberg block experience that will keep bringing you back. Simple and easy to use essential blocks mimics the work of premium designers, thereby delivering a smooth and fluid experience for everyone.
You will have complete control over the designing process and you can create with your own taste of layout, typography, and responsive controls. This third party Gutenberg Plugin is an essential tool for anyone willing to create a stunning website.
Features of Qubely Ultimate WordPress Gutenberg Plugin
Wondering how you can make your site better? Scroll down below:
150+ Ready Sections & Increasing Every Day
People favour anything that can speed up the development process without hampering the quality. With the built-in 150+ Ready-made Sections, you will get direct access to import ready sections. The library of Qubely is rich and versatile to suit all kinds of personalities.
35+ Advanced Gutenberg Blocks That Boost Your Site Performance
The architecture behind any website is the primary foundation that demands a lot of attention. Qubely makes the whole process easier and more informative by including the 35 powerful custom Gutenberg blocks.

You can customize it as per your will and likeness to make it more appealing to your audience.
Ready-Made website designs to Build Your Site Fast
If the whole journey of website making and development looks like a tough and long road, Qubely is the perfect alternative. It will take you where you want to go faster while letting you have complete control.

The ready-made website designs just need your approval to get into action. Choose the one that you fancy the most and get on whatever you wish to publish.
Smart Layout Builder
The layout section is a so well crafted that you will have access to all the tiniest details as well but none of that will bother you if you do not wish to indulge in.
The home section can be arranged in a way you prefer so that your audience becomes less likely to move out of your page.
You can also play around with other important sections like the services, projects, gallery etc. and customize the way you wish to.
Classic & Gradient Background Color
Color is a major point of concern and consideration while you are styling the website. The first impression that you will create on your readers is what they see and in order to captivate their attention, you need to stand out.
Range of classic and gradient background color options lets you enjoy the website making process. Experiment with a wide set of options and then finalize something that you really fancy.
Advanced Typography Controls
Each Qubely block has versatile typography and styling options built into them. You can put on your boots of creativity and design every block with different typography and styling options.
Also, you can globally select typography and color and use the same throughout the website. Just as easy as you can imagine right now.
Device Specific Responsive Controls
Responsiveness is a driving factor for any website. If the website you have designed fails to impress the reader on the move, the chances of them coming back are very unlikely.
With Qubely blocks you can adjust the responsiveness and decide the different breakpoints it will have for different sizes of screens.
If you know some particular block looks less striking on some specific sizes of devices, you can easily hide the block.
Built-in Animations
Play a little here and there with your website so that you can keep things interesting for the readers and audience. Built-in animations give you the power to create interactive animations even if you are not so well-equipped with the art of creating one.
This feature will seriously be beneficial for websites that give out information bytes in forms of animations, thus delivering more value to your audience.
30 days money-back guarantee
If you have paid attention all you read, by now you know the Qubely plugin will bring in the great transformation to the whole process of website building.
Now, if you are unsure how good a product it will be once bought it? The 30-day money-back guarantee assures reliability. Try it to know it and then decide whether this can really make things better for you, else just return.
Qubely Free vs Qubely Pro
| Core Features | Free | Pro |
| --- | --- | --- |
| Starter Packs | Limited | ALL |
| Sections | Limited | ALL |
| Accordion | ✔️ | ✔️ |
| Advanced List | ✔️ | ✔️ |
| Advanced Text | ✔️ | ✔️ |
| Columns | ✔️ | ✔️ |
| Block Wrapper | ✔️ | ✔️ |
| Button | ✔️ | ✔️ |
| Button Group | ✔️ | ✔️ |
| Contact Form | ✔️ | ✔️ |
| Counter | ✔️ | ✔️ |
| Divider | ✔️ | ✔️ |
| Google Map | ✔️ | ✔️ |
| Heading | ✔️ | ✔️ |
| Icon | ✔️ | ✔️ |
| Icon List | ✔️ | ✔️ |
| Image | ✔️ | ✔️ |
| Info Box | ✔️ | ✔️ |
| Progress Bar | ✔️ | ✔️ |
| Row | ✔️ | ✔️ |
| Tabs | ✔️ | ✔️ |
| Team | ✔️ | ✔️ |
| Testimonial | ✔️ | ✔️ |
| Timeline | ✔️ | ✔️ |
| Video Popup | ✔️ | ✔️ |
| Social Icons | ✔️ | ✔️ |
| Pricing | ✔️ | ✔️ |
| Animated Headline | ✔️ | ✔️ |
| Table of Contents | ✔️ | ✔️ |
| Form Builder | ❌ | ✔️ |
| Advanced Gallery | ❌ | ✔️ |
| Image Carousel | ❌ | ✔️ |
| Post Carousel | ❌ | ✔️ |
| Post Grid | ❌ | ✔️ |
| Price List | ❌ | ✔️ |
| Team Carousel | ❌ | ✔️ |
| Testimonial Carousel | ❌ | ✔️ |
| Media Card | ❌ | ✔️ |
| Pie Progress | ✔️ | ✔️ |
| Vertical Tab | ❌ | ✔️ |
credits: themeum
Upcoming Blocks to blow your mind away
Advanced Slider
Advanced Table
Advertisement
Countdown
Image Compare
Instagram Feed
Newsletter Subscription
Twitter Feed
WooCommerce Featured Products
WooCommerce Product Carousel
WooCommerce Product Grid
Qubely WordPress Block Editor Plans & Pricing
Qubely Annual Plans
Qubely LifeTime Plans


QUBELY WordPress Block Editor Plugin
QUBELY WordPress Block Editor Plugin is a product that is going to let you enjoy control of website building while being easy to experiment and work with.
All the features are curated to deliver a no brainer set up a process that can be enjoyed by all grades of creators.
Whether this is your very first website or you are the mastermind behind hundreds of others, Qubely will add great convenience to everyone.