A desktop-based tool, Domain Hunter Gatherer is an extraordinary application that you can use to find marvelous aged as well as quality domains with great backlinks.
The quality backlinks in an aged domain can be crucial in providing you with great traffic and a boost to your SEO efforts. In reality, it can be quite difficult, time-consuming and requires in-depth research.
25% off Domain Hunter Gatherer v3
Get 25% off any DHG Subscription with coupon: AfterParty
25% off DHG Lifetime License
25% off DHG Monthly Pro
Save more than 25% with DHG Annual License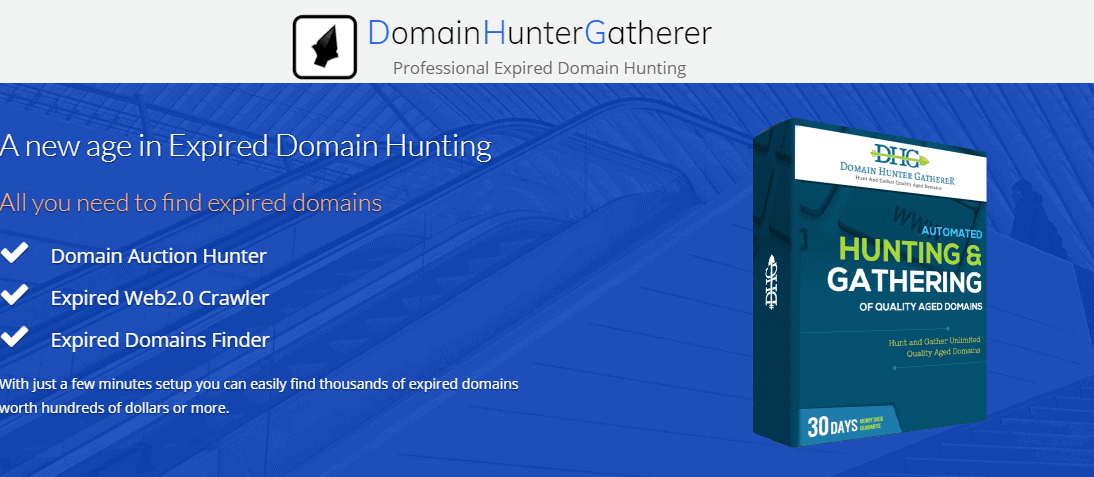 However, the domain hunter Gatherer tool makes your life much easier by automating the process of finding aged domains.
This tool comes with all the essential features as well as metrics from SEO and backlink checkers like Majestic or Moz. So, it efficiently checks the quality of an aged domain and provides you with the best results.
Domain Hunter Gatherer Black Friday Sale [Ended]
DHG PRO offering 30% off Any Subscription & Save 50% off a Lifetime License
#1 – Get 30% off Domain Hunter Gatherer Now
Includes:
Domain Hunter Gatherer Pro
DomRecovery
50k DomDetailer credits every month
Easy Expired Domains
Much More
Save $29 every month
Usually $97 per month Now Just $67.90/month with coupon
Coupon will expire Monday 30th November so don't wait any longer.
#2 – Domain Hunter Gatherer Pro Lifetime License
Includes:
Domain Hunter Gatherer Pro for life
DomRecovery
1 million DomDetailer credits
Easy Expired Domains
Much More
Save $798 Today!
Usually $1597 one off payment Now Just $798.50 one off payment
Only Available till Monday 30th November (midnight)
Features of Domain Hunter Gatherer Black Friday
Domain Auction Hunter
This is an excellent tool that you can get for free with Domain Hunter Gatherer. More importantly, you get complete as well as unlimited access to it. Available with all the plans, it allows you to streamline your domain hunting process from different auction sites.
In fact, this tool lets you filter the aged domains on the basis of different factors and metrics. Plus, you can also load as well as save those filtered domains to your list.
While there are a plethora of domain auction sites, it can seriously take you ages to go through all of them to filter the good domains.
However, with the Domain Auction Hunter feature, you will be able to cover several top auction sites, find the best deals and load them in the form of a list from an intuitive dashboard.
Plus, it allows you to modify the search settings as per your requirements to yield the best results. It also allows you to start searching after typing a relevant keyword.
Web 2.0 Hunter
Another multifaceted tool that you can get from the DHG is the Web 2.0 Hunter. Of course, it allows you to compile a huge list of web 2.0 blogging platforms and accounts that are up for acquisition.
It is well known that links from a good quality web 2.0 site can hugely benefit your ranking.
Of course, every professional e-commerce owners and experts, understand it very well that that web 2.0 sites are powerful tools in your arsenal that provide robust backlinks and marvelous signals from social media.
The web 2.0 hunter efficiently automates this process of finding this type of accounts. And it is very easy to use too. All you need to do is to type in the keyword and the web 2.0 will search for you all the relevant accounts.
Furthermore, it also comes with all the key metrics that tell you which account will be more suitable for your needs.
Expired Domain Hunter
Another marvelous feature that you can get with the Domain Hunter Gatherer software, this extraordinary tool helps you to easily find the expired domains.
More importantly, you can search for the domains belonging to a certain niche by adding the niche as a keyword for the search. Also, you can carry out a more generic search to find the expired domains.
In fact, this tool allows you to find best-aged domains with high-quality backlinks that can give you a competitive edge over others with ease.
Similar to the domain auction hunter as well as the web 2.0 hunter, it also comes with detailed analytics as well as metrics such as PR, domain age, Moz stats, Social Shares, and Majestic stats.
You can also check whether these domains are indexed with top search engines and save them to your list for future reference.
DomRecovery
Well, this tool that Domain Hunter Gatherer offers is similar to the resurrection processes that you witness in different sci-fi shows. It allows you to restore back the exact look of a domain before it expired and offline.
Of course, it can be very difficult to build a website and design it to your liking from scratch. In fact, it takes hours of your time and a lot of head-scratching as well as brainstorming to give a website its proper look.
However, with this special feature, you will no longer have to worry about that any longer.
The DomRecovery tool speeds up and brings efficiency to your process of website building. It makes use of the way back machine to access the archives of the internet. Thus, it restores a website to its exact look before it went offline.
Easy Expired Domains
While searching for the aged domains belonging to a particular niche, the troubles and labors the job demands can easily demotivate even the seasoned professionals.
You will have to go through each domain individually to understand whether they belong to a certain niche. Plus, you will have to assess manually how strong its backlinks are.
Well, you can get rid of all these troubles with this intelligent tool from DHG. The Easy Expired Domains makes you scraping for the aged domains belonging to a particular niche.
Domain Hunter Gatherer System Requirements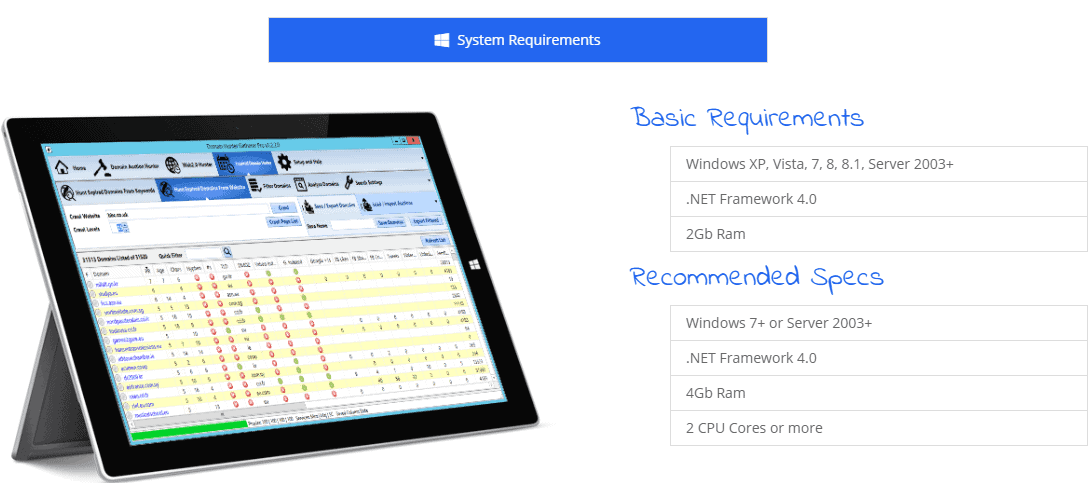 Domain Hunter Gatherer Plans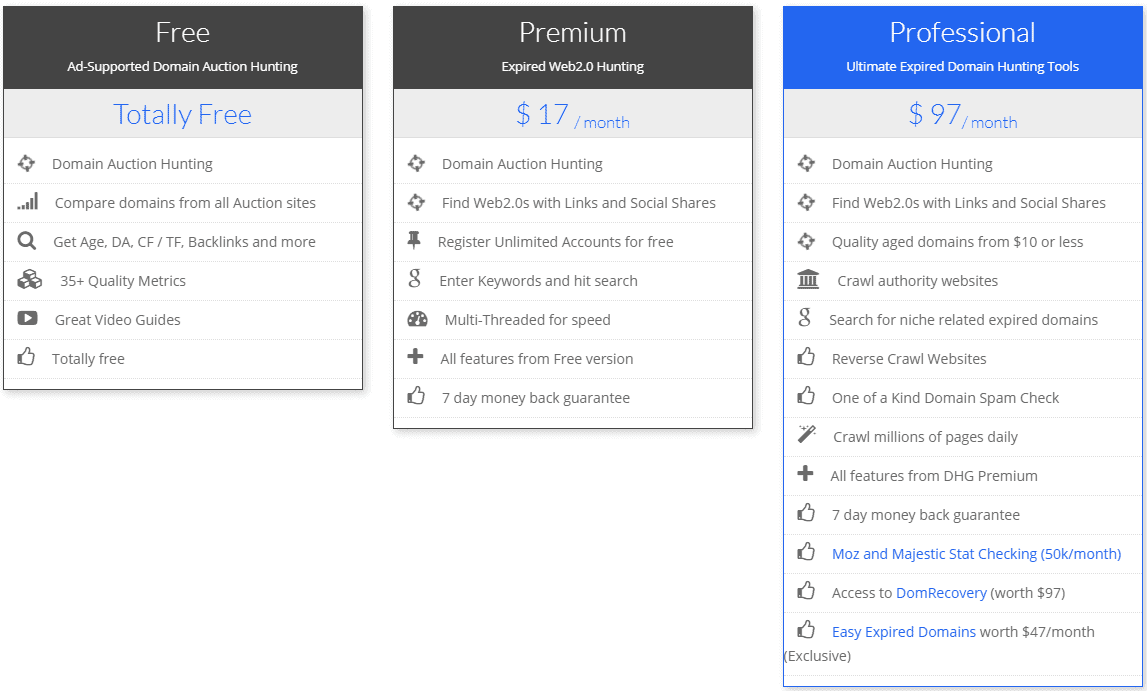 Just search using a suitable keyword and it will provide you with a list of all the domains with that particular word in them. Moreover, you also get all the essential metrics helping you to understand how efficient each domain are.