BuzzBundle is a social media management system that helps individuals, business to generate the traffic through optimized interaction. It is a desktop-based app helps you to engage with your customers through social media tools like Facebook, Twitter, Google, YouTube etc.
BuzzBundle Social Media Software Review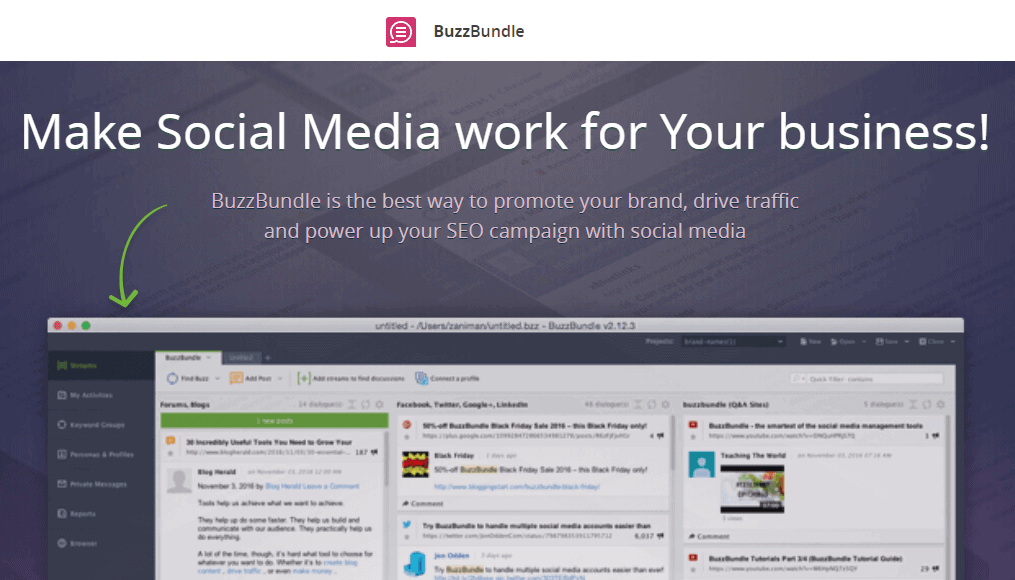 BuzzBundle scans everywhere on the Internet to check the places where your brand name or target keywords are being mentioned.
It also enlists all the results in a centralized place to enable you to interact with the target audience. Using BuzzBundle you can reach your target audience via multiple channels in a limited time frame.
It supports multiple accounts and languages to serve the diversified audience over  multiple channels. This is the helpful analytics to inform you that how competitors are interacting with the target market and how you can optimize your marketing strategies to attract the customers.
Features of Buzzbundle
Tracks who mention your brand or keywords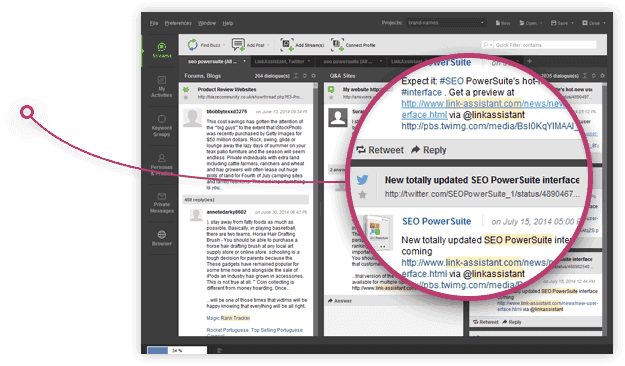 With BuzzBundle You will get notified whenever , wherever your brand name or keyword is mentioned. It helps to improve user interaction with social users easily & grows your brand to Top.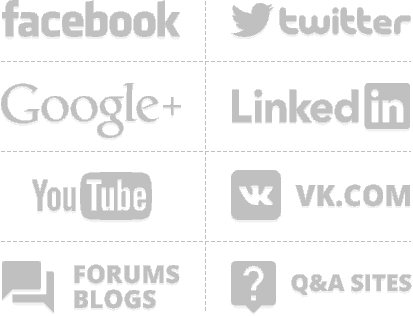 Quick, real–time data with one click
There is no need to wait for your data to be collected and processed. You will get all the data in real time- just when you need the same.
Important discussions prioritized
You can easily prioritize your mentions by "Reach" to focus on the important mentions from industry influence first.
Using Buzzbundle you can appear online round the clock, even if you take only two hours a day to manage your social media. Post news, messages to any of your social media profiles. You can join the conversation and revert to customers across Facebook, Google and LinkedIn from a single convenient dashboard.
You can monitor Twitter, Facebook, LinkedIn, blogs, forums and Q&A sites.
All types of the messages
You can comment, reply, retweet and send private messages all from within the software.
Logging data security
It's a secure login and profile protection that ensures the safety of your business assets.
You can create dozens of social accounts. In case you need to manage social for several "personas" such as official company rep, your CEO, customer care etc. you can easily handle them.
Unlimited profiles and personas
You can create unlimited profiles for the people, firms,  etc., you want to represent. And you can add any number of profiles for each of them.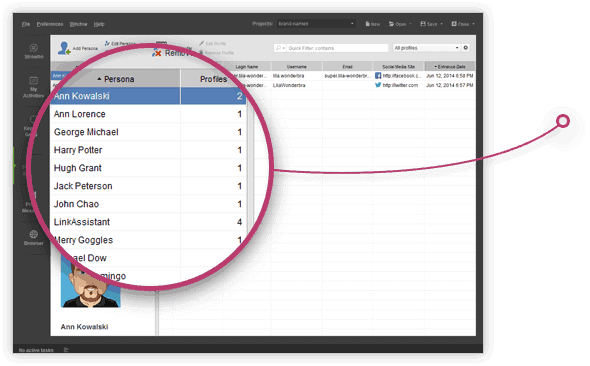 No need to log in or out
Select a persona and a social account to post with a single click of the mouse.
Bulk announcement to all accounts
Type once, publish everywhere! By linking up your social media accounts and publish your message to the same at once.
Promote your product and services and find new customers
Find the niche influencers who can help you to promote your products and boost your content marketing efforts to get the quality leads.
Engage with potential customers
Find the people who are interested in a product or a service like yours. When they raise queries or dissatisfied with their current solution. You will be there to engage with them and provide the replies.
Effective content
Research new content ideas that can reply to your client queries and distribute your content effectively.
Progress graphs to track your campaign
See at a glance how the reference to your brand/content grow over time. For separate keywords or a group of keywords related to a specific marketing campaign.
Easily report your progress and activities
Create excellent reports on all your social media activities and campaigns in a matter of seconds. They are fully customizable, white-label and extremely data-rich!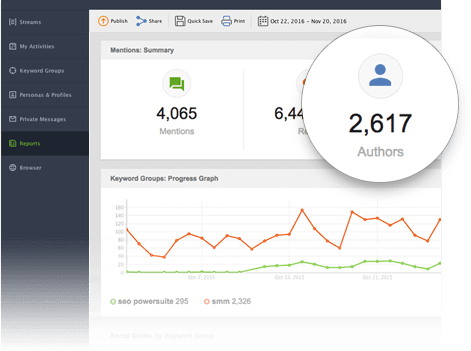 Informs on the job done
You will get the report what you have done in any given period like your posts, comments, likes, shares, etc. This all will be available in a single report.
Monitor how your brand popularity grows
Check who is talking about your brand and how influential these posts and how this number grows over a period of time.
Find industry influencers
See the influential authors in the topics who mentions your keywords- in the different social media platform networks.
Create a powerful mixture of SEO and social media to get maximum traffic to your website.
Build quality backlinks
Earn backlinks by distributing your content on social media or reaching out to the authors who already have mentioned your brand but don't link to you.
Refine your keyword research
Use social media to know where your potential customers are talking about and the keywords they use. Check Rank Tracker By SeoPowerSuite Review.
Boost your website indexed
It makes sure that all your newly published contents will instantly indexed via search engines.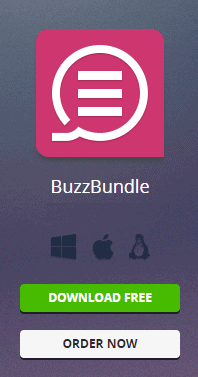 Conclusion
Buzzbundle reduces the work to search and find the right target audience. It is one of the best tools there for traffic generation. You need to use its incredible features that must be wisely used to prove to be a great help to grow your business.
As the social media plays an important role in growing your business. To track the activities to your competitors is not an easy task. If you sit and start doing it manually one by one you can spend a lot of time.
You must be aware of your requirements so that you will be able to select the service providers all the features your search for.